2006 Detroit Tigers: Where are they now?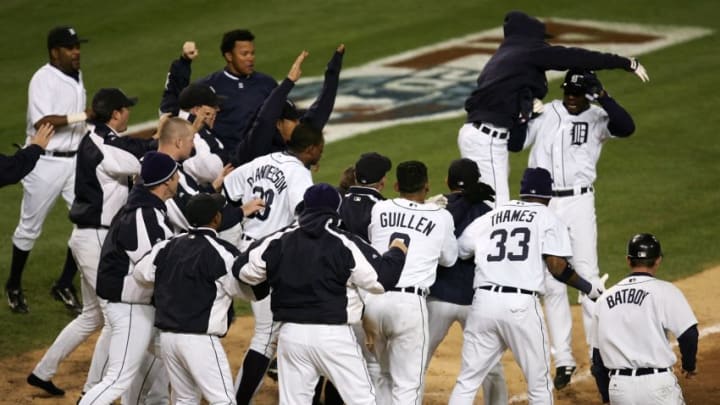 DETROIT - OCTOBER 14: Players from the Detroit Tigers celebrate at home plate as Craig Monroe runs home on a 3-run walk-off home run, hit by Magglio Ordonez, against the Oakland Athletics during Game Four of the American League Championship Series October 14, 2006 at Comerica Park in Detroit, Michigan. The Tigers won 6-3 to sweep the Athletics and advance to the World Series. (Photo by Jonathan Daniel/Getty Images) /
OAKLAND, CA – JULY 5: Marcus Thames #33 of the Detroit Tigers watches the ball take flight from home plate during their game against the Oakland Athletics at McAfee Coliseum on July 5th, 2006 in Oakland, California. (Photo by Jed Jacobsohn/Getty Images) /
Marcus Thames
Marcus Thames and Craig Monroe had eerily similar careers. Both played for four different teams but spent the vast majority of their career in the Motor city. Both hit exactly 115 career home runs. Monroe hit 101 with the Tigers, while Thames hit 99. Both were left fielders, although Thames spent a fair amount of time at DH while in Detroit.
Thames was originally drafted in the 30th round by the New York Yankees in 1996. He didn't make his MLB debut until 2002 (same as Monroe) and only earned 13 at-bats.
After the season, Thames was shipped to Texas in exchange for Ruben Sierra. After 73 uninspiring at-bats in Texas, Thames signed with the Detroit Tigers ahead of the 2004 season. He was a part time player for the Tigers between 2004-2005, accruing 272 at-bats and blasting 17 home runs with a 103 OPS+. That earned him a starting role heading into 2006.
Thames served as the Tigers designated hitter for 46 games in 2006, narrowly edging out Dmitri Young for the most appearances on the year. Thames also played a lot of left field, earning 348 total at-bats on the year, a career-high.
That wasn't the only career-high Thames set, as he blasted 26 home runs, had 60 RBI and posted a 123 OPS+. That season would prove to be the best of Thames' career. He spent three more seasons in Detroit, hitting .244 with 56 home runs with a 103 OPS+.
After the 2009 season, Thames signed with the New York Yankees. He hit 12 home runs in 212 at-bats. The Dodgers picked him up for 2011, but he only saw 66 at-bats and hit .197. That ended Thames' playing career.
Thames finished his Tigers career with a home run every 14.8 at-bats, a franchise record.
It didn't take long for Thames to find his second career, as he started coaching the Class-A Tampa Yankees in 2013 as their hitting coach.
He became the Yankees Double-A hitting coach in 2014, and the Triple-A hitting coach in 2015. From there, he got promoted to assistant hitting coach with the big club, a position he still holds today.