2006 Detroit Tigers: Where are they now?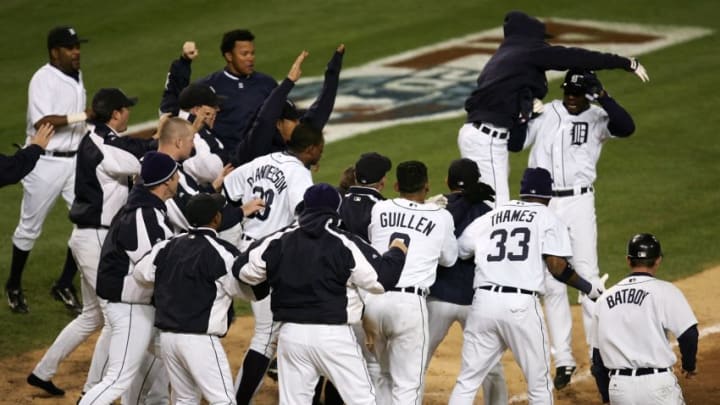 DETROIT - OCTOBER 14: Players from the Detroit Tigers celebrate at home plate as Craig Monroe runs home on a 3-run walk-off home run, hit by Magglio Ordonez, against the Oakland Athletics during Game Four of the American League Championship Series October 14, 2006 at Comerica Park in Detroit, Michigan. The Tigers won 6-3 to sweep the Athletics and advance to the World Series. (Photo by Jonathan Daniel/Getty Images) /
Detroit Tigers designated hitter Dmitri Young drives a ball down the right field line August 2, 2006 in St. Petersburg. The Tigers swept the series against the Tampa Bay Devil Rays with an 8 – 3 win and Young had a home run. (Photo by A. Messerschmidt/Getty Images) /
As with any good team, the Tigers got strong performances up and down their lineup in 2006. That included strong play from their bench. There were seven other players who earned over 50 plate appearances for the Tigers in 2006.
Note: Matt Stairs, Brent Clevlen, Jack Hannahan, Kevin Hooper and Mike Rabelo also played for the 2006 Tigers.
Wilson was the backup catcher to All-Star Ivan Rodriguez in 2006. He spent the majority of his career with the Mets before playing 2005 and 2006 with the Tigers. He is currently the bullpen coach for the Kansas City Royals.
The Tigers acquired three time All-Star Sean Casey at the 2006 trade deadline. He replaced Chris Shelton in the lineup and was the starting first baseman during the playoff run, even hitting two home runs against the Cardinals. Casey hit .302 over his 12 year career, spent mostly in Cincinnati. He is currently an MLB Network Analyst, a position he has held since 2014.
Infante hit .277 with four home runs in 224 at-bats with the Tigers in 2006. He played second base, shortstop, third base and center field, while also spending some time at DH. Named one of Detroit's 10 greatest second baseman of all-time, Infante played through 2016 in the major leagues. He spent all of 2017 at Triple-A Toledo, hitting .282. It is unclear if he is planning to play again in 2018.
Santiago spent 10 seasons in Detroit, serving almost exclusively as a utility infielder. 2006 was his first season back in Detroit after spending two years in Seattle. He hit .225 in just 80 at-bats as Infante handled the primary utility duties. Santiago played with Detroit through the 2013 season, eventually retiring in 2015. He was recently named the Tigers new first base coach, replacing Omar Vizquel.
The Tigers had a lot of utility infielders on their roster in 2006. Perez came over on August 20 of 2006 from the Cubs. He started 14 games at second base in place of an injured Placido Polanco, hitting just .200. He spent 2007 in a bench role with the Tigers before a series of suspensions for amphetamines ended his career. Perez was named to the Caribbean baseball Hall of Fame in 2012, but has not been in the news much since then.
Gomez spent parts of four seasons in the major leagues, split between the Royals and the Tigers. He hit .272 in 103 at-bats for the Tigers in 2006, serving as their fifth outfielder. Gomez was the co-hitting coach of the minor league Orem Owlz in 2015, but does not appear to hold the position currently.
Dmitri Young
Young hit .250 with seven home runs as Detroit's DH (along with Marcus Thames) in 2006. He battled serious alcohol abuse during the season, and was eventually cut just before the playoffs by the Tigers. Young was an avid baseball card collector, and in 2012 he auctioned off part of his collection for $2.4 million dollars. He used the money to start the Dmitri D. Young foundation, a foundation dedicated to helping underprivileged kids in California.
Now that we have covered the offense, let's take a look at Detroit's 2006 rotation and where they are now.