2006 Detroit Tigers: Where are they now?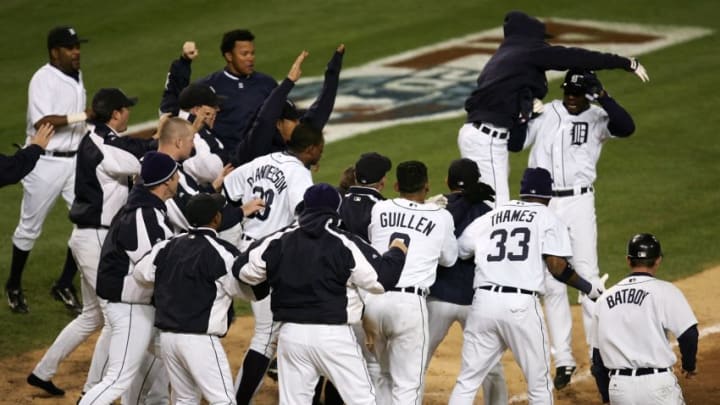 DETROIT - OCTOBER 14: Players from the Detroit Tigers celebrate at home plate as Craig Monroe runs home on a 3-run walk-off home run, hit by Magglio Ordonez, against the Oakland Athletics during Game Four of the American League Championship Series October 14, 2006 at Comerica Park in Detroit, Michigan. The Tigers won 6-3 to sweep the Athletics and advance to the World Series. (Photo by Jonathan Daniel/Getty Images) /
NEW YORK – JUNE 23: Joel Zumaya #54 of the Detroit Tigers pitches against the New York Mets at Citi Field on June 23, 2010 in the Flushing neighborhood of the Queens borough of New York City. (Photo by Nick Laham/Getty Images) /
The Bullpen
Perhaps the most surprising thing about Detroit's run in 2006 was how strong their bullpen was. Long a source of trouble for the Tigers, the 2006 pen was one of their best in team history. The Tigers had 13 players who threw over 30 innings on the year, including the five starters. The remaining eight are listed below.
Note: Six other pitchers threw less than 30 innings for Detroit in 2006: Bobby Seay, Jordan Tata, Chris Spurling, Andrew Miller (yes that Andrew Miller) Chad Durbin and Colby Lewis.
Zumaya was hailed as the closer of the future after his dominating 2006 season. He threw 83.1 innings with a 1.94 ERA and a 10.5 K/9. Injuries cost Zumaya dearly, as he was out of baseball by age 25. Even though he is just 32, Zumaya has been out of baseball for nearly seven years now. He lives in San Diego now and is a fisherman. 
The last of the four active players remaining from the 2006 team, Rodney just signed a one-year, $4.5 million contract with the Minnesota Twins. Going into his age-41 season, Rodney has been a workhorse throughout his career. The three-time All-Star will look to add to his 300 career saves next season in Minnesota.
Jones served as Detroit's closer in 2006, racking up 37 saves. He ended his career as Detroit's all-time leader in saves with 235. Jones currently works as an adviser to his local high school and middle school baseball teams. He occasionally appears on Tiger broadcasts as a color analyst as well.
Grilli threw 40 innings in the big leagues last year between the Blue Jays and the Rangers. At age 40 and with a 6.30 ERA, it is hard to imagine Grilli getting another chance in a big league bullpen. If this is the end of the line, Grilli will finish with a 4.22 ERA and 79 saves across 595 games pitched.
Ledezma's best season was in 2006, when he went 3-3 with a 3.58 ERA in 60.1 innings. He was the winning pitcher in Game 4 of the ALCS against Oakland. Ledezma bounced around the major and minor leagues, last pitching in the show in 2014. The 36-year-old currently pitches in Mexico, recording a 3.62 ERA across 62 innings for two different teams in 2017.
Remember Mike Maroth? The left-hander started 2006 off strong before surgery interrupted his year. He finished with a 4.81 ERA in 143 career starts in a Tigers uniform. Maroth served as a minor league pitching coach for the Tigers for four seasons. In 2015 he was hired by the Atlanta Braves to be their minor league rehab pitching coordinator, a position he still holds today.
Walker was a true LOOGY, tossing 270 innings in a Tigers uniform across five seasons. He had a 3.33 ERA and a 131 ERA+. He currently lives out on a ranch in Smith Park, Kansas with his wife and four children.
Colon appeared in 20 games for the Tigers in 2006, pitching to a 4.89 ERA. He bounced around the majors and minors until he was released for good by the Royals in 2015. He now lives in the Dominican Republic with his wife Monica.
Next: Top 10 Second Baseman in Tiger History
2006 was one of those unforgettable seasons in Tiger history. Coming off the heels of a disastrous 2003 season, fans can only hope that their current rebuild will be as short and as sweet as the last one.