Detroit Tigers: Five Key Spring Training Battles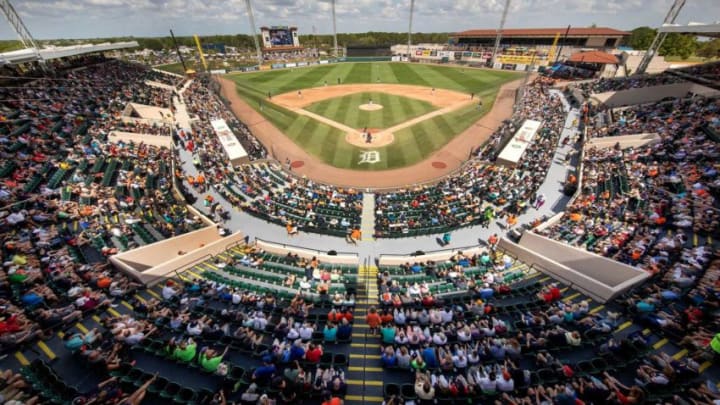 Detroit Tigers baseball fans watch their spring training game against the Atlanta Braves at Publix Field at Joker Marchant Stadium last March.031220 Ep Tigers 1 News /
Spring Training Battle: The Outfield
Tigers outfielders Victor Reyes, Christin Stewart, Daz Cameron and Jacob Robson in the outfield during spring training. /
It's clear the Detroit Tigers viewed their outfield as a big weakness last year. Though JaCoby Jones and Victor Reyes both had stretches of solid play, Detroit's outfield as a unit finished 25th in fWAR for the season. So the club signed Robbie Grossman and Nomar Mazara to presumably handle the corners on a regular basis, leaving center field and a 4th or 5th outfielder spot as the main questions.
Candidates: JaCoby Jones, Victor Reyes
Long Shots: Daz Cameron, Christin Stewart, Akil Baddoo
This one seems fairly simple on the surface. JaCoby Jones has been the team's primary starter in center field for the past three years, and he figures to have the inside track on the job again in 2021. Victor Reyes has played a decent amount of center himself, but he seems to fit better as the 4th outfielder. But not so fast.
Over the past two seasons Reyes has been nearly equal to Jones on offense (96 wRC+ to 100) while grading out better on defense and stealing twice as many bases. He has also produced more WAR than Jones to both FanGraphs (2.4 to 0.6) and Baseball Reference (1.7 to 0.5). There's been plenty of talk about Reyes forming an outfield platoon with Mazara (who is still six months younger than Reyes), but it seems just as likely we see him platoon with Jones.
And then there's the matter of a 5th outfielder. Given what we know about A.J. Hinch's fondness for versatility, we think it's far more likely he elects to use a super utility player or two, rather than a dedicated 5th outfielder. That spells bad news for Christin Stewart, whose left-handed power potential and draft status are likely the only things keeping him on the 40-man roster. We also don't see Rule 5 pick Akil Baddoo sticking on the roster this year. Hinch understands the rebuild, but he's also old-school enough to not roster players who can't help the team. Cameron would have the best shot to stick as an extra outfielder, but he's another player who would be better served getting regular ABs in Toledo.
Odds to Win a Job: Jones 100%, Reyes 90%, Cameron 8%, Stewart 1%, Baddoo 1%