Detroit Tigers: Five Key Spring Training Battles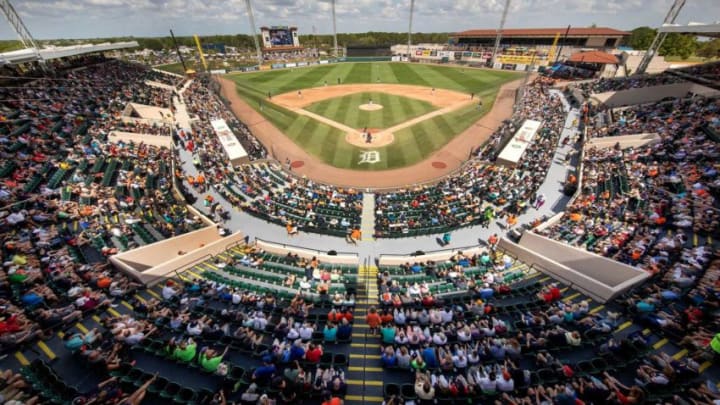 Detroit Tigers baseball fans watch their spring training game against the Atlanta Braves at Publix Field at Joker Marchant Stadium last March.031220 Ep Tigers 1 News /
Spring Training Battle: Super Utility Men
DETROIT, MI – JULY 19: Jeimer Candelario, Jordy Mercer, Niko Goodrum, and Harold Castro gather on the infield. (Photo by Dave Reginek/Getty Images) /
The late-winter signings of Jonathan Schoop and Renato Núñez seemingly solidified Detroit's starting infield. There are still some things to be determined, but the most likely quartet figures to be Jeimer Candelario and Willi Castro on the left side of the infield, and Schoop and Núñez on the right. This is where A.J. Hinch's desire to have roster flexibility comes into play. Rather than carrying a 5th outfielder, or a utility infielder, it seems likely the Tigers will roster one or two super utility men who can play all over the field. And the team does have a few options.
Candidates: Niko Goodrum, Harold Castro, Zack Short
Niko Goodrum is a confounding defensive player. He has played at least 5 games at every position save for catcher, but he grades out average or negative at each spot. Except for shortstop, where he's among the best defenders in baseball. Presumably anyone who can excel on defense at shortstop will be able to figure things out at other positions, but that remains to be seen. In any event, that ability to play shortstop at a plus level, combined with his average power, above-average speed, and the ability to take a walk, should make Goodrum a lock for the club.
Harold Castro has also played every position except for catcher, and he grades out average or negative everywhere but the outfield corners. Castro has an exceptional ability to put his bat on the ball, but he's not very fast, he has well below-average power, and he has a drawer full of unused Fitbits at home (career 3.6 walk rate in pro ball). He has apparently added some bulk this off season, though, so perhaps he can improve on that career .090 ISO at the big-league level.
The final option here is Zack Short, who was acquired from the Cubs last year for Cameron Maybin. Short has almost exclusively played infield as a pro, but he'll likely need to add some outfield time if he wants to carve out an MLB career. As a hitter he's the antithesis of Castro, showing surprising pop at times, but struggling to make contact  (career .240 hitter) while being an absolute walk machine (16.4 BB% in pro ball). He'll need to display some versatility and/or contact skills in spring training to earn a job gig, but he has a chance.
Odds to Win a Job: Goodrum 100%, Castro 80%, Short 20%