Detroit Tigers: 4 Strongest Positions in the Farm System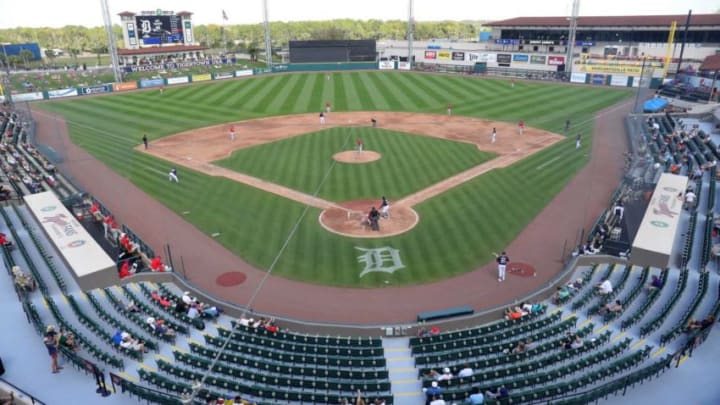 Detroit Tigers play against the Philadelphia Phillies during Grapefruit League action on Sunday, Feb. 28, 2021, at Publix Field at Joker Marchant Stadium in Lakeland, Florida.Joker Marchant Stadium overview, Joker Marchant Stadium general view /
Detroit Tigers /
4. Detroit Tigers Outfielders
Riley Greene is number one on our Top 20 prospects list, so it stands to reason the outfield would get consideration. But if you have played the video game Street Fighter 2,  then you are familiar with the phrase "here comes a new challenger" to the top 20, and that is Akil Baddoo.
Baddoo continues to hit the ball hard, and has had good at-bats, with five walks to just three strikeouts, to put up a slash line of .385/.556/.538 so far in spring training. Yes, it is just two weeks into spring, but Baddoo continues to make an impression.
It is not easy to ignore the depth the Tigers have created in the outfield in the system with the likes of Daz Cameron (number 9 on our list) and Derek Hill, who are both on the 40-man roster and both likely to graduate from prospect status.  So who are the next wave of outfield prospects who could see some time in Detroit  or move their way up the organizational ladder?
Daniel Cabrera (number 10 on the MCB Top 20)
Lefty bat with a polished hit tool, as Jacob Boes wrote up. His defense is part of his overall package. Looking forward to see what he can do in the minors this season but he has a high pedigree.
Parker Meadows (number 11 on the MCB Top 20)
Meadows was recently sent over the big-league camp, and if he can continue to develop his hit tool, (he is only 21), he could rise up through the organizational charts. Meadows bats from the left side and as our own Kellen Gove discussed, he shows power and speed.
Danny Woodrow
He is in camp as a non-roster invitee. He isn't a power hitter but he has hit at every stop so far in the minors. He went to the same school as former Tigers outfielder Mike Gerber (Creighton).
Ulrich Bojarski
While Bojarski has spent time in the lower minors, his profile is power and good defense. He still needs to prove he can hit in High-A, so it will be interesting to see his progress this season.
Roberto Campos (number 19 on the MCB Top 20) and Jose De La Cruz (number 17 on the MCB Top 20)
De La Cruz's strong showing in the DSL, despite it being a small sample size, is enough to excite Tigers fans, and rightfully so. With Campos, Detroit is hopeful they have picked up a future impact bat.