Detroit Tigers: A Brief History of Tigers from Canada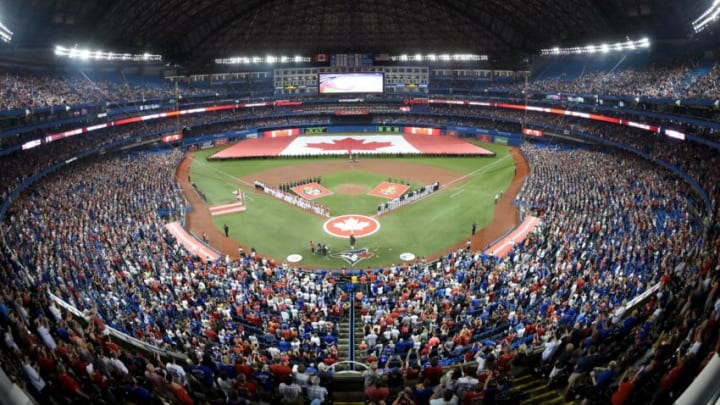 A view of opening ceremonies to celebrate Canada Day before a game between the Detroit Tigers and Toronto Blue Jays at Rogers Centre. Dan Hamilton-USA TODAY Sports /
Detroit Tigers from Canada – John Hiller
Former Detroit Tigers pitcher John Hiller with Justin Verlander. (Photo by Mark Cunningham/MLB Photos via Getty Images) /
The best player from Canada in Detroit Tigers history is left-handed pitcher John Hiller. He might also top the lists of the most underrated Detroit Tigers in history, and the most remarkable stories in Detroit Tigers history. But those are articles for another day.
Hiller was born in Toronto and grew up in Scarborough, Ontario, but he dropped out of school in the 11th grade when a Tigers scout offered him $400 a month to play baseball. He made his way to Detroit for the first time in 1965, throwing just six innings. He was up for good by 1967, and he was a huge part of the 1968 World Series championship team, posting a 9-6 record with a 2.39 ERA over 128 innings.
He continued as solid member of Detroit's pitching staff through 1970. But then Hiller, just 28, suffered a series of heart attacks.
He missed the entire 1971 season, had experimental intestine surgery, and was released by the Tigers before being re-signed as minor-league pitching instructor in 1972. He learned a new changeup while pitching to minor-leaguers, and the Tigers took him north to throw batting practice.
But by the middle of the year the club was desperate for pitching, and they enlisted Hiller to help. He ended up with a 2.03 ERA over 44.1 innings. And then in 1973 he produced one of the greatest seasons by a relief pitcher in MLB history.
John Hiller led the American League with 60 appearances and set a MLB record with 38 saves, while maintaining a 1.44 ERA over 125.1 innings.
According to Baseball Reference, it was good for 7.9 WAR. That remains the highest bWAR ever for a pitcher who threw fewer than 140 innings in a season. Remarkably, it's also the 4th highest bWAR ever for a pitcher who threw fewer than 200 innings in a season.
Hiller made his lone all-star team in 1974, and he continued as a highly effective workhorse reliever through the 1978 season. He began to struggle in 1979, though, and he retired by May of 1980.
He remains the Detroit Tigers franchise leader in games pitched, with 545, and there's a world out there where he might even be a Hall-of-Famer. If that seems a bit much, consider this:
It's possible that, in a different era, or in different circumstances, or with better facial hair, John Hiller would be enshrined in Cooperstown. Instead, he's merely the best Canadian in Detroit Tigers history.
Thanks Canada.