The D On Austin Jackson's Tigers Cap Also Stood For Defense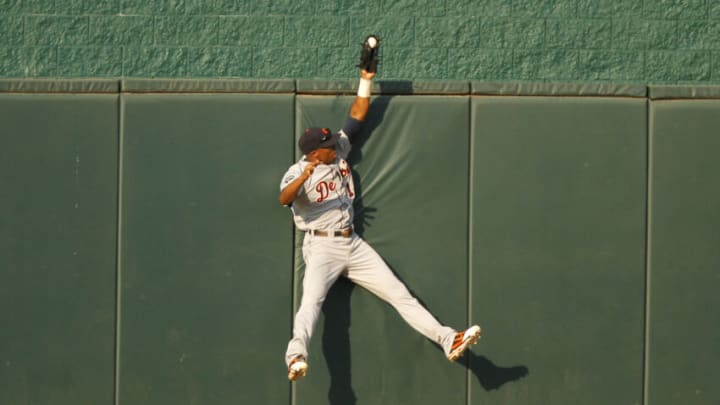 Austin Jackson reaches over the wall to rob the Royals' Alex Gordon of a home run on August 6, 2011 in Kansas City. (Photo by Ed Zurga/Getty Images) /
Austin Jackson leaps for the ball. (Photo by Gregory Shamus/Getty Images) /
June 2, 2010: "OH, JACKSON!!!" (Part One)
The 17,738 fans who showed up at Comerica Park for this Wednesday night matchup between the Tigers and Cleveland Indians had no idea they were about to witness a game that will be talked about until the end of time. Through eight innings, Detroit's starting pitcher, Armando Galarraga, was perfect. Indians hitters went up to the plate and went right back to the dugout twenty-four times in a row.
It all began when Trevor Crowe, Cleveland's leadoff hitter, flew out to Jackson in center for the game's first out. Jackson also caught fly balls in the third, fourth, sixth, and seventh innings to help maintain Galarraga's perfection. They were all fairly routine outs, but as the intensity in the ballpark increased, it looked like one hitter was going to rise to the occasion. Mark Grudzielanek, who had flown out to Jackson leading off the third inning, was scheduled to lead off in the ninth.
Grudzielanek took a big swing at Galarraga's first offering and sent the ball soaring high and deep to the gap in left-center field. Jackson was stationed in dead center and not nearly deep enough. He raced back toward the wall, anticipating where the ball might drop. In most ballparks, it would've dropped into the seats for a home run. Inside Comerica Park, it looked like the perfect game was about to be spoiled by a double. The speedy Jackson heroically arrived in the nick of time. Reaching upward with his gloved left arm, he made the catch as his left foot touched down on the warning track. He put both arms out to steady himself as his momentum carried him the final few steps to the wall.
The ballpark erupted with applause. On the mound, Galarraga smiled a relieved smile. There was jubilation in the Detroit dugout. In what has become a legendary reaction, Fox Sports Detroit analyst Rod Allen loudly exclaimed, "OH, JACKSON!!!" His play-by-play partner, Mario Impemba, proclaimed it "a sparkling catch."  Comparisons to Willie Mays' iconic catch in the 1954 World Series abounded everywhere. Considering what was at stake in that moment, it's not hyperbole to suggest that Austin Jackson may have made the most exciting catch in franchise history. Afterward, he said,
""Off the bat, I definitely didn't think I was going to have a chance to get there. It hung up there a lot longer than I thought it was going to. As I closed on it, I realized I had a pretty good chance to catch it.""
Of course, the feelgood buzz shared by every Tigers fan in the ballpark, watching on TV, or listening to the radio didn't last much longer. The historical record will forever show that Galarraga's perfect game was infamously broken up by umpire Jim Joyce's blown call two batters later. Although it still counts as a 3-0 Tigers victory, a contingent of Detroit baseball fans will always remain in agreement with Jackson, who summed up the sentiments of his teammates by declaring, "In our minds, that was a perfect game."
The next afternoon, Tigers fans at Comerica Park showed their appreciation for Jackson's skills when they gave him a standing ovation after he made a similar running catch to track down a deep fly ball to right-center in the second inning.