The D On Austin Jackson's Tigers Cap Also Stood For Defense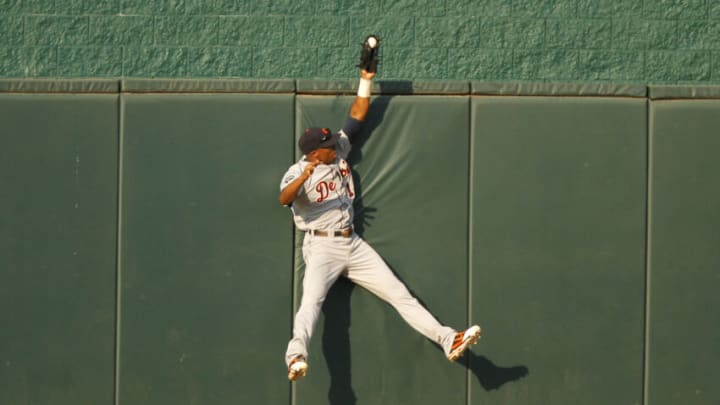 Austin Jackson reaches over the wall to rob the Royals' Alex Gordon of a home run on August 6, 2011 in Kansas City. (Photo by Ed Zurga/Getty Images) /
The D on Austin Jackson's Tigers cap also stood for Defense. (Photo: Kim Klement-USA TODAY Sports) /
August 6, 2011: Right Off the Bat
Justin Verlander was a maestro on the mound in 2011. The eventual AL Cy Young Award winner and AL Most Valuable Player brought a 15-5 record into this encounter with the Kansas City Royals. The Tigers jumped out to a 2-0 lead for their ace in the top of the first inning. Their hosts were bound and determined to start chipping away at that slim lead as soon as possible. Austin Jackson was bound and determined to not let that happen.
Royals leadoff hitter Alex Gordon swung at the first pitch Verlander threw in the bottom of the first. Gordon's fly ball was headed toward the wall in center field. Austin Jackson tracked it down, and he was ready. With a perfectly timed leap, he ascended to snow cone the ball and rob Gordon of a home run just before it cleared the top of the wall. Jackson's back brushed against the wall as he made the catch. Gordon could only smile in disbelief as his home-run trot was curtailed.
The Tigers went on to win, 4-3. Although Jackson had made the first-inning catch look easy, Verlander appreciated his centerfielder's effort and the early effect that it had on the game. Verlander said,
""Obviously, it was big, especially looking back on the game now. I don't know if things would have gone the same way. It's a great feeling on the first batter of the game when you get a play like that behind you. It's almost normal for (Jackson) to make those types of plays. In my opinion, he's a Gold Glove centerfielder. He makes those kinds of plays all the time.""
Austin Jackson robs the Royals' Alex Gordon of a home run in the first inning on August 6, 2011 in Kansas City. (Photo by Ed Zurga/Getty Images) /