Hold Off On the Condemnations of Valverde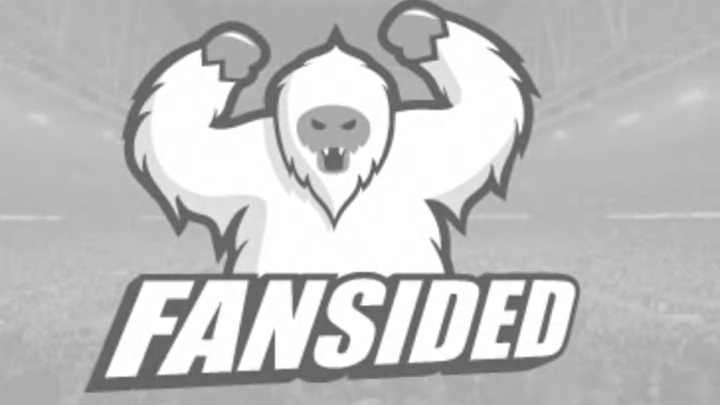 I'm that guy who is still behind Valverde. If you looked at his 2012, you'd see a mediocre performance that could have been really bad if so many deep flies hadn't been caught. This year his final results in terms of ERA and saving games have been similar (a little worse), but… This year the balls haven't been getting caught, but everything else that he has been doing is minimizing the damage. His strikeout rate is back up where it was when he came to Detroit, his walk rate is the lowest of his career and if you ignore the 5 jacks, he has only allowed 13 other baserunners in 18 games and only one baserunner has been driven in by anything but a home run (in the only game this season in which he walked more than one). If that HR/FB rate came down to a normal level, even one worse than league average, he'd be looking pretty good.
June 7, 2013; Detroit, MI, USA; Detroit Tigers pitching coach Jeff Jones (center) talks to Detroit Tigers relief pitcher Jose Valverde (46) in the ninth inning against the Cleveland Indians at Comerica Park. Detroit won 7-5. Mandatory Credit: Rick Osentoski-USA TODAY Sports
This sort of argument is going to be hard to accept for the "what have you done for me lately" crowd, since all of those 5 home runs have come in Valverde's past 6 appearances stretching back all of 2 weeks. Over those 6 appearances, his numbers really are horrendous – almost 2012 playoffs bad. 3 saves, 2 blown (and one bad appearance in a non-save situation), an 11.81 ERA and a .370 batting average allowed. You tolerate a reliever that alternates good outings and bad outings if it's the low man on the totem pole just up from Toledo (like Jose Ortega), but you can't from a closer – he's in a position to do too much damage. Contrast this to Valverde prior to May 31 when Valverde had an 0.75 ERA and a .259 OPS allowed and you have to wonder what went wrong.
Tigers pitching coaches should be exhaustively examining film and whatnot to try to figure out what, if anything, has changed to let teams hammer Papa Grande like this. But… it's entirely possible that they won't find anything – except that his splitter is off. 4 of these homers have come with 2 strikes when Valverde was trying to put guys away, so maybe he just got a bit too predictable as far as his pitch pattern. This isn't a repeat of last postseason – at least not yet. Then, en route to an ERA of 30.38 in 4 appearances against the A's and Yankees, Valverde allowed 9 other hits in 2 2/3 innings in addition to the 2 painful home runs. His line drive rate in those games was an ungodly 46% – over the past 2 weeks it has been only 10%. Aside from the homers, he has allowed 5 other hits in 5 1/3 innings. Then and now, walks and strikeouts weren't the issue: 6 of his 8 outs recorded in the 2012 postseason were Ks, and he has 7 strikeouts against only 1 walk in the past 2 weeks. What I'm trying to say is this: it's just the home runs, that's it. If you can fix that – or if that sort of fixes itself – Valverde looks like a very serviceable reliever in a way that (for example) Brayan Villarreal doesn't right now.
While I'm at it… so does Phil Coke. From what I have heard, it sounds like Coke is getting the same kind of loud calls to ride him out of town on a rail that Valverde has. And, obviously, that 5.49 ERA looks bad as do the 4 losses charged to his account. Part of the problem is that Coke has been bad in the clutch. But… mainly Coke has been having trouble stranding runners and unless you are Luke Hochevar, that's the kind of thing that evens itself out over the course of a season. It isn't normal for a guy who pitches well with the bases empty to pitch badly with men on. Coke has allowed 25 guys to reach base for a .312 OBP allowed. But… 12 of them have scored (all earned) for a strand rate of only 53%. There's only one reliever with at least as many innings pitched as Coke and a lower strand rate – again, it's not normal. If you just looked at Coke's peripherals (including BABIP) you'd expect a fair degree of success, and I'd say you're likely to see that over the rest of the summer.