Detroit Tigers Still Have Lingering Questions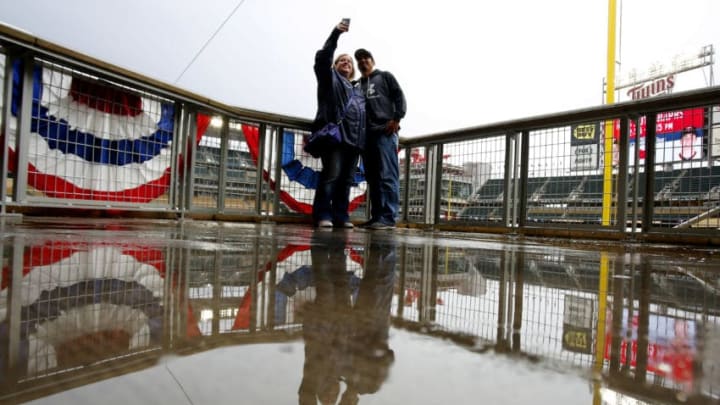 MINNEAPOLIS, MN - OCTOBER 1: Minnesota Twins fans take a selfie before the start of the last baseball game of the regular season between the Minnesota Twins and the Detroit Tigers on October 1, 2017 at Target Field in Minneapolis, Minnesota. (Photo by Andy King/Getty Images) /
The Detroit Tigers 2018 season will be here before you know it, and there are many questions surrounding the season.
One of them is what will the starting rotation be? Our own Austin Green tries to predict who'll be in the Detroit Tigers rotation for the 2018 season. One thing is for certain, Anibal Sanchez won't be in the rotation for the Old English D.
Another lingering question is who will bat leadoff for the team, which Jason Beck of MLB.com tries to answer. In years past the Tigers have had heavy hitters they could shuffle around, next season that'll hardly be the case.
The team is rebuilding and questions aren't the only thing surrounding the team going into the season. Jason Beck again asks the tough questions, such as can Miggy and Zimmerman stay healthy in the 2018 campaign?
The Detroit Tigers are rebuilding and looking to start a new era in the Motor City.  You can read the biggest storylines from 2017 according to MLB.com here.
During the Winter Meetings, Michael Fulmer name swirled around the trade rumors. The Detroit Tigers reportedly turned down a trade from the New York Yankees.
The team also reportedly offered Nicholas Castellanos a contract extension but reports indicate that he turned it down.
The Detroit Tigers have one of the top five most improved farm systems in major league baseball. One of the Tigers affiliate-the AA affiliate Erie SeaWolves tweeted out the following after Erie, Pennslyvania received recording setting snowfalls.
Tigers' prospect Daz Cameron is one of a dozen prospects set to break out in the 2018 season.
You can, of course, see the Detroit Tigers top thirty prospects right here.
Next: Predicting the 2018 Rotation
As the franchise rebuilds, veteran players such as former Tiger Alex Avila could be a prime candidate to rebound in the Motor City. The team still needs to fill some needs before the season starts-needs such as a starting pitcher.