Detroit Tigers: TigersFest Is Next Weekend!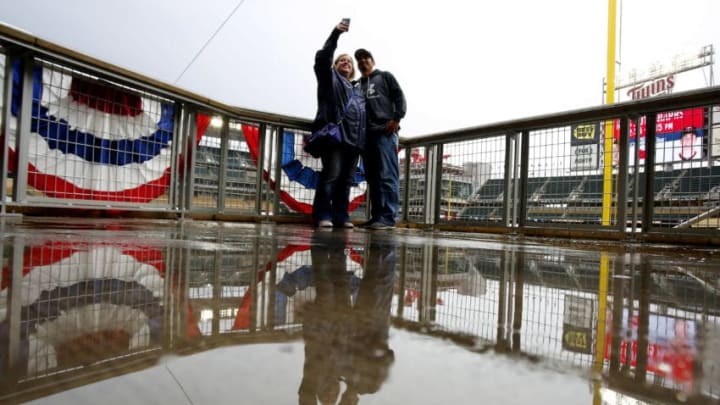 MINNEAPOLIS, MN - OCTOBER 1: Minnesota Twins fans take a selfie before the start of the last baseball game of the regular season between the Minnesota Twins and the Detroit Tigers on October 1, 2017 at Target Field in Minneapolis, Minnesota. (Photo by Andy King/Getty Images) /
Here at the Corner, we round up Detroit Tigers news and rumors around the Tigers blogosphere so that you don't spend hours surfing the web searching.
The Detroit Tigers are building up to Tigersfest with their annual winter caravan. The Tigers will be splitting the team up into two buses. One bus will head up to northern Michigan, while the other bus will be in the Metro Detroit area.
Detroit Athletic Co. thinks that the Detroit Tigers need to right a wrong with Norman Stearns. Most fans don't know who Norman "Turkey" Stearns is. Even with the fact that he's one of the greatest Tigers ever. He played for the Negro League Detroit Stars. Detroit Athletic Co. thinks he deserves a statue inside Comerica Park and they're right.
"Apparently no one from the Tigers noticed what an unbelievable and ironic slight that is can be defined as nothing less than outrageous.Stearnes is one of the top 100 players ever to play the game of baseball, but just like during his playing days with the Detroit Stars, he can't get his just due inside the park.It isn't the first slight Stearnes saw from the city he played such an elegant outfield in. Stearnes was elected to the National Baseball Hall of Fame in 2000—seven years before he was elected to the Michigan Sports Hall of Fame."
Stearns is arguably the second greatest player in Tigers' franchise history, yet he barely gets a small plaque in the stadium.
Next: Where are the '06 Detroit Tigers?
Around Motor City Bengals
The Detroit Tigers are entering a new era in the Motor City. The era they're leaving started in 2006 when Pudge and others came to town. Andy Patton looked at where the 2006 Detroit Tigers are now.
Alex Wilson's name has been floating around the rumor trade mill, and Austin Green tried to predict what a trade of him might look like. Finally, 2018 is the first year of the Detroit Tigers rebuild-could any records be set in 2018?