Detroit Tigers: An unscientific way to predict 2018 performance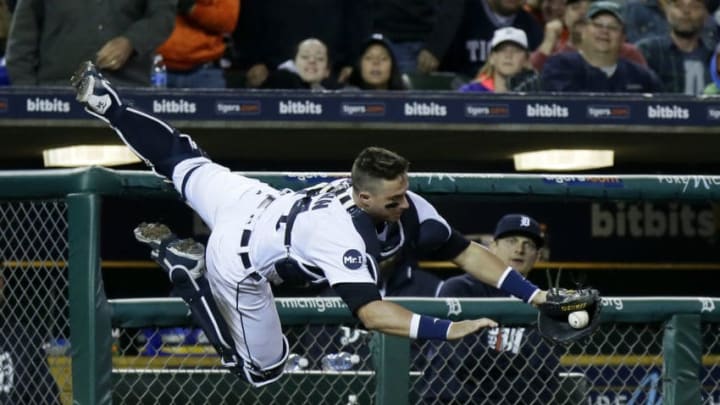 DETROIT, MI - MAY 20: Catcher James McCann #34 of the Detroit Tigers makes the catch on a foul ball hit by Joey Gallo of the Texas Rangers during the seventh inning at Comerica Park on May 20, 2017 in Detroit, Michigan. (Photo by Duane Burleson/Getty Images) /
DETROIT, MI – SEPTEMBER 24: James McCann #34 of the Detroit Tigers pounds fist with Paws before a MLB game against the Minnesota Twins at Comerica Park on September 24, 2017 in Detroit, Michigan. (Photo by Dave Reginek/Getty Images) /
The Detroit Tigers have a lot of question marks heading into 2018. Here is a unique way to look at projected performance for Detroit's young team.
Detroit Tigers fans are beginning to come to terms with the rebuilding process taking place in the Motor City. While having less major league talent is a tough pill to swallow, fans will get to enjoy watching young prospects grow and develop at the big league level. With established players, it is usually somewhat predictable how they will perform year in and year out. Rookies and prospects, however, are a different story.
There are hundreds of different projection systems out there that use advanced stats to try and predict future performance. PECOTA, Steamer, ZIPS and Depth Charts are just a handful of the ways for fans to gauge how successful their team or their favorite player will be in 2018.
Here at Motor City Bengals, we decided to use a completely different 'system' to measure potential performance by our Tigers in 2018.
Baseball-reference.com has a program called "Similarity Scores" which was originally thought up by baseball statistics guru Bill James in the mid-1980's. You can read more here.
For active players who have accrued a certain number of at-bats, the program will crunch the numbers and create a list of the ten players who have had the most similar career through a certain age.
So for example, on Justin Verlander's baseball-reference page his similarity score says "similar pitchers through age 34". His list includes Dwight Gooden, Mike Mussina, Bob Welch and John Smoltz. The purpose of this exercise is to pick the closest comparison and look at how they did the next season. So in this case, we would look at how Dwight Gooden did at age 35, to make a guess at how Verlander will do at the same age
It goes without saying that this is not a very reliable projection module. Injuries, teammates, park factors, even the era of baseball all factor heavily into this. This exercise should be taken more as a fun comparison tool, as opposed to a reliable prediction for our 2018 Tigers.
Let's take a look at what this comparison tool thinks of our 2018 Detroit Tigers.