Detroit Tigers: A farewell to Victor Martinez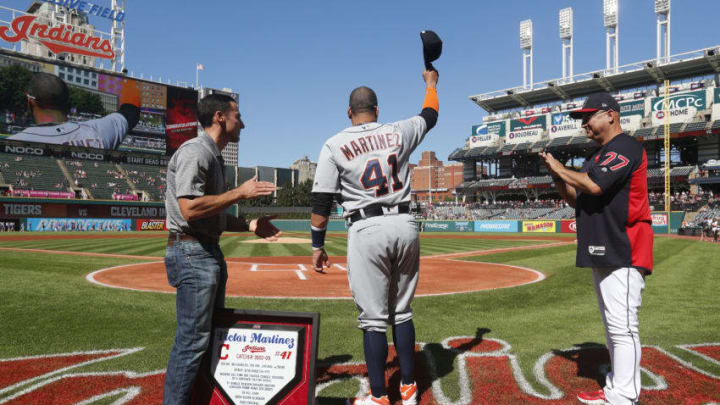 CLEVELAND, OH - SEPTEMBER 15: Victor Martinez #41 of the Detroit Tigers waves to the crowd after receiving a plaque honoring his announced retirement from Cleveland Indians President Chris Antonetti (L) as Cleveland Indians Manager Terry Francona #77 looks on before the start of the game against the Detroit Tigers at Progressive Field on September 15, 2018 in Cleveland, Ohio. (Photo by David Maxwell/Getty Images) /
The Detroit Tigers got a lot of good times, and a lot of bad times, out of designated hitter Victor Martinez, who will play his final game on Saturday.
Detroit Tigers designated hitter Victor Martinez announced that Saturday will be his final game in a big league uniform. He does not intend to play Sunday against the Royals and will not play over Detroit's final road trip as he prefers his final game to be at Comerica Park.
Martinez was a rather polarizing figure in Detroit's history, a player who was at his best when the Tigers were good, but whose downfall coincided with Detroit's – making him an easy scapegoat as the team stumbled into mediocrity.
Martinez came to the Detroit Tigers in 2011, a high-profile signing for a team looking for some added oomph as they pushed for a World Series. Martinez did not disappoint, slashing .330/.380/.470 with 12 home runs and 103 RBI. He hit right behind Miguel Cabrera, offering elite protection for the elite slugger.
A torn ACL cost Martinez all of 2012, which was part of the reason the Tigers went out and signed Prince Fielder to his massive contract. Martinez returned in 2013, giving Detroit a formidable 3-4-5 with Miggy, Prince and Martinez. Indeed each of them had excellent seasons, with V-Mart slashing .301/.355/.430 with 14 home runs.
2014 was when Martinez truly shined. Fielder was dealt for Ian Kinsler, putting more pressure on V-Mart to produce in the heart of the order. And produce, he did. Martinez blasted 32 round-trippers, six more than he had hit in the previous two seasons combined. He also slashed a wicked .335/.409/.565, with 103 RBI. He posted a 10.9% walk rate and just a 6.6% strikeout rate – one of the best positive differences by a hitter in recent memory. Hell, V-Mart even stole bases that season.
Let's look at 2014 a little bit more. That season, with an 0-2 count, Martinez hit .277 with a 117 wRC+ and a 16.7% strikeout rate. That 16.7% strikeout rate would be better than every Tigers regular this season except Martinez himself and Jose Iglesias.
That's right, Martinez with an 0-2 count in 2014 struck out less than nearly every Tigers regular this season. His .277 BA and 117 wRC+ is better than all but Miggy and Nick Castellanos. Unbelievable.
Oh, it's also worth pointing out that on 1-2 counts, V-Mart hit .342 with a 147 wRC+.
2015 was the beginning of V-Mart's slow decline, as the 36-year-old hit just .245/.301/.366 with 11 home runs. Many expected that to be it for V-Mart, but he rebounded with 27 home runs and a tidy .289/.351/.476 line.
There were no more rebounds for Martinez after 2016. He hit just .255 with 10 home runs last year. As the team began to descend into rebuilding territory, Martinez's struggles were exacerbated. It became clear after the J.D. Martinez and Justin Verlander trades that Martinez was not going to be part of Detroit's future. But he had one year and $18 million left on his contract, so 2018 became his swan song.
He hit well in 2014 and 2016 with off years in 2015 and 2017, so some hoped for a rebound in his last season. But alas, he didn't have it in him. As of this writing, Martinez is hitting .249/.296/.353 with just nine home runs. His 9.5% strikeout rate is his lowest since 2014, but his 6.4% walk rate is why is OBP is at a career-low.
Now, V-Mart will hang them up – having spent 821 games in an Indians uniform, 969 (after today) in a Tigers uni, and 183 with the Red Sox. He is four home runs shy of 250 for his career, a mark he is unlikely to reach barring quite the miraculous weekend.
Martinez will go down as one of, if not the best, pure DH in Detroit Tigers franchise history. It's hard to see a player's decline, especially when the timing coincides so closely with the decline of a franchise. Still, Martinez should be remembered for his prolific earlier seasons in the Motor City.