Detroit Tigers: What to watch for this afternoon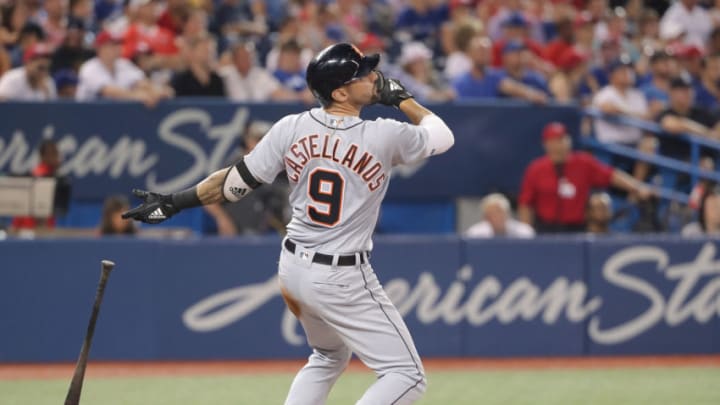 TORONTO, ON - JULY 1: Nicholas Castellanos #9 of the Detroit Tigers hits a grand slam home run in the fifth inning during MLB game action against the Toronto Blue Jays at Rogers Centre on July 1, 2018 in Toronto, Canada. (Photo by Tom Szczerbowski/Getty Images) /
The Detroit Tigers are 1-1 through their first two games of the season heading into the third game against Toronto on Saturday afternoon.
Only two games into the season and this Tigers team has already given fans plenty to think about. Hitters are struggling to get things going at the plate failing to support some good showings on the mound by Detroit's pitchers. Here's what to look for in game three of the season this afternoon.
Spencer Turnbull
Detroit sends Spencer Turnbull to the mound this afternoon against the Blue Jays. In 2018, Turnbull worked his way through the Tigers' farm system to eventually start three games in the majors. In those three starts plus one relief appearance last year, Turnbull was 0-2 with a 6.06 ERA. However, Turnbull impressed Detroit enough with 1.80 ERA in five appearances this spring to earn himself a spot in the starting rotation.
Jordan Zimmermann posted an extremely impressive start on Opening Day, and Matt Boyd had shining moments in last night's loss as well, striking out 10 Toronto hitters in just five innings. Hopefully, Turnbull found his mojo in the Grapefruit league and can prove the team was right to give him a starting rotation spot. If the Tigers can get three solid performances in a row by their starters to begin the season, that's a good sign of things to come.
Will the bats finally show up?
It's no secret the biggest concern for Detroit through games one and two has been the stagnant offense. In two games, the Tigers as a whole have only recorded six hits, half of those coming from Nick Castellanos. In fact, Castellanos was the only Tiger to get a hit in last night's 6-0 loss.
Christin Stewart turned heads with his two-run blast on Opening Day but only reached base once last night on a walk. Miguel Cabrera impressed everyone in Spring Training but is 0-7 through the first two games. It's no secret Castellanos is the biggest trade piece the Tigers have this season. If he's the only Tiger who can consistently get on base, what shape will Detroit be in if he is eventually dealt away?
The Tigers face on the mound this afternoon Toronto's Aaron Sanchez. Sanchez went 4-6 in 20 starts for the Jays in 2018 with a 4.89 ERA. First pitch is set for 3:07 pm this afternoon in Toronto.
What do you want to see from the Tigers this afternoon? Feel free to let us know in the comments section down below.