Detroit Tigers: Tigers eyeing free agent James Shields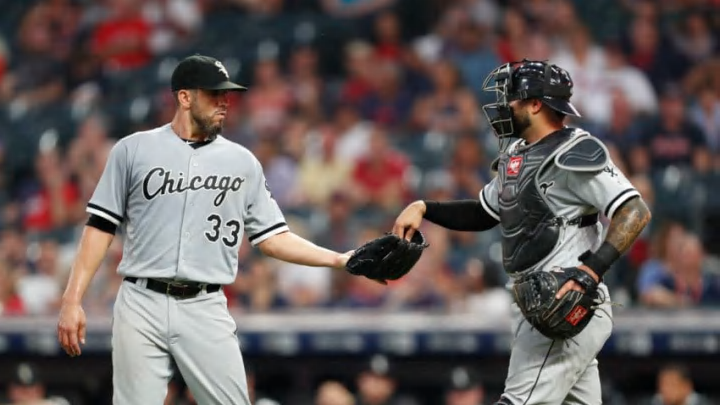 CLEVELAND, OH - SEPTEMBER 20: James Shields #33 of the Chicago White Sox talks with catcher Omar Narvaez #38during the first inning against the Cleveland Indians at Progressive Field on September 20, 2018 in Cleveland, Ohio. The White Sox defeated the Indians 5-4 in 11 innings. (Photo by David Maxwell/Getty Images) /
The Detroit Tigers have suffered through some costly loses in the bullpen this year.
In March, Detroit Tigers fans learned they were not going to have Michael Fulmer for the entire year. Then this April, Matt Moore pitched only 10 innings before he needed to have surgery on his right knee. To add insult to injury, the Tigers had to add starting pitcher Jordan Zimmermann and relief pitcher Blaine Hardy to the injury report within the past two weeks.
Even with these injuries, the Tigers' pitching staff has been a bright spot during this rebuilding season. We've seen impressive performances from starting pitchers Daniel Norris, Matthew Boyd, and Spencer Turnbull with their combined ERA of 2.94. We have also been treated to some hopeful glimpses into the future involving prospects Casey Mize and Matt Manning.
Although the Detroit Tigers have seen adequate success, it seems they are still in the market for bringing in some extra help. Jon Morosi, an MLB Network insider, announced on Twitter that the Detroit Tigers were one of three teams scouting veteran starting pitcher James Shields.
In Morosi's findings, he reports that the Tigers, along with the Rangers and Indians, have been attending Shields' throwing sessions in the past couple of weeks.
Shields has been in the league for 13 years playing on four different teams. He was an All-Star in 2011 with the Rays and played in the 2014 World Series with the Royals. Tiger's fans will be familiar with Shields, as he has recently pitched with the White Sox during the past three years.
Shields is an appealing option for Detroit because of his durability on the mound. From 2006-2018, Shields has started an average of 31 games a season and has pitched over 2,500 innings his entire career. It would be helpful to have a durable starting pitcher for this season, as he could keep our other starters better rested. Another plus is his asking price, which is assumed to be a lot lower than other pitching options on the market. If Detroit wants a cheap reliable pitcher this season, Shields seems to be the way to go.
However, Shield's recent performances must be discussed. The 38-year-old's past three years have been rough with a combined ERA of 5.20 and WHIP of 1.45. In that period, he started in all 88 games he appeared in with a record of 18-42. He also has not held an ERA under 3.50 since his last season with Kansas City in 2014. These numbers are a bit daunting— not to mention that Shields hasn't played any meaningful baseball since September 25th of 2018.
I think that the Tigers are doing just fine at the moment. The team seems to be adjusting well to the four-person rotation for starting pitchers thus far. Plus, the Tigers have other available options within the organization if need be. I would worry that Shields would end up hurting the Tigers even more than helping them. Even if it turns out to be a one year contract, I think the risk could potentially be higher than the reward.
Cleveland could end up picking Shields up to deal with the loss of Corey Kluber. There is even a possibility that Texas could take the risk to improve their starting ERA of 5.50 which is the 4th worst in all the MLB.
When it is all said and done, if Detroit decides to take a chance on Shields, fans shouldn't be upset. There is not a lot to lose this season. I believe we are just fine where we are.
Do you think it would help or hurt the Tigers to sign James Shields? Feel free to let us know in the comments section down below.