Detroit Tigers return to Motown to face White Sox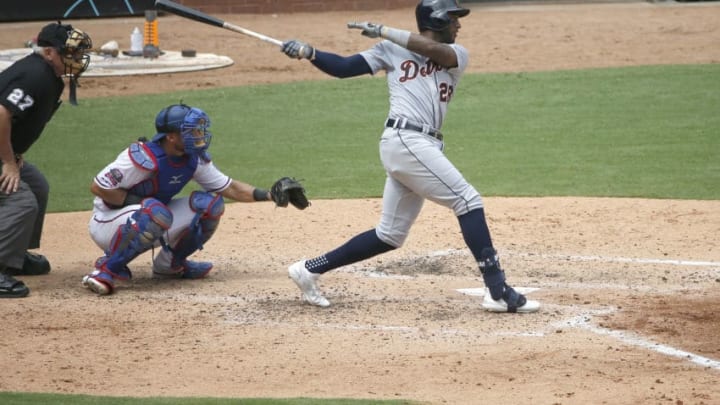 ARLINGTON, TX - AUGUST 4: Niko Goodrum #28 of the Detroit Tigers hits two run double against the Texas Rangers during the fifth inning at Globe Life Park in Arlington on August 4, 2019 in Arlington, Texas. The Rangers won 9-4. (Photo by Ron Jenkins/Getty Images) /
After a long road trip, the Detroit Tigers go back to Comerica Park for a four-game series against the Chicago White Sox beginning Monday night.
The Detroit Tigers' road trip was a rocky one, but that doesn't mean there wasn't a little bit of success. Even though the Tigers were swept by the Marines and Rangers, they were able to steal a series against the Angels. The Los Angeles series win was Detroit's first series win since late May when they got the best of the Orioles.
The Tigers get out of a horrid July as they were only able to muster five wins, which also happens to be the same amount of games they won in June. Luckily, there are only two months of the season left, so Detroit Tigers fans will not have to suffer much longer. However, the bright side is that the last two months could showcase some Tiger prospects hoping to give us a reason why they deserve to be a regular in the lineup. Fans began to see this on the road trip and should see it continue against the White Sox.
Detroit has only witnessed a small sample size from prospects Jake Rogers and Travis Demeritte. However, fans can expect to get a better sense of what these players have to offer as the season unfolds. Rogers, Detroit's 24-year-old catcher, has played in four games thus far and has shown that he can get on base. In his 14 at-bats, he has obtained three hits, including a home run, and knocked two runs to the plate. Detroit has lacked in developmental talent at catcher, so seeing a prospect come up is exciting and something for fans to keep an eye on as the season comes to a close.
Demeritte has only been in three games since he was just acquired during the trade deadline. In his nine at-bats, he has only been able to hit once. Of course, it is still early, and the man just finished his first series in the major leagues. Again, this isn't nearly enough to make any sort of assessment. The right fielder still has a lot of time to prove to the fanbase that he can be of some value.
Another thing for fans to look out for will be pitcher Tyler Alexander. Alexander is the projected starter for the final game in series against the White Sox Wednesday night. He found himself in the starting pitching rotation this July and has appeared on the mound in four games for the Tigers this year. He is still young at 25 years of age and has put on some impressive performances.
He has a record of 0-2 and an ERA of 4.50, but don't let that fool you. His major league debut was July 3rd as he put on a reliable performance against the White Sox. In Alexander's five innings, he only gave up two runs and rang up four in the process. In his next start, he continued his solid play giving up only one run and three hits in seven innings. Although his last two starts have resulted in him having the blame for the loss, Alexander is someone to keep an eye on as he develops.
With both Chicago and Detroit having nothing to look forward in the post-season, they still have the opportunity to experiment so they can build later down the road. The first pitch is scheduled for 7:10 p.m. Monday night from Comerica Park.