2020 MLB Draft Profile: OF Enrique Bradfield Jr. has dynamic talents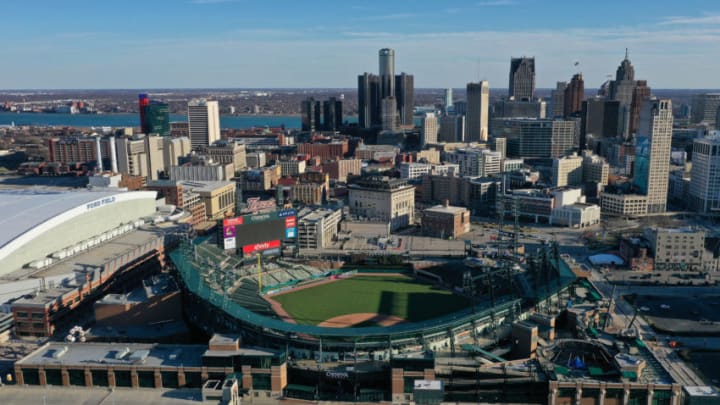 Aerial view of Comerica Park from a drone on March 14, 2020 in Detroit, Michigan. (Photo by Gregory Shamus/Getty Images) /
Enrique Bradfield Jr. sat down with us to talk about the way he plays baseball, his commitment to Vanderbilt, and his future in the sport.
Like any other young, talented ballplayer, Enrique Bradfield Jr. has major league aspirations. He isn't setting himself a low bar to clear when he gets to the bigs, either.
"I've always thought about getting a chance against Aroldis Chapman," said Bradfield Jr. in a March interview with Motor City Bengals. "That's somebody that I've always wanted to face."
Not everyone would be excited to get an at-bat against Chapman – he's one of the most feared arms anywhere in the game. Then again, Bradfield Jr. isn't like most ballplayers. He's a premier prep talent in the 2020 draft class and could wind up being a steal for the Tigers if the team decides they're willing to take on a riskier player in the midst of a draft climate that's become significantly risk-adverse towards the 2020 class.
Strengths
What sets Bradfield Jr. apart from the pack is simple; he's fast and he knows it. A truly elite runner, he's able to beat out balls hit to any part of the field. He isn't the biggest guy in the world, but he uses that to his advantage with a short swing and quick hands, which gives him the bat-to-ball abilities to bring his speed into play. He understands how to use that skill well at the plate, and has the kind of utter confidence in his abilities that typifies successful baseball players.
"I'm a smallball player, I'm gonna bunt, I'm gonna stay middle of the field, hit line drives, drive balls the other way," said Bradfield Jr. "I just want to make sure I'm aggressive, I put pressure on the defense. I make defenders really have to think about where they play me and how they play me."
FanGraphs calls what he does a "slash and dash approach," one that's disappearing in the context of the modern game. He isn't daunted by that fact, and set his sights on carving out a role similar to that held by Brewers star Christian Yelich.
"I actually got to see him early in his career when he was a Marlin and I was able to see how he played and how his game has evolved to what it is now. Early in his career, he was a little more speedy, he hadn't filled out yet in his size," opined Bradfield Jr. "He was more of a contact/line drives hitter and how you see him shooting bullets in the gaps and taking them out of the park. He's really doing damage and that's someone I wanna see myself become hitting-wise, but also remember my smallball game and use my speed and my bat skills to also get the job done."
Bradfield Jr.'s speed manifests itself in every part of his game, and while it's what makes him a useful hitter, it's really most evident in the field. There's no doubt of his ability to stay in center field long-term. He has absurd range, complimented with what Baseball America calls "advanced route-running ability" and "an elite first-step." His abilities in the field will no doubt be a major draw for whichever team eventually drafts him.
Weaknesses
As with many speedsters, the biggest hole in Bradfield Jr.'s profile is his lack of power. He was totally unconcerned with that particular aspect of his game, saying: "I'm gonna get bigger and stronger as time goes on; that's not a worry for me." Evaluators, on the other hand, aren't as convinced.
Standing at only 6 feet and weighing in at 155 pounds and with an approach to the game that would suffer if he bulked up to any considerable degree, there's little reason to project a major power surge from him in the future. Shooting balls into the outfield gaps works fine in the context of what he does – many players with Bradfield Jr.'s speed can hardly get the ball past the infield dirt, much less do so consistently. Power plays such a huge part in today's game, though, that if he finds himself struggling to catch up to professional pitching, it will severely restrict his future in the sport.
While it isn't necessarily involved with his on-field production, another factor that may make teams hesitant to bet on Bradfield Jr.'s upside as an elite defensive center fielder is his commitment to play at Vanderbilt University. In the world of college baseball, few names are more imposing than the Vanderbilt Commodores. It's famously difficult to sign players away from commitments to play there, and when we asked about his future, Bradfield Jr. seemed to fit that trend neatly.
"I'm not really focused on the draft at all," he explained. "For me, the next step right now is I'm going to school. Both are a great chance, but right now, for sure I'm signed and I'm committed to Vanderbilt, and that's what's next for me."
Any team who drafts this Vanderbilt commit with a high pick with the intent of adding him to the organization needs to be certain in advance they can sign him.
Draft Projection
Who knows? In a normal year, this portion would be a straightforward read about his high ceiling putting him in play as high as the first compensation round. This year though, the world has seemingly gone mad and baseball has followed suit. Due to the fact that the 2020 draft will be a five-round affair, teams will be hesitant to gamble a significant amount of their draft pool on a payer with a high risk factor. Unfortunately, risk is intrinsic to the kind of player that Bradfield Jr. is, and his path to the majors is narrower than teams would like.
The possibility also exists that there will be a team who uses players like Bradfield Jr. to try to game the system under this year's draft protocol. The fallout from adjusted MLB draft rules includes, among many other things, the strong possibility of an absolutely loaded 2021 draft class. A team could draft Bradfield Jr. at the back end of the first round or with a compensatory pick and make a lukewarm run at signing him. The calculus there is that if they sign him to a lower than expected bonus, all is well and good, but if he holds fast, they'll receive a compensatory pick in the 2021 draft and potentially wind up adding an extra first round pick and the corresponding bonus pool money in an especially stacked class.
Video
You can read the full interview with Enrique Bradfield Jr. here. Follow him on Twitter at @EBradfield20.