2020 MLB Draft Recap: Kansas City Royals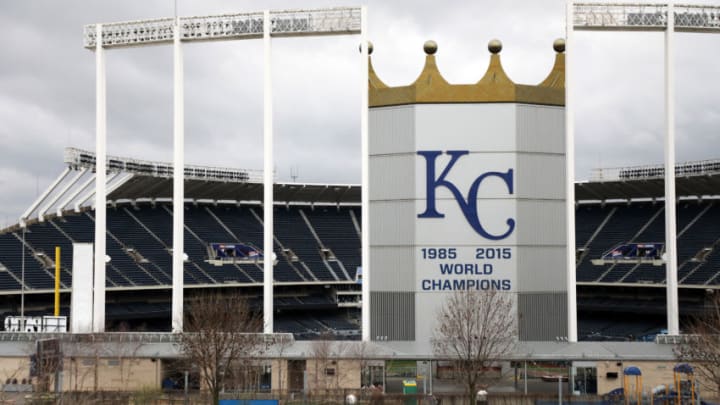 KANSAS CITY, MO - MARCH 19: A jogger runs past an empty Kauffman Stadium, home of the Kansas City Royals, as Major League Baseball has shut down competition due to coronavirus on March 19, 2020 in Kansas City, Missouri. The NBA, NHL, NCAA and MLB have all announced cancellations or postponements of events because of COVID-19. (Photo by Jamie Squire/Getty Images) /
Our friends over at Kings of Kauffman gives us a few thoughts about their picks in the MLB Draft.
The division rival Kansas City Royals under general manager Dayton Moore,  followed a similar path as Al Avila in the 2019 MLB Draft, with a heavy mix of college hitters and pitchers with the exception of Bobby Witt, who was the second pick overall. For this year's draft, Moore focused on pitching, picking four pitchers out of the six picks, and picking up a potential super-utility guy with Nick Loftin. He continues to build off a 2018 draft that was loaded with college pitchers.
Before we get to our point of view on the Royals' MLB Draft most impactful pick, we brought in Jordan Foote, one of the writers at Kings of Kauffman, to get his thoughts.
Overall, it seems like the general consensus about the KC Royals' 2020 draft class has been a positive one. Dayton Moore has put together a few good drafts in a row and appears to have learned his lesson from the last time the team was in contention. Sustained success is the new expectation for the Royals and if this year's crop of fresh young talent has anything to do with it, things should turn around within the next three years without a doubt.
Moore did a great job of finding a balance between advanced talent and players that have tremendous raw tools, but need some time to develop. Asa Lacy wasn't supposed to fall to pick No. 4, so he's obviously the gem of the draft. Shortstop Nick Loftin may one day remind fans of Whit Merrifield, the team's current super-utility man that does just about everything well. Finding high-impact players at the beginning of any draft is paramount, and the Royals did a good job in doing just that.
Between flamethrowers like Ben Hernandez and Will Klein, in addition to other college talent acquired both in the draft and in the undrafted free agent pool, there's plenty to be excited about in the future. While Lacy and Loftin fit right into the 2018 class' timeline, the farm system should maintain its reputation as one of the best in baseball for a longer period of time than it did last decade. It'll soon be an exciting time to be a Royals fan.
Who could make the most impactful quickly: Asa Lacy
The rumor was it was between Torkelson and Lacy for the Tigers. Lacy fell to KC at 4 and gives the Royals another arm to add to a system that has two really good left-handed starters already in Kris Bubic and Daniel Lynch. Bubic started his 2019 season strong going quickly from low-A Lexington before moving up after a month to high-A Wilmington, leading the minor leagues in strikeouts with 185.
At 6'4, 215 lbs, with 130 Ks in 88 innings pitched in 2019 for Texas A&M, his stuff could have Lacy in the majors in no time with a four-pitch mix that gets swing and misses. Throwing from a three-quarters arm slot,  he features a plus fastball with tailing action, changeup, slider, and curveball. Since high school, he has changed his delivery to use more of his lower body, smoothing out his mechanics.  This is from 2017, and you can even see, he added some muscle to his frame.
This is from 2020:
Lacy is a disciple of Rapsado, using that to make his pitches better so with that continued focus plus from what you read about his work ethic, Dayton Moore will take the gift that fell to them at number four and run with it. The Royals top 10 on Fangraphs is littered with pitchers with Lynch and Bubic already at 50 Future Value and with right-handers Brady Singer and Jackson Kowar, it is easy to recognize them as one of the best farm systems in the division.
The Royals have gotten much more aggressive on signing undrafted free agents than Detroit, who has yet to sign anyone. Kansas City signed University of Michigan first baseman Matt Schmidt, which if you think about it, he's right here in your own backyard, but then to sign two former Tigers draft picks in  A.J Block, (19th round) and John McMillon (11th round) as Chris and I talked about it on the Tigers SRD podcast last night, ouch, but there is probably more to that than I know. Oh well.
Thanks to Jordan Poole for helping us out. Follow him on Twitter @TheBestFooteFWD and for on the KC Royals, check out the Kings of Kauffman.