Detroit Tigers: Four Manager Suggestions to replace Ron Gardenhire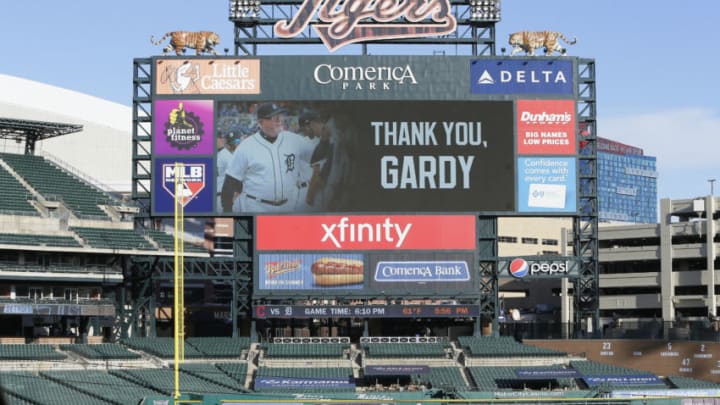 DETROIT, MI - SEPTEMBER 19: A message thanking Ron Gardenhire #15 of the Detroit Tigers for his time as manager is displayed at Comerica Park on September 19, 2020, in Detroit, Michigan. Gardenhire announced his immediate retirement from managing in a meeting with general manager Al Avila, leaving bench coach Lloyd McClendon to manage the Tigers for the rest of the season. (Photo by Duane Burleson/Getty Images) /
With Ron Gardenhire retiring yesterday, the Detroit Tigers are looking for a new manager in 2021. This decision is the one they have to get right.
The last sentence above about the Detroit Tigers having to get this manager's decision right, it was no exaggeration. Whether you like Tigers fan-favorite Don Kelly or the newest up and coming candidate, there is more to just hiring a body on the bench. With the team in the rebuilding process, Detroit has to find the right person for the job that can teach and guide.
Now with Don Kelly and judging already with the Twitter and Facebook comments from yesterday and today, some Tigers fans do not want another manager without experience (see Brad Ausmus) or another Tigers fan favorite (see Alan Trammell). In Trammell's case, the team he managed was just awful and he deserved a better fate but I digress.
The only thing I ask for in the next Tigers manager is to have a strong supporting staff. Rick Anderson and Joe Varva were coaches with Gardenhire in Minnesota. Vavra's role on the team has been greatly impactful to the hitters in the lineup and it has shown in the numbers such as hard-hit contact and approaches at the plate.  As far as Anderson is concerned, fans are pretty iriate with him most of the time and the team could use a change of philosophy there, in my opinion.
As far as Lloyd McClendon, Phil Clark, the team's assistant hitting coach, Jeff Pico the team's bullpen coach, Dave Clark, and Ramon Santiago, the future is unknown in how Detroit will deal with them but I will go back to a few of those names later.  Here are a few names I put together for suggestions for the next Tigers manager. Keep in mind that we are just a day removed from Ron Gardenhire's retirement. What direction Al Avila will take is entirely known to him and his staff only but there are a few names out there that Detroit Tigers fans could discuss. Also, no paywall so here's a few suggestions.
Fredi Gonzalez
JUPITER, FLORIDA – MARCH 04: (Photo by Mark Brown/Getty Images) /
Currently, Gonzalez is on Brandon Hyde's staff in Baltimore. Gonzalez and Hyde have familiarity, going back to their days in Miami when Gonzalez was the manager and Hyde was coaching in their minor league system.  He was 710-692 in his two stops with Atlanta and Florida. In an interview with Baltimore Baseball.com, he is just starting his journey into analytics and does not seem to be against the idea of using them in games.
He is bilingual, which would fit him well in a clubhouse that speaks English and Spanish. The Cuban-born Gonzalez is a veteran coach with a pair of post-season appearances in Atlanta and he has also managed in the minor league level. So he definitely has experience for a young team that will continue to grow.
Mark Kotsay
MESA, AZ – February 23: Quality Control Coach Mark Kotsay #7 of the Oakland Athletics stands in the dugout prior to the game against the San Francisco Giants at Hohokam Stadium on February 23, 2020 in Mesa, Arizona. (Photo by Michael Zagaris/Oakland Athletics/Getty Images) /
The former journeyman outfielder is now the Oakland Athletics' quality coach and was a favorite in the Boston Red Sox and San Francisco Giants manager openings in 2019. Now the question is "why?" as he has never been a manager? Well, he has served both in the front office in San Diego as a special assistant (yes, so did Ausmus) in 2014, a year after his retirement. From there, he was the hitting coach for a season before moving to Oakland in 2015 as a bench coach to now his current role as the quality control coach.
In an article in the Atheltic ($), Kotsay spoke about how coaching and managing all boils down to forming relationships. One of his mentors was former Cal State Fullerton coach Augie Garrido, who has one of the longest resumes in college baseball with five national championships between Fullerton and Texas.
If the Tigers wanted to head in the direction of giving a manager his first shot, Kotsay would be a good suggestion. The A's are leading in the west once again with a low payroll and continues to get the most out of their player development.
Phil Nevin
VENICE, FLORIDA – FEBRUARY 28: Phil Nevin #88 of the New York Yankkes looks on during the spring training game against the Atlanta Braves at Cool Today Park on February 28, 2020 in Venice, Florida. (Photo by Mark Brown/Getty Images) /
Currently, Nevin is the 3rd base coach with the Yankees and another product, like Kotsay, from Cal-State Fullerton. Tiger fans know him for his days as a player and later, the skipper for the Erie SeaWolves and the Toledo Mud Hens. While granted, he was under .500 in his four seasons between Erie and Toledo, he was a candidate for the Diamondbacks job in 2016.
He is also not a fan of Angel Hernandez.
That joke aside, he was not brought back by Detroit in 2013 but as Ashley MacLennan of Bless You Boys discussed way back in 2017, Avila was a fan of Nevin and was considered a candidate then so it could be possible he could be brought back into the fold. He is familiar with the Tigers' system
Mike Rabelo
Before Rabelo left to take a position on the Pirates coaching staff as the team's assistant hitting coach,  Rabelo was making his way up the Detroit Tigers minor league organization in six seasons as an effective manager with just one losing season in his stops between Connecticut, West Michigan, and Lakeland. He won manager of the year in 2017 while managing at West Michigan and most importantly, he has managed several players on the staff including Casey Mize and Tarik Skubal, and several other prospects in the system.
Rabelo makes a lot of sense. He has experience managing the players in the system and is familiar with what Al Avila and the rest of the staff wants to do. In his current role with Pittsburgh, he was responsible for the implementation of analytics in how batters take their approach so he is not shy with the new age of baseball.
Both he and Don Kelly started their careers together when they were in Detroit together at Low-A Oneonta so that relationship could continue if Rabelo was named manager or Kelly. In this case, I like Rabelo over Don Kelly because of his familiarity with the current Detroit Tigers roster and his experience on the management side.
Internal
As far as Ramon Santiago or Joe Vavra, it depends on what Al Avila wants to do but i think they have been impactful coaches this season for Detroit. Santiago has been a good bridge between the younger Latin players on the team and whatever Detroit has asked him to do, he had done it.
We are not sure what Vavra's interest is in managing but we have stated earlier here and in the article a few weeks back, he has made a big impact on the Tigers lineup. He can't control how much they strikeout but the rest of the deeper analytics show that Detroit's approach at the plate is vastly different than it was in the past.
Either way, no matter what happens, the Tigers are as good as the talent on the field. A manager sets the direction, has to manage the various personalities and roles. The Tigers are in the middle of a rebuild so whoever is brought in, fans have to keep that in mind.
Ron Gardenhire did the best he could with the cards that were dealt with him. In his retirement, I can say for the entire staff, we wish him nothing but the best. I appreciated his bluntness and his interviews with "Stoney and Jamie".