A Detroit Tigers Fan's Baseball Bucket List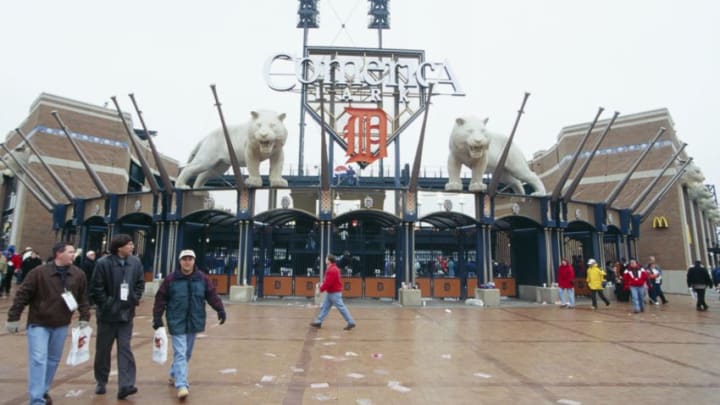 Comerica Park on April 11, 2000. (Photo by Harry How/Getty Images) /
How does your Detroit Tigers bucket list look like so far?
It doesn't take much conversation on Twitter with other Detroit Tigers fans to bring up topics that get a person thinking about what they have and have not seen in this baseball life…and suddenly a talk about a wood-bat summer league have you crafting a bucket list that is reasonably achievable in this lifetime.
I've been lucky enough to see ball games in a dozen big-league stadiums, some minor league parks, and some college fields. I've watched Hall of Famers dig into the box or toe the rubber. I've read hundreds of books and watched the most beloved movies in our sport. I've been to the Negro Leagues Baseball Hall of Fame in Kansas City. I have a few complaints so far.
I also get on the diamond often as a high school and 14U travel ball umpire which is a great way to stay connected to the game.
However, there is more out there. Some are very attainable…others might be a bit far-fetched. But it's great to have goals. It's good to have something just over the horizon where you need to keep walking forward to achieve.
So…with about 10-minutes of contemplation here is my initial baseball bucket list. We'll do it in reverse batting order fashion:
Batting 9th
Take in a game with the Tigers visiting Oriole Park at Camden Yards.
Why? Camden Yards started the new wave of stadiums with character. It became an experience after baseball came out of the cookie-cutter multi-use stadiums of the 1970s. It would be great to see the Tigers play there for a weekend.
Before or After- I just want to go to one of those places in Charm City where they dump a big pile of crabs on your table, give you a mallet to smash them with, and go to town on them with a cheap beer next to you.
BATTING 8th
The Midnight Sun Game at Growden Memorial Park, Fairbanks, AK in the Alaskan Baseball League.
Why? Well…obviously they'll be playing at Midnight with the sun out! Also, some fine college baseball players are on hand each year. Plus I want to see Alaska.
Before or After- HooDoo Brewing. Yeah…I just want a shirt that says "HooDoo Brewing".
BATTING 7th
Tigers Spring Training in Lakeland, FL
Why? It's probably something every Tigers fan needs to do once as a winter escape. Catch some rays out on the berm at Joker Marchant Stadium and definitely try to see some young prospects out on the back fields if possible.
Before or After- Surprisingly I've never heard much banter about the Lakeland brew scene among the Tigers faithful. I'll go wherever Lynn Henning tells me to go.
BATTING 6th
See Mike Trout play.
Why? Quite simple. He might end up as one of the five greatest players in the sport's history. I'd like to witness a weekend of games when he's in the Midwest. A three-hour drive to Kansas City or Minneapolis from here in Central Iowa will need to happen when the Angels are visiting in the next couple of years.
Before or After- Any of six favorite BBQ joints in KC or a stop at Surly Brewing in Minneapolis.
BATTING 5th
Tigers visiting Fenway Park
Why? Fenway has been around for over a century and some of the key moments in sports history happened on that ground. Pudge Fisk in Game 6. Ruth, Williams, Tony C, Yaz, Popi, Rice, etc…plus the Green Monster. Feels like you gotta see it. (I'll forget ALCS Game 2 in '13)
Before or After- I'll go wherever fellow Upper Michigan native and now Bostonian, Fangraphs writer David Laurila tells me to go.
BATTING 4TH The cleanup spot
A playoff game at Comerica Park in Detroit, MI
Why? Nothing beats post-season baseball intensity and drama. The idea of this Tigers rebuild ending one year and Matt Manning taking the mound in Game 7 of the ALCS with a raucous Motown crowd behind him…I'd get there for it. I saw the Tigers play at Tiger Stadium in '96 but I've never been to Comerica Park. I see Detroit in KC, MN, CHI or MIL.
Before or After- I'd go wherever HOFer Tom Gage or my old Detroit News TigerTalk Forum compatriots tell me to go!
BATTING 3rd
Spend one week watching the Cape Cod Baseball League in Massachusetts. This is a very important one to me.
Why? The best college baseball players playing games with no admission charge in one of the more scenic baseball locales in the country? Yeah, I've always wanted to do that. Chatham, Orleans, Cotuit, Yarmouth-Dennis, etc…I want to see them all after being on the beach in the morning.
Before or After- Devil's Purse Brewing Company. I mean…does the Devil carry a purse? Let's find out.
BATTING 2nd
The College World Series, Omaha, NE
Why? I watch and enjoy a fair amount of college baseball. I only live 2+ hours from Omaha. This is one that will be easy to cross off the list. It looks quite fun. Maybe in '21 if the COVID vaccine has us attending games again.
Before or After- The Drover. Legendary steak joint. I don't need to know much more.
BATTING 1st 
The National Baseball Hall of Fame and Museum Cooperstown, NY.
Why? Truth be told, I'm almost ashamed to have not done this one already over any other event on the list. No excuses. I've talked about it with others. Planned it all out. Priced it. Never followed through. It must happen. It's a gimme of a good time. I know I'll love every inch of it.
Before or After- Easy one…Brewery Ommegang just outside of Cooperstown. I've been sampling their beers for years with a buddy here in Des Moines. The pictures of their facility in New York are amazing. I would love it to be during the fall colors season.
There it is. I know some will happen and probably not too far off. I've kept them all in North America. Certainly, I have some far-flung ideas that have only a marginal chance.
I'd love to see a game with the crazy crowd participation in the NPB in Japan or the KBO in South Korea. It seems so joyous. Everyone chanting, waving flags, and singing songs.
Also as someone who is of Finnish heritage and a Tigers fan, I follow the Tampere Tigers in the Finnish Baseball League. They complain about umpiring a lot and I think the bat flipping by their non-Finn native players don't mesh well with some of their more dour Finnish folk. Also, the level of play is probably not up to "town ball" in Minnesota's rural areas. But it would be fun to see in person.
Hey…it's good to have goals. Just need to start pecking away. Wish me luck. Please note any of your baseball bucket list items below or via Twitter @yooper_ia