Detroit Tigers News
Detroit Tigers: Casting a lure, not a net for the 2021 lineup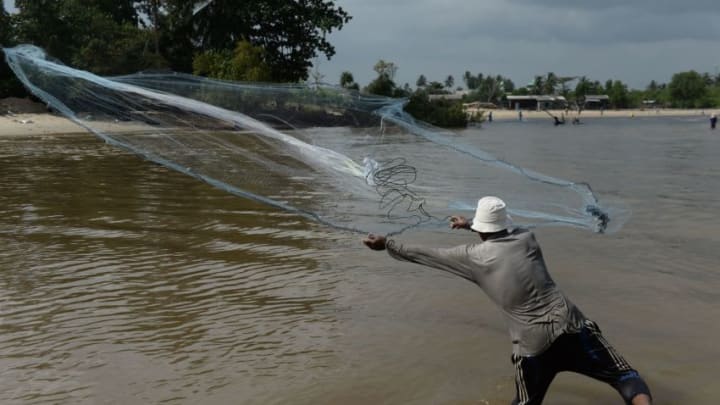 A fishermen casts a net by the sea along shore of Thailand's southern province of Narathiwat on Decmeber 5, 2019. (Photo by Madaree TOHLALA / AFP) (Photo by MADAREE TOHLALA/AFP via Getty Images) /
If the Detroit Tigers are going to be hung up by the economic situation by what took place in 2020, then start fishing.
It's been a year on December 13 since I have taken over as the co-expert here at Motor City Bengals and the Detroit Tigers are in the same exact boat in one aspect (There will be more fishing analogies to come so bare with me) as that is that the fans are upset about the lack of process on the free-agent side and no clear cut idea of what the following season will look like.
The anger that came out from the fanbase yesterday was well put by Yooper and Jacob Boes in articles we have on the site. Yooper highlighted the low expectations that Al Avila believes he set forth while Jacob highlighted the issue of the hashtag #DahltoDetroit. Then, this happened last night.
For $3 million dollars, it definitely stung Tigers fans to find out he was not even contacted by the team. So what shiny lures or worms from the local bait shop do you cast out then versus what Al Avila said yesterday during the Players Alliance's Pull Up Neighbor's campaign event on Cochrane Street which was there to distribute gear, food, and COVID-19 relief items to over 2,000 families.
According to National Geographic, here's what they say about cast-net fishing. 
Cast-net fishing is one of the more sustainable methods of recreational or sport fishing. A cast net is usually small enough to be operated by one person. It is round or oval, and can be thrown, or cast, over a large area. Weights on the side of the net help it sink, catching any sea creatures inside.
Cast nets are one of the oldest and most efficient ways to catch large amounts of small- to medium-sized fish. The ancient Polynesians who first settled Hawaii between the 4th and 9th centuries probably brought the skills and technology of cast-net fishing with them.
So, let's stop with the fishing analogies and put that into baseball terms. There are two ways Al Avila can approach free agency using the lures and casting a wide net.
Catcher and the starting rotation (Wide-net)
If we stick to Avila's quotes about if they are not going to spend the big money on free agents due to the economic fallout from COVID-19, what is on the market for Detroit?  Let's start with a catcher and who the Tigers could cast their net and grab since there are a few names that make sense if the vibe we are getting is that Detroit will not be spending a ton of money.
According to FanGraphs, their estimated payroll for 2021 is $67 million with Miguel Cabrera's contract being the lone, long-term contract on the books.
Jason Castro (Market value per Sportrac.com is $3.3 million)
Michael Wacha (signed one-year deal with the Mets in 2020 for $3 million)
Tyler Chatwood (Market value per Sportrac.com is $5 million)
Marwin Gonzalez (Marke value per Sportac.com is $3 million)
C.J Cron
So first, why Castro? He is a left-handed hitting catcher and has played for Hinch before, so there is familiarity with him. Yes, his slash line of .188/.293/.375 does not look good on paper but he has hit harder in the past two seasons (47% and 55.3%)  than his career average of 34.9% per Baseball Savant but it fits into not committing to a catcher long term and the Tigers trying to save money,
For Wacha, as MLBTradeRumors discussed, he won't be 30 until July and he was one of the best at inducing weak contact on the ground. We have a clearer idea of what the Tigers infield looks like based on what Avila said yesterday with Candelario back at third, Willi Castro at short and Goodrum perhaps getting the nod at second base.
Whatever the case is, the Tigers should have the personal to be equipped for Wacha. He is the case of signing him and, flip him for a player if Detroit is not in contention.  I know Tigers fans are sick of that happening but as Avila indicated in this quote. 
"The last thing we want to do is go out and spend some money that we're trying to get rid of next year or the year after that."
Tyler Chatwood is a low-risk, high-upside signing. Why? When his command issues are good, you get this.
Marwin Gonzalez has position versatility at either corner infield spots, time at second base, and right field. He is a utility player who the Tigers could slot anywhere.
These names are suggestions and I am sure there are better ideas out there but I threw out these three based on the Tigers' most pressing needs to address the rotation and behind the plate.  Jim Bowden of The Athletic ($) suggested Norma Mazara would be a good fit for the Tigers in left field. I think that is a good idea as he is 25 years old and has raw power for days plus, he is a lefty bat.
The big, shiny lure.
Now, with this fishing lure reference, we know that the Tigers are not going to spend money on a big name. So once Avila casts his net, which will probably include some minor league free agents, then what is the lure that will bring in Tigers fans?
The 2022 free-agent class.
Did you feel like I punched you in the stomach with that answer? Well, the reality is if you think about it, the next class has players who Detroit could sign long term and to themselves, feel better about it. They are already telling the fan base to be patient. It is very clear in their messaging when talking to the press.  Sets up for a few names to bring to the Tigers in 2022 such as:
Justin Verlander
J.D Martinez
Francisco Lindor
Corey Seager
Raisel Iglesias
But as they have cut payroll the few seasons, is there any guarantee this will happen? When the fans saw the aftermath of the Tigers teams in the '80s that was heading into the 1990s, they stop coming to games. From 1990 to 1999, they finished in the bottom third in the American League in attendance with the exception of the last year of Tiger Stadium (they finished 9th) and the first two seasons at Comerica in which they finished 7th and 9th among the 14 teams before heading back towards the bottom until 2004.
As Tony Paul of the Detroit News said on our podcast, the trade market is strange in baseball so a big move would shock me and he would love the Tigers to spend. We all would. The team has frustrated fans with their recent no action during the winter meetings.
Whatever baseball looks like next year in terms of fans showing up to games, some Tigers fans may not be there. They didn't show up when the team was bad but have the hardcore fans who will watch no matter what and anything negative written or that is questioned is from the "haters" and that is fine and you have fans who will stay away because they are tired of the excuses.
I love writing and talking Detroit Tigers baseball and probably will for as long as I can type or speak but trying to decompartmentalize the emotions of non-action into logical statements can be taxing after a while. But I digress.
But my point to this is simple. Show action. Cast the net, sure, and as Chris said on the podcast, no one gets extra wins for being first to sign free agents. But the wider you cast the net, the bigger the holes in the net.