Detroit Tigers Sign Outfielder Robbie Grossman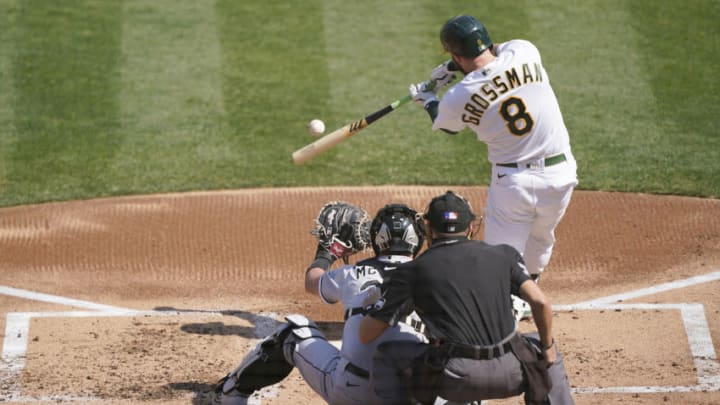 OAKLAND, CALIFORNIA - SEPTEMBER 29: Robbie Grossman #8 of the Oakland Athletics bats against the Chicago White Sox during the first inning of the Wild Card Round Game One at RingCentral Coliseum on September 29, 2020 in Oakland, California. (Photo by Thearon W. Henderson/Getty Images) /
Robbie Grossman is the first player to receive a multi-year deal from the Detroit Tigers since Justin Upton. Here's what you need to know about Detroit's newest outfielder.
As reported by Cody Stavenhagen and Ken Rosenthal of the Athletic, the Detroit Tigers are near a deal with outfielder Robbie Grossman for two-years and $10 million dollars, plus performance bonuses.
This marks the first time since 2016 that the Tigers have given a free agent a multiple-year deal. As Jason Beck pointed out, that was the same off-season the Tigers signed Mike Pelfrey, Jordan Zimmermann, and Justin Upton.
A look at Grossman's numbers:
Originally selected by the Pirates in the 6th round of the 2008 draft out of high school, Grossman was traded to the Astros in 2012 as part of a package for Wandy Rodriguez. He was there in A.J. Hinch's first season with the Astros in 2015 before he moved on to Minnesota and his last stop, Oakland.
The switch-hitting Grossman is coming off a season in which he put up a slash line of .241/.344./.482 over 51 games, with eight home runs, 23 RBIs, and a wRC+ of 126. What stands out about the signing is that he takes walks to the tune of a career rate of 12.6%, and over the last four seasons he has struck out just 17.9% of the time.
Grossman has never been a big power hitter, with a career high of 11 home runs in 2016, but he saw a huge spike in his Isolated Power last year. From 2013 through 2019 his ISO was just .119, but it skyrocketed to .241 last season. Maybe that was just small-sample noise, but that number pops out a bit, and it seems the Tigers think it was a real breakthrough.
Diving deeper a bit on Grossman via Baseball Savant, he barreled almost many balls in 2020 (7) as he did in all of 2019 (8), and his exit velocity went up slightly from his career average of 87.1 to 89. That placed him above the MLB average of 88.3. Another indication of Grossman hitting the ball better in 2020 was his hard-hit percentage, which spiked to 37.5% after a career rate of closer to 29%.
The secret for Grossman may have been a new dedication to pulling the ball. According to FanGraphs, he pulled 47.7% of his balls in play last year compared to just 29.8% the year before. To put that another way, in 2019 Grossman ranked 168th out of 169 hitters in terms of pull percentage, but last year he jumped to 20th. That's a massive change in his batted-ball profile. He told Jessica Kleinschmidt of NBC Sports what helped him change his approach at the plate.
"I made some adjustments to my swing starting at spring training," Grossman told reporters during the postgame interview. "When I went home for the quarantine, I continued to do what I was doing and continued to stick with my routine and continued to get a little bit better every day."
This great breakdown by Dustin Mccombs shows how a leg kick in his pre-swing, which helped use more of his lower body, may have helped him as well.
As for the rest of his game, Grossman is a slightly above-average runner who can provide a small amount of value on the bases (he was 8-for-9 on steal attempts last year), and he has mostly been an average defender. In 2019 he had a DRS of 3, but it was -2 in 2020. On the other hand, Baseball Savant has him at 6 Outs Above Average over the past two seasons.
According to FanGraphs ZiPS projections, he is expected to bat .242/.338/.374 in 2021 and projected to produce an fWAR of 0.3. Again, the Tigers are seemingly betting on more production than that, and given that 2020 was his best season for power, speed, and possibly defense, it seems like a decent bet.
It's not terribly common for 30-year-olds to suddenly improve across the board, but even if Grossman returns to who he was, he does at least walk, which is something the Tigers definitely need, as Dan Hasty pointed out as a New Year's resolution for the Tigers.
We'd love to hear what you think of the signing, so leave a comment below!