Detroit Tigers Tame Themselves Through '25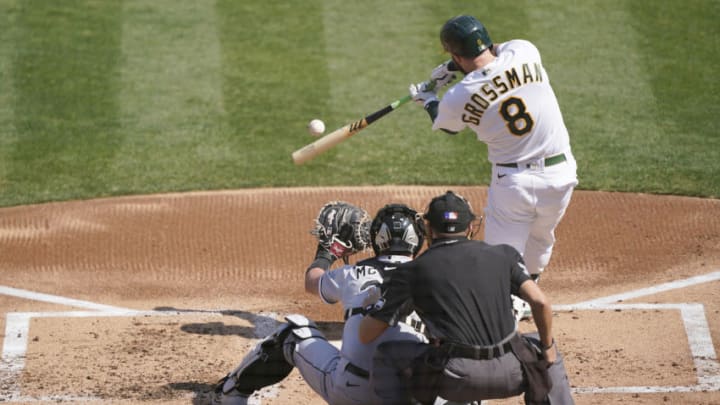 OAKLAND, CALIFORNIA - SEPTEMBER 29: Robbie Grossman #8 of the Oakland Athletics bats against the Chicago White Sox during the first inning of the Wild Card Round Game One at RingCentral Coliseum on September 29, 2020 in Oakland, California. (Photo by Thearon W. Henderson/Getty Images) /
Recent major free agent signings around baseball show the Detroit Tigers are not interested in competing and are writing off contention for the first half this decade at least. They have tamed themselves for the foreseeable future.
Contention for Detroit looks like a pipe dream until at least 2025 under current conditions.
Dombrowski strikes 
To the surprise of no one, Philadelphia GM David Dombrowski hit the ground running and on Tuesday retained the top catcher on the free agent market and perhaps the best ball player available in this cycle. JT Realmuto will remain a Phillie and Dombrowski will likely plot his next move to add a player who will be a part of the foundation of a contending club.
Once again, very similar to the eminently reasonable George Springer deal in Toronto, the tip-top of the free agent market is a long way from the days of massive deals being given out by MLB clubs. Neither approached anything near the Anthony Rendon deal from the previous off-season which saw Rendon ink for a $245M sum over seven seasons.
The Realmuto deal does carry the highest AAV for a catcher but it's a much smaller overall commitment at $115.5M when compared to the $184M deal secured by Joe Mauer a full ten years ago. That's how far the market has backed up this year with teams sitting on their hands due to COVID uncertainty and also getting ready for a looming labor war that could get ugly.
Detroit Tigers continued inactivity
Other free agents are falling off the market one-by-one and the Detroit club has shown a distinct disinterest in doing anything to improve the club other than getting journeyman Robbie Grossman and an assortment of castoffs, retreads, and hangers-on. It's one thing to try to get great players and come up short. It's another thing to not even bother to make a move.
The true state of things
It's fairly safe to now state what's been obvious for a long while. The Tigers are not trying to compete in any tangible way in 2021, 2022, and very likely 2023.
The COVID chaos has created a chance for an enterprising club to utilize its wealth to jump on quality players during a period where the competition for those players has been limited.
Instead, the Tigers are burying their heads in the sand content with their low payroll crew of barely employable veterans and selling the hope of high draft picks congealing together as a contender down the road in a low percentage play.
Rebuilding their club starting in the summer of 2017 made sense. They were an aging and overpriced crew with only remnants of previous contenders still around. Nothing positive was on the horizon. The Tigers dealt what they and tanked the rest of the time looking to add both premium talents and depth to their system.
The rebuild of the farm system is mostly on track according to most observers with more premium draft picks on the way. But there comes a point where a club is at the bottom of the pit and the climb back out must commence.
It can be debated if this was the ideal time to start the road back to respectability but there is never a perfect time. The soft free-agent market seems like it could have worked if the Ilitch family was willing to buck the trend in MLB and forge ahead during rough seas for the game.
The truly off the charts move would have been to sign two cornerstone talents this offseason like Springer and Realmuto or any of two or three other top bats available like Marcel Ozuna or DJ LeMaheiu. A notch down would have been to compete and sign one while looking to do it again next off-season with the next target.
The Tigers have no major foundational talents in their everyday lineup unless you squint hard and believe Jeimer Candelario has solid peak stretch coming. Detroit's main hopes at a solid everyday lineup come with players in the minor league system. Spencer Torkelson, Dillon Dingler, Riley Greene, and a few others. It seems to have a few cornerstone veterans on hand from the free agents market and adding youngsters would be the best way to go toward building a good lineup. Right now the Tigers appear to be looking to wait out the development phase of their youngsters and add free agent talent or trade acquisitions around them once they're established. That's going to take a while. It also doesn't take into account that a few players will certainly never develop as hoped.
Coming years look ugly
2021 is almost certainly a year staring 5th place and 100+ losses in the face. Even if they add Wilson Ramos and someone like Rick Porcello.
2022 looks as though a work stoppage season could be looming. It's hard to see the Tigers investing prior to a season possibly producing major changes to the games payroll structure.
That knocks back even implementing a full-on reload around the youngsters into '23 and '24. They'd have to be fortunate to have all the pieces in place by '25 if they truly don't start adding foundational pieces in the next year. They've already punted this off-season.
Could a fluky season rise up from the ash heap and see the Tigers pursue a wildcard? Sure. If all the prospects emerge, Miguel Cabrera has a renaissance period, Candelario and Willi Castro are really contributors, and Chris Fetter is the pitching Svengali all fans fantasize about then a crazy season could happen.
That would be grand fun. But it doesn't seem likely any time soon. It's just a dream most likely. The Tigers need to invest in their future. Instead, they are sitting on their collective thumbs watching the world go by still stuck in tank mode.
The  Detroit Tigers have truly tamed themselves by choice.