Detroit Tigers: A Brief History of Tigers from Canada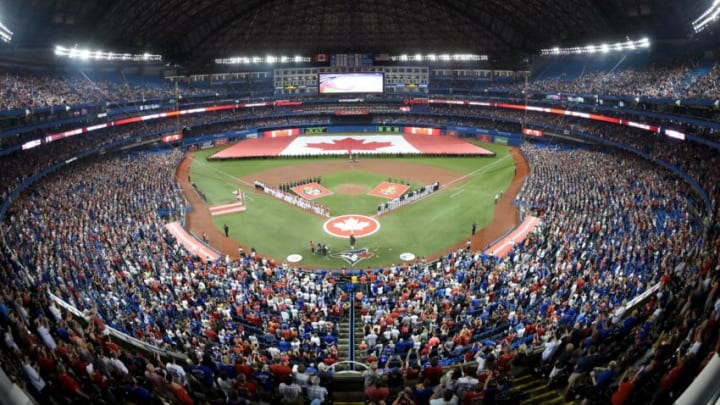 A view of opening ceremonies to celebrate Canada Day before a game between the Detroit Tigers and Toronto Blue Jays at Rogers Centre. Dan Hamilton-USA TODAY Sports /
The Detroit Tigers head to Canada tonight for a three-game series against the Toronto Blue Jays.
The last time the Tigers traveled to the Great White North was March 2019, for the first four games of the season. Jordan Zimmermann and Matt Moore started games for Detroit in that series split, with Daniel Stumpf and Victor Alcántara picking up wins. So yes, it's been awhile.
Perhaps younger Detroit Tigers fans don't particularly care much about the Toronto Blue Jays, but for much of the 1980s they were one of Detroit's biggest AL East rivals.
Toronto boasted All-star position players like Jesse Barfield, Tony Fernandez, and Lloyd Moesby, and their starting pitchers Dave Stieb and Jimmy Key were as good or better than Detroit ace Jack Morris.
The 1987 season still stirs up bitter memories for fans of both teams. The Blue Jays lost the division to Detroit by dropping their final seven games, including three consecutive one-run affairs against the Tigers to end the year.
Meanwhile, Toronto outfielder George Bell narrowly took home the AL MVP award over Detroit shortstop Alan Trammell, which Tigers fans viewed as an injustice. WAR does support the Tigers fans (Tram 8.2 WAR, Bell 5.0), but Bell hitting .308 with 47 home runs and 134 RBIs was pretty loud.
All the elements of a great rivalry were there. But then Tigers turned into a very bad team, and the Blue Jays turned into a very good team. Then all it took was a divisional realignment, and the rivalry was dead for good.
So we thought we'd use this weekend's series to highlight some of our neighbors to the north (or the south, if you live in certain parts of Michigan). Yes, we know Blue Jays fans can get a bit rowdy when they come to Comerica Park. And yes, the Leafs suck.
But that doesn't mean we can't celebrate some of the best Detroit Tigers from Canada. There have only been 18 of them, with Jacob Robson the most recent, so this shouldn't take too long. We'll begin with the first Detroit Tigers players from Canada…