Detroit Tigers: Celebrating the career of Willie Hernández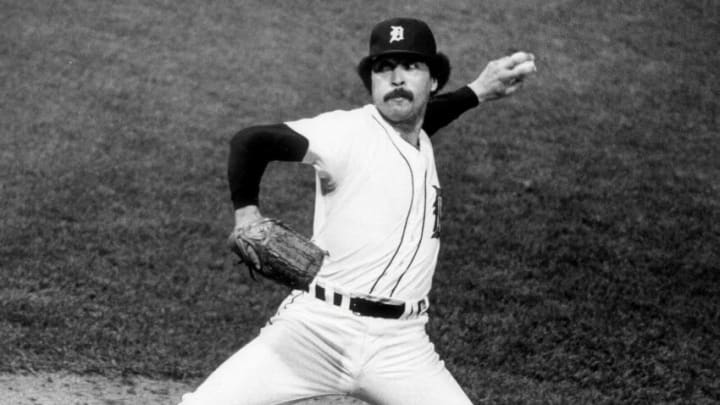 Detroit Tigers' Willie Hernandez pitches in Game 3 of the World Series at Tiger Stadium, Oct. 12, 1984.Willie Hernandez /
Today is Roberto Clemente Day. We take a look back at the man who wore the same number as Clemente and is the only Latin Cy Young award winner in Detroit Tigers history, Guillermo "Willie" Hernández.
As Roberto Clemente Day is celebrated around the league, Detroit Tigers slugger Miguel Cabrera did his tribute to Clemente as he wore the number 21 in honor of the Hall of Fame outfielder.
He was recently nominated for the Roberto Clemente Award, which is given to a player who essentially does outstanding work in the community.  But the significance of wearing the number 21 to me, takes on a different meaning as it was the same number as Willie Hernández who like Clemente, was born in Puerto Rico.
Change is never good, right?
At first, Detroit Tigers fans, even the beat writers of the time did not seem too excited about the trade.
According to a phone poll done by the Detroit Free Press, 52 percent said no, they did not like the trade. Seems that even then, the idea of trading young players for proven talent seems not to be a popular idea.
Willie Hernandez  27 Mar 1984, Tue Detroit Free Press (Detroit, Michigan) Newspapers.com /
In his first three seasons in a Tigers uniform, Hernández won AL MVP and the Cy Young award in 1984 and made the All-Star team each time.  Teamed up with right-hander Aurelio Lopez, Hernández's screwball from the left side was one of the best backend pitching tandems in Detroit Tigers history. His screwball, which he learned in 1983 from former Cuban and Cy Young award winner right-hander Mike Cuellar, really paid off.
Relief pitching was far different than and between Hernández and Lopez, they pitched 278 innings and racked up 46 saves in 1984. When the Tigers made the trade for Willie in 1984, he was brought in for one purpose only and that was to shut down lefties, which he did, to the tune of a slash line of .173/.212/.194 with an OPS+ of just 61.
While towards the end of his career in Detroit is remembered by his struggles and sometimes battles with the press, the 1984 World Series title would not be possible without Guillermo Hernández.  Ask any fan of the recent Detroit Tigers teams that went to the World Series. A good bullpen is everything.