Honoring Michigan and Michigan State with Detroit Tigers biggest rivalries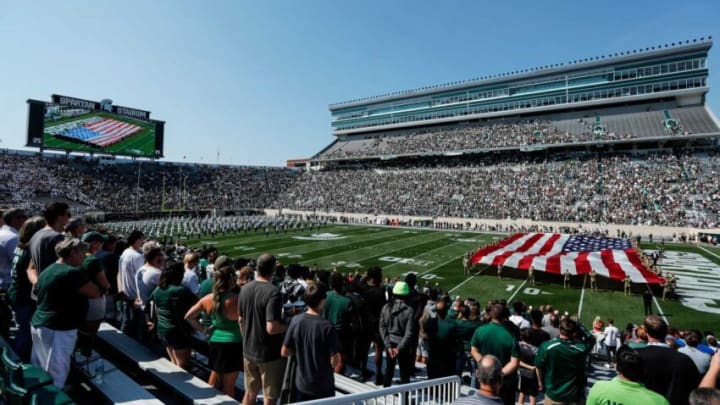 Michigan State honors 9/11 first responders before the Youngstown State game at Spartan Stadium in East Lansing on Saturday, Sept. 11, 2021. /
Revisit the biggest Detroit Tigers rivary moments whether you root the Maize and Blue or the Green and White.
It's rivalry week in Michigan and the countdown of the battle for the Paul Bunyan trophy begins between Michigan State and Michigan. This time, the Big Ten rivals will compete as two of the top ten teams in the division, both with something to prove and home state bragging rights. 
Popcorn flies, beer gets chugged, hats get tossed: there is something special about sitting in the stands at a game and witnessing a grand slam, no-hitter, walk-off home run, or a bench-clearing moment from a favorite team.
But there's something even more incredible when you see it happen against the teams' biggest rival.
Historically, the Detroit Tigers have had more rivalries in past than they do now, but there have been many moments in recent years where sparks have flown, and benches have cleared on more than one occasion.
The Boston Red Sox and New York Yankees are one of the better-known, hundred-year-old rivalries, and I can attest to seeing fans of both teams duking it out at Fenway Park. I would argue that in recent years, the bigger rivalry is between the Yankees and Tigers.
BEST IN SHOW
DETROIT TIGERS vs. NEW YORK YANKEES
NYY at DET, August 24, 2017
This game is still one that's talked about, where Tigers pitcher Michael Fulmer starts things off by unintentionally hitting Yankees catcher Gary Sánchez. Things got personal when Yankees pitcher Tommy Kahnle retaliated and plunked veteran Miguel Cabrera, getting him tossed from the game. After Joe Girardi also got thrown out, a shoving match between Austin Romine and Miggy broke out behind the plate. Finally, the moment everyone was waiting for: benches clear and a full-on team fight occurred. Some might argue that fights between teams are irresponsible because of a higher risk of injury, but there is obvious heat between the two teams, and it's bound to happen.
NYY at DET, August 24, 2017
Benches cleared not once, but twice during this game in Detroit. James McCann was at-bat for the Tigers when Dellin Betances threw a high, 98 mph fastball and beaned McCann in the helmet. Betances ended up being ejected as well, but with warnings already being thrown for earlier circumstances in the game, it's clear that the Yankees were out for blood.
NYY at DET, Aug. 24, 2017
Oh, did you think we were finished with this game?
The benches cleared for a THIRD time this game when Tigers pitcher Alex Wilson threw at none other than Todd Frazier. Wilson also got ejected this game and in the words of infamous Tigers analyst Rod Allen, "they don't like each other right now." In the end, Sánchez taking not one, but two, cheap shots at both Miggy and Nick Castellanos fell flat. Even with all the ejections on both sides, the Tigers came out victorious with a 10-6 win over the pinstripes. Better luck next time, Sánchez.
Remember when the Tigers swept the Yankees in game four of the ALCS in 2012?
We may not have won the World Series, but it's always a good day when the Tigers beat the Yankees.
HONORABLE MENTION
CHICAGO WHITE SOX vs. DETROIT TIGERS
CWS at DET, Sept. 24, 2017
This game is one of the most memorable for several reasons, mostly because Tigers Ian Kinsler used the binoculars as a clear sign of poking fun at Chris Sale. The backstory here is that then White Sox pitcher Sale accused the Tigers of stealing signs and made a point of thumping Tigers Victor Martinez with a little bit of cheese. Martinez stalked out of the batter's box first while giving Sale a long look. No fight broke out this game, but there was obvious animosity between the division rivals when both benches and bullpens cleared towards the mound.
CWS at DET, Sept. 27, 2021
Tony La Russa might have some more words and actions for the Tigers when the 2022 season rolls around. Tigers' pitcher Alex Lange stepped up to close the rally in the ninth when a fastball inside hit White Sox José Abreu square in the elbow. But that wasn't what caused the bench-clearing incident. It was when Abreu slid into second (and Niko Goodrum) that fired up the Tigers, leading them to charge the field in protest of the aggressive move. The club came out to play and was obviously ready to defend their teammates.
VINTAGE SHOWDOWN
TORONTO BLUE JAYS vs. DETROIT TIGERS
TOR at DET, Aug. 19, 1991
Both fanbases are incredibly well-traveled and show up when they need to, but it's this one game at old Tigers Stadium that stands out to me that makes this rivalry that much more electric. The Blue Jays Devon White and Roberto Alomar hit home runs off Tigers starter Bill Gullickson at the start of the game. Obviously rattled, Gullickson threw the first pitch to Joe Carter low and inside but tossed the second high pitch hitting Carter in the helmet. Benches cleared and ejections were made, but this rivalry continued for quite some time.
Good, clean, traditional baseball is great, but with the addition of a rivalry, it adds a new layer of entertainment and fierceness to the game.
The 2022 Tigers will be ready to compete, no matter the rival.