Detroit Tigers: AL Central offseason preview part 2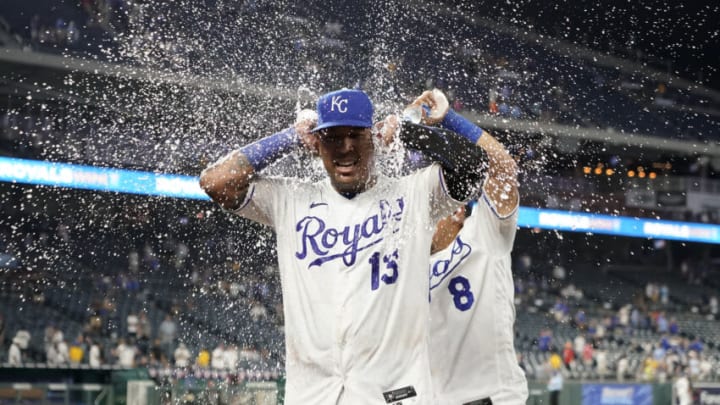 KANSAS CITY, MISSOURI - AUGUST 10: Salvador Perez #13 of the Kansas City Royals is doused with water by Nicky Lopez #8 as they celebrate an 8-4 win over the New York Yankees at Kauffman Stadium on August 10, 2021 in Kansas City, Missouri. (Photo by Ed Zurga/Getty Images) /
Last week we kicked off a short series looking at what the rest of the teams in the AL Central might do to improve for 2022, and how that might affect the Detroit Tigers. Then Detroit fired the first shot of the offseason.
Trading for a quality defensive catcher isn't the sort of bold move that scares division rivals. But, it does suggest the Detroit Tigers are looking to compete soon, and it's a message that has been noticed.
In some ways the Kansas City Royals are Detroit's AL Central doppelgänger. The Royals won it all in 2015, but, like Detroit, they haven't really been contenders since 2016. Both teams are just starting to emerge from a lengthy rebuild, and both have built around a stable of impressive young arms and a few potential franchise bats.
So let's take a deeper look at the Royals to see what kind of challenge they might pose to the Tigers in the coming years. But first, a quick look back at the 2021 standings:
AL Central Offseason Preview: Kansas City Royals
Salvador Perez celebrates with shortstop Nicky Lopez. Peter Aiken-USA TODAY Sports /
Season Recap: Not much was expected of the Royals before the season, and they did a solid job of meeting those low expectations. They had a terrific month of April, going 15-9 to lead the AL Central, but then disaster struck. A 13-4 loss to Minnesota on May 2nd kicked off an 11-game losing streak, all against AL Central opponents. That stretch included a memorable loss to the Tigers in which Kansas City scored seven times in the final two innings to tie the game, only to lose on a Robbie Grossman walk-off single in the 9th.
The Royals went an abysmal 18-37 in May and June, but they righted the ship to go 41-41 after July 1st. Kansas City's offense was below-average for most of the season, even with long-time Tigers killer Salvador Perez setting a new MLB record for catcher power production, and Nicky Lopez emerging from relative obscurity to hit .300, steal 22 bases, and play some of the best shortstop defense in baseball.
Whit Merrifield and Michael A. Taylor also contributed excellent defense, while Andrew Benintendi proved to be a dependably average big leaguer. On the downside, the electric Adalberto Mondesi spent most of the year injured, Hunter Dozier had a terrible season, and future World Series MVP Jorge Soler was literally the worst player in baseball when the Royals traded him to Atlanta.
But, as with the Twins, most of Kansas City's struggles can be traced to starting pitching. Royals starters posted the 4th worst ERA in the American League at 4.97, and though their young starters Kris Bubic, Carlos Hernández, Jackson Kowar, Daniel Lynch, and Brady Singer all showed signs of their talent, they ultimately combined for a 5.09 ERA over 80 starts. That was better than the work of veterans Mike Minor and Brad Keller, though, as they posted an ugly 5.20 ERA in their 54 outings. Danny Duffy was excellent in 12 starts before being traded to the Dodgers, and the Royals did seem to uncover a few solid bullpen arms in the form of Scott Barlow, Jake Brentz, and Josh Staumont.
Key Departures: Duffy and Soler were Kansas City's only real significant losses last year. Their only other free agent departures are veteran pitchers Wade Davis, Jesse Hahn, Greg Holland, and Ervin Santana, who all may be on the verge of retirement. The Royals would likely love to rid themselves of under-performing vets like Dozier, Minor, and Carlos Santana, but it's hard to imagine them netting anything of value in return. On the other hand, Benintendi, Merrifield, and Mondesi are all legitimate trade chips should Kansas City want to acquire more prospects.
Young Talent: The Royals boast one of the top prospects in all of baseball in shortstop Bobby Witt Jr., who threatened to make the team out of spring training, and then hit .290 with 33 home runs and 29 stolen bases between Double-A and Triple-A. Witt will likely be a heavy favorite to win Rookie of the Year in 2022.
Witt should be joined by catcher MJ Melendez and first baseman Nick Pratto, who would be battling each other for Minor League Comeback Player of the Year, if such an award existed. Pratto posted a .588 OPS in 2019, but came back this year to hit .265 with a .988 OPS and 36 home runs, while Melendez went from batting .163 with a .571 OPS in 2019, to hitting .288 with a 1.011 OPS and 41 home runs this year. Outfielder Kyle Isbel and infielder Nick Loftin also look like potentially average MLB players.
And then there's the pitching. We mentioned a quintet of young arms above, but there are more pitching prospects behind them. Jonathan Bowlan and Alec Marsh both showed promising signs before going down with injury, and while 2020's 4th overall pick Asa Lacy struggled a bit this year, he still has an electric arm and the upside of a true ace.
Needs: SP, 1B, 3B, OF
The Royals have strong internal options for most of their biggest needs, with the exception of the outfield. But, as General Manager Dayton Moore showed last year when he traded for Benintendi and signed veterans Minor and Santana, Kansas City isn't content to just let the kids fight for playing time. The Royals don't figure to be big spenders, but given the amount of young talent they have in the majors and upper minors, it seems likely they'll look to add at least one starting pitcher and one outfielder.
Kansas City already signed Michael A. Taylor to a two-year extension, and it wouldn't be shocking to see them try a similar approach with Benintendi, but they also seem like a fit for a versatile outfielder like Mark Canha or Brad Miller. And on the pitching side of things, perhaps they bring Duffy back, or go after a slightly older veteran like Alex Cobb or Michael Pineda. Or maybe they should target an old friend.
The White Sox probably don't have to worry about losing their AL Central crown to the Royals in 2022, but Kansas City is definitely a team on the rise.