Detroit Tigers: The MLB lockout may continue to alienate younger fans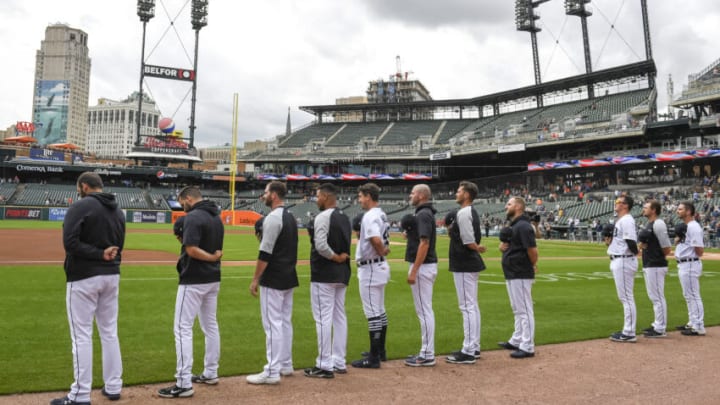 DETROIT, MICHIGAN - SEPTEMBER 15: The Detroit Tigers observe the national anthem before their game against the Milwaukee Brewers at Comerica Park on September 15, 2021 in Detroit, Michigan. (Photo by Nic Antaya/Getty Images) /
For Detroit Tigers fans and MLB fans alike, the lockout isn't just the cliche of "millionaires vs billionaires, several factors are at play including missing out on a younger generation of fans who simply just don't care.
With the lockout in full swing, it allows the opportunity to look at the game of baseball from various angles. One angle that has been on my mind for quite some time is the game's growth within the young demographics.
The reason why it has been on my mind is from my experience this season between being a season ticket holder and going to all the minor league affiliates for Tigers Minor League Report, it was good to see younger fans at the games, talking about baseball with passion and enthusiasm.
So what constitutes the age group of these younger fans?  According to the Pew Research Center, Millennials are classified as the generation that was born from 1981 to 1996 and Generation Z are born from 1997 to 2012.
Now, with this, there comes various stereotypes that come with age classification. For example, Generation Z is most associated with always being on their phones. In 2018, a study showed that 45% of them say they are online "almost constantly."  For Millennials, there is one stat that sticks out that does not seem like reality from my experiences which is they are more than likely to be living at home with their parents for long periods of time.
So how does that all tie into baseball? According to a Nielson study, which has done tv ratings and provides insights into what people are watching,  there are several myths when it comes to Generation Z fans who consume sports that Major League Baseball has played into to a certain degree.
The myth is that they have short attention spans is one of them. However, as the study points out, as a collective, they are selective and like to multitask.  MLB has gotten better with their Flim Room feature that is free and allows you to look for various players and make mini highlight reels. so it does play into their preference of shorter bits of content versus games that are long in length. The attempts to shorten the game have failed as this season, the average time went up this season to 3:10:07  compared to last season which was 3:05:35
Myth two that was brought up in this study is that Gen Z isn't loyal and they care more about an individual player. In this case for one Detroit Tigers fan I discussed who is in the Generation Z category, she says that when she talks about baseball among her classmates that most people can only identify Miguel Cabrera as the only Tiger.
The discussion of how MLB markets their stars have been beaten to death but it is true.
The Carlos Correa to Detroit push on social from afar, seem like two different sets of fans at odds about one player versus the various needs the Tigers needed to fill, depending on who you ask but that's another story for another day.
However, here at MCB, we have various contributors who live in other parts of the United States who are Tigers fans because either of their parents was or some other factor, which leads me to the next two myths.
Myths three and four both have to do with income. Three states that this generation does not have disposable income and four says they are not willing to pay for content. However, with the odds of them paying mortgage or rent and living with their parents, they may have more income to spend. Four discusses that this group is not willing to pay for content, rather they are selective on what they watch and finding ways to stream content.
Based on three and four, MLB has not made it easy at all with the local blackouts in place. A baseball fan in Iowa like our own Yooper, for example, can't see the Royals, Twins, Brewers, White Sox, Cubs, and Cardinals. Keep in mind that Iowa is the home of the Cubs Triple-A affiliate so fans in that state cant watch the players they rooted for in Triple-A.  From my perspective, MLB is missing out on growth & money from an audience over a possible myth.
Back to the short attention span myth, the study shows that 26% of Gen Z watches up to 30-59 minutes of video content viewing. This was the same group that led the way in watching binge-watching shows. I bet you know someone who has streamed "The Office" or "Friends" for the millionth time.
According to the Nielson study as 35.3% of Gen Z is either "interested" or "somewhat interested" in basketball compared to baseball, which is 27.8% compared to ages 25-69, which was 41.1%. As far as streaming goes, 8.3% of Gen Z streams sports in the United States compared to the rest of the population, which is just 3.6%.
Look at how the NBA markets the game, same for the NFL. There are plenty of examples that could help the viewing experience.
Out of sight, out of mind.
Why is this demographic so important to keep them in the loop? The average MLB fan is 57 years old and they were around to see the strikes of 1994, 1981, and perhaps vaguely remember the 1972 strike.  Every generation of fans is sick and tired of the strikes after fans witness the spending of up to $1.4 billion in free agents just a few weeks back.
My first memory as a child was the collusion events of 1986 and 1987. Tigers players Jack Morris and Kirk Gibson were involved. I didn't understand the ramifications of those events until much later but when you see headlines like owners want to push free agency until a player is 30 years old, or your favorite team dumping salary by trading away players. it is becoming way too easy for fans not to care. For a Gen Z or any "insert new label" for the next generation to come, if their parents are disenchanted with baseball based on the experiences with the strikes, then why should they care?
Many children are influenced by their parents' passions and hobbies. They are the ones providing their first experience at the ballpark or a talking point at the dinner table or in text. The longer the lockout goes, the more of a divide it will create. There were fans when the 1994 strike happened that never watched the game as they once did around where I grew up. I hope MLB is aware of the actual, real data trends versus sticking to confirmation bias, where fans scratch their heads at the suggestions or believe everyone wants to see Boston vs New York on ESPN all the time.
Otherwise, catch up on shows or pick up a hobby, it seems like we are going to be waiting a while.