The D On Austin Jackson's Tigers Cap Also Stood For Defense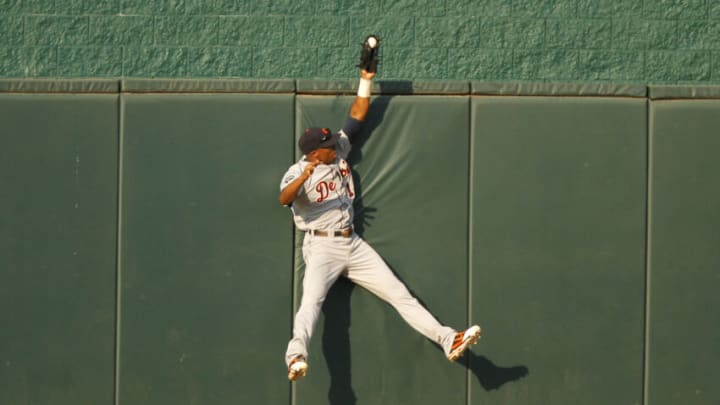 Austin Jackson reaches over the wall to rob the Royals' Alex Gordon of a home run on August 6, 2011 in Kansas City. (Photo by Ed Zurga/Getty Images) /
Black History Month continues with a celebration of the marvelous defensive work Austin Jackson turned in while playing center field for the Detroit Tigers.
During the five seasons Austin Jackson played for the Detroit Tigers, Miguel Cabrera was the team's best performer at the plate. Justin Verlander and Max Scherzer were the best performers on the mound. When it came to defense, it was Jackson who was the Tigers' best performer in the outfield.
From the beginning of the 2010 season through the end of July 2014, Jackson made 667 appearances in center field for the Tigers. In 1,693 chances, he racked up 1,648 putouts and had 29 assists with only 16 errors.
His first two seasons in Detroit were his most dynamic. Per Fangraphs, he led American League centerfielders in defensive runs saved with 12 in 2010. That was good for third overall among MLB centerfielders. In 2011, Jackson led the majors with 26 DRS at the position.
He never won a Gold Glove Award, but he did earn a Fielding Bible Award in '11, which was the year he led all major leaguers in defensive WAR with 3.1 (per Baseball-Reference's calculations).
Playing half his games at spacious Comerica Park, Jackson was a key contributor during a very productive era in franchise history. He was part of three AL Central Division champions (2011-13) and played in the 2012 World Series. Jackson's teammates recognized his what his defense meant to the team. During the Tigers' run at the division title in '12, Verlander said,
""Without a doubt, he's a great athlete. We got spoiled with Curtis (Granderson) here for years, and I was a little worried when he (Jackson) came over here, not knowing much about him. But he stepped in right way and did a great job. This is not an easy field to roam out there. There's so much room, but he's been one of the best.""
Quality defense up the middle is an essential component of a successful team. From behind the plate, catcher Gerald Laird had an excellent view to watch Jackson show off his skills. Laird, also speaking in 2012, said,
""Austin gets to balls that you don't see guys get to, and he gets to them with ease. He's had a couple game-saving, pull-back home runs. A few times, I'm like 'God, I can't believe how high he can get sometimes.'""
Austin Jackson's most important and most memorable plays from his Detroit Tigers tenure will always be fun to reminisce about.
Austin Jackson catches a fly ball hit by Brandon Belt of the San Francisco Giants during Game 3 of the 2012 World Series. (Photo by Leon Halip/Getty Images) /
April 5, 2010: A Debut and an Assist
The Tigers opened the new decade in Kansas City against the Royals. Austin Jackson, Detroit's new leadoff hitter and centerfielder was making his major league debut. Through the first six innings, he hadn't been very busy in the field. The Royals singled into center three times, but Jackson wasn't involved in any plays otherwise. It was only a matter of time, though, before the 23-year-old rookie made his mark defensively.
Detroit rallied for six runs in the top of the seventh to take an 8-4 lead. Jackson contributed an RBI-double, his first big-league hit, and also scored for the first time that inning. Following the seventh inning stretch, the Royals went to work. Jason Kendall and Chris Getz led off with back-to-back singles. With one out, Scott Podsednik dropped a single into shallow center.
Jackson was playing a little bit deeper than where the ball landed. As he came in to field it, Kendall was rounding third base and heading home. Jackson's throw bounced once on the way to the plate, but it arrived before the runner. Tigers catcher Gerald Laird was ready and tagged the sliding Kendall out. The Royals' best hitter and biggest power threat, Billy Butler was in the on-deck circle. Had Jackson not made what was hailed as the play of the game, Butler would've represented the possible tying run. The 8-4 score held up as the final.