The Detroit Tigers and the 2022 MLB Draft: College Preview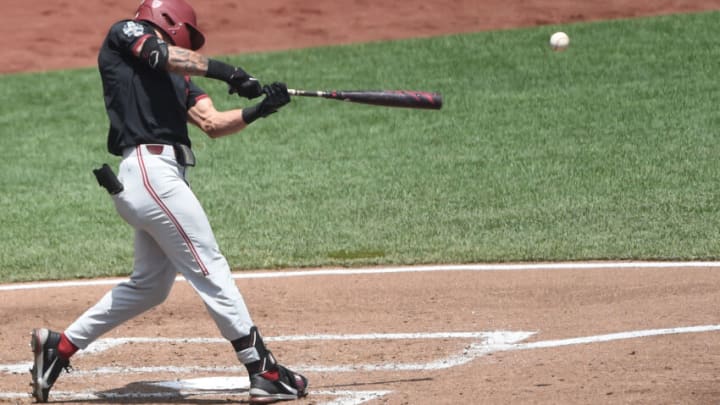 Outfielder Brock Jones doubles home two runs. Steven Branscombe-USA TODAY Sports /
For the first time since 2017, the Detroit Tigers are picking outside of the top ten in the MLB Draft.
We first took a stab at projecting the top of this class way back in July, shortly after the 2021 draft concluded, and things haven't changed too dramatically since then. We have some performances from the Cape Cod League and the Collegiate National Team to discuss, and there have been the usual spate of unfortunate injuries, but mostly this is just a refresher for the start of the college baseball season.
We now know the Detroit Tigers will pick 12th in the 2022 MLB Draft. It's a bit harder to find impact talent outside of the top ten, but it does happen. Nomar Garciaparra, Billy Wagner, and Jered Weaver all went 12th in their respective drafts, and the Detroit Tigers have picked 12th once before, in 1978. They used their pick on an athletic young outfielder from Michigan State named Kirk Gibson, and that turned out pretty well.
The 2022 MLB Draft: General Overview
Of course the odds of landing a quality player at pick 12 depend on the depth of the draft, so let's take a very broad overview of this year's class. If we break down the available players into six groups we can get a better idea of how it stacks up in terms of overall quality. For the purposes of this exercise, we are including catchers as infielders.
The class seems to offer a strong crop of college bats, an alarming lack of established college pitching, and a deep, talented pool of prep pitchers. If the draft were held today, we might see three prep hitters go in the first five picks for the first time since 1999 (Josh Hamilton, Corey Myers, B.J. Garbe), and there probably wouldn't be a single college pitcher taken in the top ten, which hasn't happened since 1978.
There's still plenty of time for new players to emerge, though. Let's take a look at some of the top names to know.
Detroit Tigers 2022 MLB Draft Options – College Pitchers
Tennessee's Blade Tidwell pitches against Florida. /
There are just a ton of question marks here. Hunter Barco was a big name as a prep pitcher and he has performed reasonably well with the Gators, but his upside is limited because his fastball is pretty average. Reggie Crawford's heater was anything but average, sitting in the mid-90s and flirting with triple digits, and he was nearly untouchable in the summer. But he's out for the year with an elbow injury, and he has practically no track record.
Peyton Pallette is another pitcher with impressive stuff but a limited track record, and he too will miss the year with Tommy John surgery. Ditto the lefty Connor Prielipp, who impressed in the shortened 2020 season and then threw just seven innings last year before eventually getting surgery.
Landon Sims feels a bit like the last man standing from this group, but he comes with some question marks, too. He was spectacular as the bullpen ace for the national champion Bulldogs last year, but he hasn't started a game in college yet. Sometimes college relievers make a nice transition to starting, as Gavin Williams did last year, but sometimes they try it and fall apart, like Graeme Stinson did in 2019. Only time will tell with Sims.
Blade Tidwell ranks as the top college arm in the class to Baseball America and MLB Pipeline, but now he's out indefinitely with shoulder trouble. Carson Whisenhunt is a lefty with good size and a solid three-pitch mix, led by an outstanding changeup. He doesn't have a huge ceiling, but he might be the safest bet in this group, and his profile is similar to that of Jordan Wicks, who went 21st overall to the Cubs in 2021.
https://twitter.com/BaseballAmerica/status/1493970929248002056?s=20&t=AG2HO6AugKW6uBLxiWkHMw
There are other pitchers in this class with a chance to shoot up the ranks, like Duke's Marcus Johnson, Gonzaga's Gabriel Hughes, and Miami's Alex McFarlane, but the Detroit Tigers will likely look steer clear of college arms with the 12th pick. Fortunately for them, they should have plenty of good options at other positions.