The Detroit Tigers and the 2022 MLB Draft: College Preview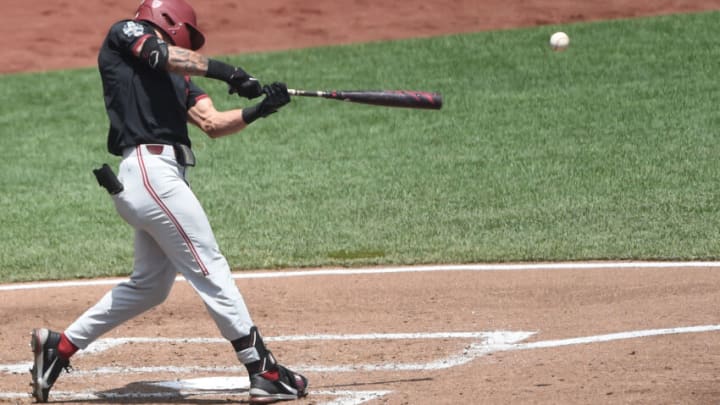 Outfielder Brock Jones doubles home two runs. Steven Branscombe-USA TODAY Sports /
Detroit Tigers 2022 MLB Draft Options – College Outfielders
Jud Fabian catches a fly ball during a game against Arkansas. (Photo by Wesley Hitt/Getty Images) /
Dylan Beavers is tall lefty bat who posted impressive college numbers last year, and he's young for the class with plenty of room to get stronger. But he's a corner outfielder and he didn't do much damage over the summer, batting .233 with two doubles in eight Cape Cod League games and just .143 with a home run in nine games with Team USA.
Gavin Cross is also a large lefty corner bat who had a strong college campaign (.345, 11 HR), but he impressed in the summer too. He went just 2-for-19 in the Cape, but both hits were home runs, and he raked for the Collegiate National Team, batting .455 with four homers in nine games.
We left Chase DeLauter off our initial list last year, and then he blew up over the summer. He's built like former big leaguer Josh Hamilton, and he flashes five-tool ability along with impressive skills. He hit .386 with six home runs in 26 games for James Madison last season, and then he batted .298 with a league-leading nine homers in the Cape last summer. He walked more than he struck out, he could stick in center field thanks to shocking speed and a strong arm, and he doesn't turn 21 until October. He has a real chance to go first overall.
Michigan's Clark Elliot probably won't even be a first rounder, but he raised his profile quite a bit over the summer after leading the Cape Code League with a .344 batting average. He's a wiry athlete who doesn't project to hit for a ton of power, but he shows plus bat control, and he has the speed and defensive chops to stick in center field.
Jud Fabian was an early option for the Detroit Tigers with the #3 overall pick last year, but he couldn't allay scouts' concerns about his contact ability, fell to 40th pick, and chose to return to school. He still has plenty of pop and should be able to stick in center field, but he needs to make a lot more contact.
We mentioned who the Detroit Tigers took the last time they drafted 12th, and Brock Jones might be the closest thing to Kirk Gibson in this class, right down to his left-field arm strength. He doesn't quite have Gibby's size or wheels, but he's a legitimate power/speed threat who played football for Stanford, hit .311 with 18 home runs and 14 steals for the Cardinal last season, and then added three homers and a triple for Team USA.
Jared McKenzie has been a strong performer at Baylor for two seasons, batting .406 in 16 games in 2020 and then hitting .383 with 28 extra-base hits last year. But he's more of an instincts-driven center fielder who will probably need to move to a corner in pro ball, and he really struggled on the Cape, batting .226 with just two extra-base hits (both doubles) and a 31% strikeout rate over 30 games.
Cayden Wallace was one of the top unsigned high-school infielders in the 2020 class. He moved to the outfield last year and was impressive for the Razorbacks, batting .279/.369/.500 with 14 home runs. He followed that up with a solid 18-game run in the Cape, batting .290 with seven extra-base hits. He fits best in a corner, so to move into the top half of the first round he'll probably need to cut down on his strikeouts this year.
That'll do it for the college preview. Keep an eye out next week as we recap some of the best performances of the weekend and take a closer look at the high-school draft class.