Detroit Tigers: Nut cuttin' time for Ilitch's Tigers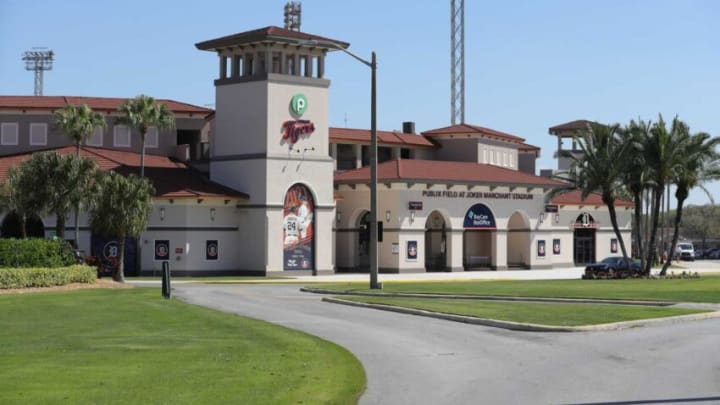 Exterior of Publix Field at Joker Marchant Stadium in Lakeland, Fla., Friday, Feb. 26, 2021.Spring Training overview, Joker Merchant Stadium overview, Publix Field overview /
For the Detroit Tigers front office the big news in baseball has given it a chance to wash away the stench of the bad PR brought on the organization during the owner's lockout. It's now nut cuttin' time in Detroit.
Nut Cuttin' Time: A point in time in which extreme, drastic, or decisive action is required; a period, usually near the end of an endeavor, when pressure to succeed is most intense; crunch time.
A splash move or significant trade would answer questions and could possibly position the Tigers for a playoff run. Will GM Al Avila be given the green light to add more payroll this Spring?
The good news in the baseball world has, of course, been the agreement between MLB owners and the MLBPA to get the 2022 season underway. The worries of a cataclysmic shutdown deep into summer were put to rest when both sides moved just enough toward each other to get a handshake.
Tigers owner Chris Ilitch was dogged by some bad PR during the lockout when it was noted he was one of four ownership groups to vote against raising the Competitive Balance Tax. A move signifying to many Ilitch believed the owner's offer that day to be too generous and branding Ilitch as a cheapskate in some quarters.
Certainly there are other ways to interpret Ilitch's stance. He may been thinking no raise in the CBT would keep the larger market clubs from runaway spending and upheaval to competitive balance in baseball. However since he had no press availability to explain his stance, imaginations are free to wander where they will.
Then word leaked out on Friday on MLB Radio of AJ Hinch and Avila really wanting Carlos Correa but  Ilitch set a limit shy of $300M and Correa kept hunting. Certainly it's very hard for to call Ilitch cheap in this instance since there was possibly a high offer floated, it's not stopping some from doing just that. Ilitch didn't go the distance for Correa. (Yet?)
Post-Lockout Moves
The expected flurry of moves across MLB that's been promised post-lockout has yet to materialize. It's likely the dam will burst eventually. The question for Ilitch is…will he burst out of the starting gate with another move to combat some of the chatter questioning his commitment to the Tigers?
Detroit is a 77 win ball club looking to improve in '22. There will be extra playoff spots available in both leagues. The Tigers have the chance to add another piece or two to the mix and really put the playoffs on their radar if things pop right.
It doesn't have to be re-entering the Correa Race. Others like Michael Conforto, Trevor Story, or Kris Bryant are on the market. Another power bat could mean the world to the Detroit lineup.
The season being shortened by a week but still scheduled for 162 games should also yield some moves by the Tigers on the pitching front. Depth will be needed at points this summer. The minors can provide some help but it's more likely a signing should occur this Spring or a deal with motivated clubs like Oakland, Miami or Cincinnati.
If Detroit dives in for significant talent that should pretty much quell the negative talk about ownership's willingness to compete. In many respects it's all in question since the Tigers did round up Tucker Barnhart, Eduardo Rodriguez and Javier Baez prior to the lockout. That's not exactly looking like the Pittsburgh Pirates.
But despite having spent early in the off-season, the stench of the Detroit related lockout news still lingers. If Chris Ilitch cares what his Tigers fan base thinks of him, a burst of aggression here could quiet criticism down.
AL Central Forcing Detroit's Hand
If you think Chris Ilitch doesn't give a single damn about what people think of him, that's fine. You're probably right.
Then to justify more acquisitions now he simply needs to look at his division and decide now is the time to prove his past comments about "having the fire inside to compete".
The Tigers are the only AL Central club to spend real cash so far this winter. If the currently favored Chicago White Sox run into any problems this season, the Tigers just might be team best positioned to make a run. If they firm up a few holes now it really would seem to have them a bit ahead of the Guardians, Twins, and Royals (lookout for a piece on these clubs soon).
Will it happen?
Are the Tigers ready to take the training wheels off and make more moves?
Detroit will likely not make the true splash move which would rock baseball. Freddie Freeman, Correa, Bryant, and Story will likely end up elsewhere.
However there just isn't any excuse for Ilitch/Avila to rest on their work from November. There are plenty of available pitchers to bolster the staff. It would seem to be a huge mistake to load all the work of the tight schedule on Matt Manning, Casey Mize and Tarik Skubal when viable options can be had for a price. If Sonny Gray, Frankie Montas or Sean Manaea are available in trade it would seem deals should be explored.
Adding a bat like Michael Conforto or Andrew McCutchen would lengthen the Tigers lineup if he's ready for a comeback season. These are all affordable and legitimate options for Detroit to pursue as players get ready to report.
Once again…it's nut cuttin' time, Mr. Ilitch. What ya got?