Detroit Tigers: Three players in danger of losing their 40-man spot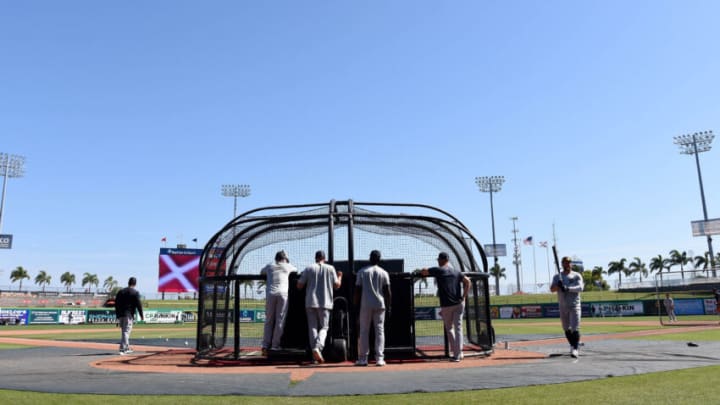 Mar 22, 2022; Clearwater, Florida, USA; Members of the Detroit Tigers take batting practice before the start of the game against the Philadelphia Phillies during spring training at BayCare Ballpark. Mandatory Credit: Jonathan Dyer-USA TODAY Sports /
There are a few players on the roster that are in danger of losing their spot on the Detroit Tigers 40-man roster.
Spring training is the time for non-roster players to make a good impression on the ball club. Their goal is to maneuver their way onto the Detroit Tigers roster for Opening Day. There are few names in camp who are making their case for the 40-man roster based on their strong spring outings so far.
RHP Miguel Diaz
I mentioned him as a possible as an extra pitcher for the Tigers to carry for the 28-man roster expansion. Yesterday, he continued his good spring, striking out the side yesterday against the Yankees. So far this spring: 2.1 IP 1H 1BB 5K. He has been averaging around 95MPH and was generating called strikes & whiffs with all three of his pitches (CSW%) While Casey Mize was the headline yesterday and rightfully so, Diaz led all pitchers with 7 swings and misses. Another good sign? He had 11 swings total, 8 against his fastball with 3 coming on his change, that rides low in the zone.
OF Riley Greene
He is not on the 40-man roster and I mentioned him merely as a formality because he will be added to the roster soon. What helps his cause is hitting .333/.417/.889 with an OPS of 1.306. (3-for-9) His home run to left field was an example of his opposite field power on full display.
Also, a good sign to see is Spencer Torkelson as he is tied for second on the team in spring training hits with 4. Greene and Torkelson could take up Jake Rogers and Spencer Turnbull roster spots as they are both on the 60-day IL.
But not everyone is safe. Let's look at the three players who may lose their 40-man spot.
RHP Bryan Garcia
Garcia struggled with command all season long. He had 14 walks in 18 innings of work that spanned over April and May. His hard hit percentage was almost 50% as no matter where he was in the count, he struggled. Even when he was ahead, batters hit .320/.320/.560 in 51 plate appearances. Only Vency Almonte (.339) and Randy Dobnak (.323) were higher. The league average when batters are down in the count is .194, in case you were curious.
When you can't get batters to chase, it makes it difficult, and that was the case with Garcia. While Garcia has never been a strikeout pitcher, his chase rate of 23% made it much harder for him to get outs.
When he was sent down to Toledo, he continued to struggle, posting a 5.79 ERA and a WHIP of 1.31. Spring training 2022 numbers:  3IP, 4H, 1BB, 4K.
LHP Miguel Del Pozo
With the addition of lefty Andrew Chafin, Del Pozo is the odd man out as the Tigers have three left-handers in their bullpen to use. He had good numbers down in Toledo last season, posting 54 strikeouts in 38.1 innings pitched but there's not much Del Pozo did not have enough time to make an impression, just five innings of work and he was placed on the 10-day IL in early September.
Could he spend time in Toledo? Sure, but Detroit has Joey Wentz down in Erie, should they decide to use him out of the bullpen. Spring training 2022 numbers: 1IP, 7H,
INF Zack Short
If you look at the infielders currently on the 40-man that are not starters, Harold Castro is a left-handed bat and will be all over the diamond. Kody Clemens, also a left-handed hitter, was just added to the roster in the winter. Willi Castro is a switch hitter who has performed at the big league level.
That leaves Isaac Paredes and Short. With the left side of the infield set for Opening Day, Paredes has nothing else to prove in the minor leagues. Ryan Kreidler is likely to see time at third in Toledo with Jack Lopez at short.
But there is another way the Tigers could use him. He could take a spot on the bench as one of the two extra spots on the roster. Hinch likes players who can play multiple positions and Paredes played second and even saw time at short last season. Short, too, like Paredes, played all three positions, but Paredes has been the proven hitter so far.
You can also put Victor Reyes as a possible player to be traded and off the 40-man.
Could Paredes be traded? Seems unlikely, but two weeks left to go before the regular season starts, a team may inquire about an infielder if an injury happens. You can also put Victor Reyes as a possible player to be traded for an injury replacement but among the outfielders, he can play three different positions so that could be worth keeping. We shall what happens down in Lakeland.