Detroit Tigers Hard Knocks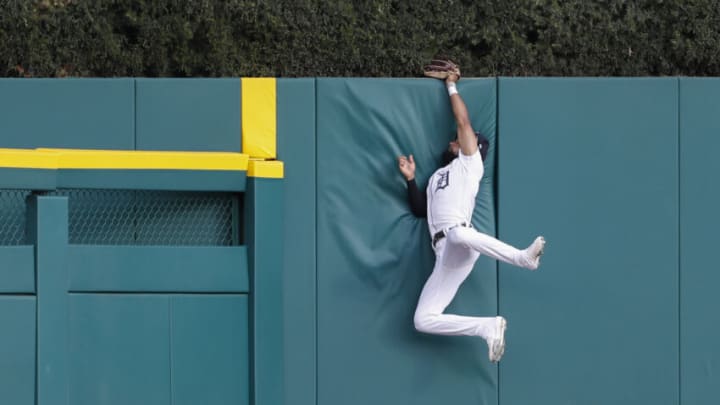 Tigers center fielder Derek Hill makes a leaping catch at the wall. Raj Mehta-USA TODAY Sports /
Detroit Tigers third baseman Jeimer Candelario and first baseman Miguel Cabrera celebrate after defeating the Pittsburgh Pirates. Charles LeClaire-USA TODAY Sports /
Detroit Tigers Hard Knocks – Jeimer Candelario
Jeimer Candelario isn't necessarily known for his power production, but he has plenty of pop in his bat. He put that raw power on display late in 2019, blasting this Reynaldo López pitch an estimated 448 feet for a home run. The home run doesn't seem all that impressive on TV, mostly because the camera can't seem to locate the ball. But, given that Candelario hit it at 114.2 MPH, it's fair to wonder if the ball simply vaporized.
Detroit Tigers Hard Knocks – Miguel Cabrera
Statcast began tracking exit velocity in 2015, and it's safe to assume the hardest hit of Miguel Cabrera's career came in the decade before that. Miggy wrapped up his fourth batting title in 2015, and in the process hit a ball 115.6 MPH against Jered Weaver and the Angels, but there's no footage of it. The hardest Cabrera hit with accompanying video is this 2-run single, which was 114.4 MPH, but we thought the 113.8 MPH, 459-foot home run you see above would be slightly more entertaining to watch.
Detroit Tigers Hard Knocks – Jonathan Schoop
Here's another case where the video perhaps isn't quite as impressive as the Statcast numbers. Jonathan Schoop has tremendous raw power, but his aggressive approach also results in an awful lot of weak contact, so he doesn't often get mentioned as one of the league's big boppers. But the missile you see above is the hardest hit in Detroit Tigers history (since 2015 at least) and it left Schoop's bat at a stunning 117.1 MPH. Just 46 players have hit a ball that hard in the Statcast era.