My Ideal 2023 Detroit Tigers Lineup: free agents, cutting ties with Miggy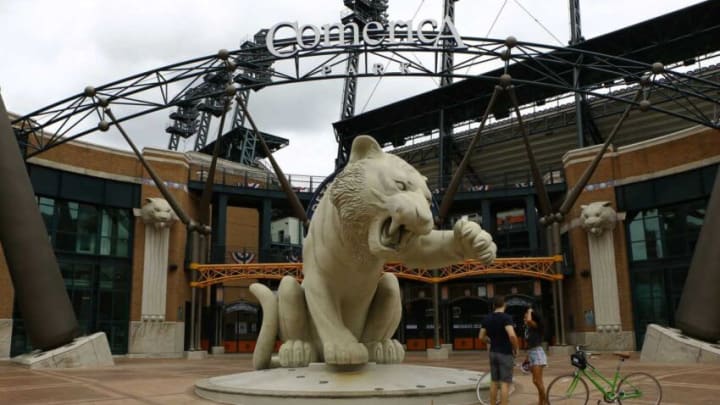 Ed Smith, 33, of Miami, left, and Roberta Souza, 39, of New York talk in front of the big tiger statue during Detroit Tigers' Opening Day at Comerica Park on Monday, July 27, 2020.0e6a3363 big tiger, tiger statue, empty, Comerica Park logo, Comerica Park entrance /
Hope. That is all Detroit Tigers fans are left with as we head into the last weeks of the 2022 regular season.
What was once billed a year of progress, is a huge disappointment, as the team took multiple  steps backwards.With a new GM on the way, much is still to be determined, but since writing about the 2022 Tigers sucks the life out of my soul, let's take a look at my semi realistic but ideal 2023 Detroit Tigers lineup.
Let's start with the top, there is no doubt who will be the 2023 Detroit Tigers leadoff hitter next year.
Riley Greene hasn't set the world on fire ala Julio Rodriguez, but has still had a very respectable rookie year, hitting over .250 and slugging at nearly a .400 clip. He needs to cut down on his strikeouts going forward, but things are still on track for Greene to man the top of the Tiger's line up for years to come.
While I would love for the Tigers to add another outfielder, attempting to keep this projection somewhat realistic, I'm going to go for an in house option for the second spot in the line up, Victor Reyes. Reyes has been on fire lately, in the last two weeks he is hitting .317 and slugging .474.  He has never been given a chance to earn a full time job, but the time has come and you can pencil him into right field for next season and hope for continued progress in his game.
For the 3rd spot in the 2023 Detroit Tigers lineup, I'm going to swing for the fences and hope the new GM goes out and acquires some top shelf talent. In this case,  I want Trea Turner hitting 3rd and playing shortstop. He will cost $30 million annually but with only one more year of Miguel Cabrera's contract left to pay, the Tigers would be able to afford him. His arrival would improve the defense at short and put some much needed speed and power into the lineup. Turner is capable of regularly hitting 20 HRs and stealing 20 bases.
NEW YORK, NEW YORK – SEPTEMBER 01: Trea Turner #6 of the Los Angeles Dodgers singles during the first inning against the New York Mets at Citi Field on September 01, 2022 in New York City. (Photo by Jim McIsaac/Getty Images) /
For the clean up hitter, as much as I love Cabrera, the time has come for him and the Tigers to move on. Cabrera is not going to retire and walk away from the $32 mIllion he is owed for 2023, so the cost is already sunk. Still the Tigers have to find a way to have him step aside and open that roster spot for someone with two healthy knees.
The knees I would like to see replace Cabrera's already have a home in the Central Division and belong to Jose Abreu. Abreu will not break the bank, hopefully 3 years at around $9 million per year, because he will be 36. But he can still hit, with a career average near .300 and a career slugging percentage over .500, he would be the perfect new DH for the Tigers. He could also play some 1st.
MILWAUKEE, WI – MAY 12: Jose Abreu #79 of the Chicago White Sox makes some contact at the plate during the interleague game against the Milwaukee Brewers at Miller Park on May 12, 2015 in Milwaukee, Wisconsin. (Photo by Mike McGinnis/Getty Images) /
For the 5th spot in the lineup, I would like to see Javier Baez. Baez did not have a great first year with the Tigers, but as a professional hitter throughout his career, the power numbers should improve next year. In this lineup he will be moved to 3rd base to take over the hot corner. He clearly has the feet to play there, but the question would arise, what about his arm? While his defense may not hold up, I think it's worth a shot, if it can combined with a return to his previous years of hitting, should lengthen the Tigers line up nicely.
Hitting 6th in the new look lineup is an old favorite, Eric Haase. Haase has shown this year with increased playing time he can deliver results. I would love to bring him back along with Jake Rogers to handle the catching duties. I wouldn't hit Rogers this high in the lineup, but Haase can handle the 6th and rotate between C, LF, and DH.
The 7th spot would be occupied by an old new favorite, Austin Meadows. While the trade for Meadows looked like a stroke of genius from Al Aliva at the start of the year, a series of freak injuries and ailments have introduced some doubt into the picture. However, with Meadows' history as a regular producer in the big leagues, it should be a safe bet to pencil him into left field.
While I would love to move on from Jonathan Schoop next year, he is owed $7.5 million and I can't imagine a world with Chris Ilitch letting the payroll go above $180 million, so Schoop is back for one more run. Even if his bat doesn't come back, his out of this world defense at second base would make him at least a neutral WAR player next year.
Finally hitting in the 9th hole in my ideal line up would be Spencer Torkelson. Obviously, in the future he needs to be a power hitter who hits in the middle, but for the 2023 Tigers he could hit 9th and continue to develop his game. His biggest weakness right now is fast balls down the middle from right handed pitchers, one has to hope he can solve that issue this off season and out perform this spot.
CHICAGO, IL – JULY 07: Spencer Torkelson #20 of the Detroit Tigers hits an RBI single in the ninth inning against the Chicago White Sox at Guaranteed Rate Field on July 7, 2022 in Chicago, Illinois. Detroit defeated Chicago 2-1. (Photo by Jamie Sabau/Getty Images) /
In terms of the bench, I would mostly look at internal options to fill it out, again realizing Ilitch is only going to spend so much money, but with Willi Castro, Jake Rodgers, Akil Baddoo, Harold Castro, and Kerry Carpenter among others, a respectable bench should be possible.
So where does that leave this 2023 Detroit Tigers lineup in terms of cost? 
The 2022 Detroit Tigers spent about $77 million on their hitters. This 2023 Detroit Tigers lineup would cost a bit more, but if Turner signs for $30 million per year and Abreu for $9 million, with some arbitration numbers to be determined, it should be around $95 million.
The $95 million even includes Cabrera's dead money, so it shouldn't be an unreasonable salary increase. As Mike Ilitch has demonstrated, if you build a winner, Tiger fans will show up.
So to recap, here's my ideal starting lineup for the 2023 Detroit Tigers:
CF Riley Greene
RF Victor Reyes
SS Trea Turner
DH Jose Abreu
3B Javier Baez
C Eric Haase
LF Austin Meadows
2B Jonathan Schoop
1B Spencer Torkelson
While this 2023 Detroit Tigers lineup is far from guaranteed to make the playoffs next year, a return to competitive baseball with meaningful games in September would be a great change of pace in Comerica Park.