Detroit Tigers outright four players as offseason roster reshaping beings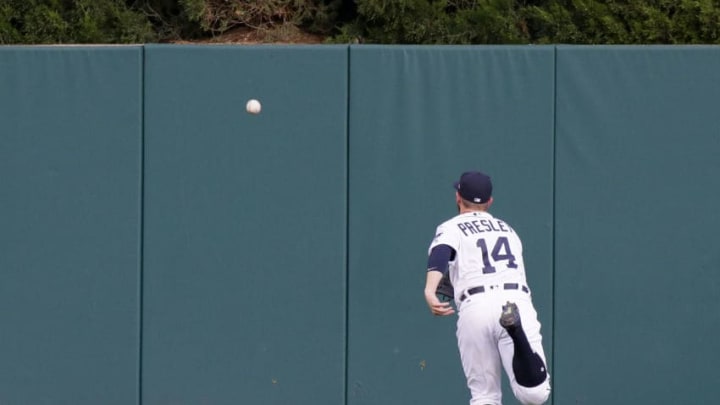 DETROIT, MI - JUNE 15: Center fielder Alex Presley #14 of the Detroit Tigers chases a RBI-double hit over his head by Logan Morrison of the Tampa Bay Rays during the third inning at Comerica Park on June 15, 2017 in Detroit, Michigan. (Photo by Duane Burleson/Getty Images) /
Detroit Tigers fans are starting to see the team reshape the roster. The club announced in a tweet on Thursday that Jim Ferrell, Jim Adduci, Tyler Collins and Alex Presley have been outrighted.
Detroit Tigers players Jeff Ferrell, Jim Adduci, Tyler Collins and Alex Presley are no longer on the team's roster.
The relief pitcher and trio of outfielders were all outrighted on Thursday.
Detroit announced the move in a tweet Thursday morning, tweeting the following:
""The #Tigers outrighted RHP Jeff Ferrell and outfielders Jim Adduci, Tyler Collins & Alex Presley from the Major League roster.""
Ferrell, Adduci, Collins and Presley provided the Tigers with a quartet of veteran depth pieces in 2017.
The reliever made his return to the Majors in 2017 after previously seeing action in nine games for Detroit in 2015.
Ferrell pitched for both Double-A Erie and Triple-A Erie last season. The reliever impressed at both stops with a 2.28 ERA, a 1.048 WHIP and 9.9 punch outs per nine frames in 55.1 innings.
Related Story: The Tigers officially have a new pitching coach
He went on to throw 9.1 innings for the Tigers in 2017. In that span he surrendered 17 hits, seven earned runs, five walks and a home run in 11 appearances. He also struck out six while finishing four games.
In his small sample size, the right-hander did notch a 12.8 swinging strike percentage.
Ferrell's departure will help clear up bullpen space for a younger hurler in 2018.
It wouldn't be a surprise to see the likes of Bryan Garcia, Mark Ecker, Adam Ravenelle, Paul Voelker and Gerson Moreno in the Majors at some point next season.
Removing Ferrell from the 40-man roster helps make room for some of the group.
Jim Adduci and Tyler Collins
Speaking of clearing room, Detroit also outrighted a trio of outfielders in Adduci, Collins and Presley.
More from Detroit Tigers News
All three showed well at times for the Tigers this past season. Adduci supplied a 91 wRC+, a 10.8% walk rate and nine extra-base hits in 93 plate appearances.
Meanwhile, Collins turned in a 19.4 UZR/150 and a +4 DRS in 199.2 innings in center field.
However, that value was somewhat offset by a struggle of a season at the plate (32.5 strikeout percentage, 62 wRC+, .278 on-base percentage and a .269 wOBA) that saw his fWAR finish at -0.2.
Alex Presley
Rounding out the list is Presley, who hit .314 with a .354 on-base percentage, a .334 wOBA and a 106 wRC+ in 264 plate appearances.
The veteran did turn in a 0.5 fWAR, but the reality is that he—along with the other three players outrighted—doesn't exactly fit Detroit's rebuild.
Presley's offensive production was impressive for Detroit. However, he did do it with a sky-high .383 BABIP.
The former Astro was also worth a -8.0 UZR/150 and a -11 DRS in 503.2 innings spread across the outfield for the Tigers last season.
Removing Adduci (32), Presley (32) and Collins (27) will help clear up the log jam the Detroit Tigers had ahead of next season.
Next: Candidates to be Tigers' #2 SP
It wouldn't be a shock to see Mike Gerber and Christin Stewart debut early on in the 2018 campaign. In that reagrd, moving Adduci, Presley and Collins off the 40-man roster now makes room for the highly-regarded prospects.