Detroit Tigers: Is it finally time to move the fences in at Comerica Park?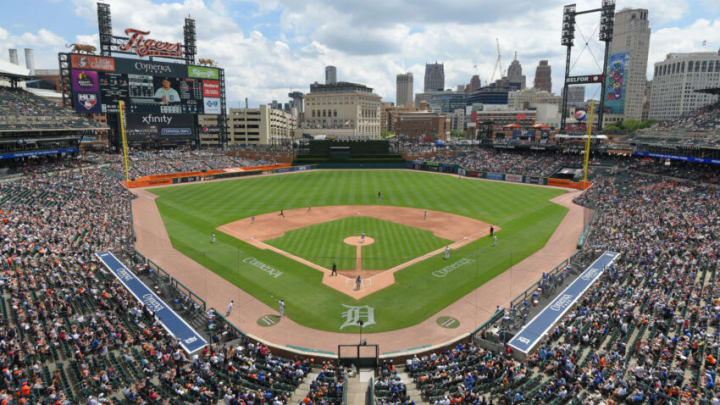 DETROIT, MI - JUNE 12: A general view of Comerica Park during the game between the Toronto Blue Jays and the Detroit Tigers at Comerica Park on June 12, 2022 in Detroit, Michigan. The Blue Jays defeated the Tigers 6-0. (Photo by Mark Cunningham/MLB Photos via Getty Images) /
Is 420 feet to dead center too much for the home of the Detroit Tigers?
In the bottom of the eighth inning of yesterday's game against the Houston Astros, Detroit Tigers outfielder Riley Greene stepped up to the plate with a runner on first and two outs. He worked a 3-0 count, got the green light, and smacked a fastball 424 feet to dead center. Surely this resulted in a go-ahead two-run homer, right?
Nope. It was an out. A long, frustrating out. A ball that had an expected batting average of .800, a ball that Greene crushed at 107.5 mph off the bat, a ball that would have been a homer in all but Comerica Park and one other, was an out.
This is a debate that has been had for years. Ever since the ballpark opened in 2000, many hitters—both opposing and Tigers hitters—have voiced their displeasure with the its dimensions. It goes all the way back to Bobby Higginson coining the term "Comerica National Park" after hitting a ball deep into the right-center gap for an out early in the first year of the park's existence.
The most vocal complainer about the ballpark was probably Nick Castellanos in 2019, who called the park "a joke" because of the dimensions. Castellanos has since gone on to sign with the Cincinnati Reds and Philadelphia Phillies in free agency, teams who play in two of the more hitter-friendly ballparks in the league in Great American Ballpark and Citizens Bank Park, respectively.
Even this season, Robbie Grossman said he adjusted his approach at the plate because of the dimensions. The list goes on and on. But is it really that bad? Riley Greene himself didn't seem to think so. Here's what he had to say after the game, per The Detroit Free Press:
""It's a game of inches," Greene said. "I should have hit it harder. It kind of comes down to that. I hit it good, but it's just the park we play at. Sometimes it goes, sometimes it doesn't. … If we go somewhere else, maybe it's a home run, maybe it's not. You never know.""
It sure sounds like Greene is in the minority in this line of thinking, because his teammate Eric Haase had a lot to say about the issue. Here's part of what he said, from The Detroit News (subscription required):
""Just make it average," Haase said. "Right now it's leaps and bounds the most hitter-unfriendly park that there is. Just make it fair. You want to feel like you are rewarded.""
Haase goes on to say that he doesn't want it to be "super hitter-friendly." I think the majority of players and fans would be happy with that. We don't want it to be like Great American or Citizens Bank, or God forbid, Yankee Stadium. Players just want be rewarded for crushing a baseball, and fans want to see their players not get screwed over.
Believe it or not, Comerica Park has actually had its fences moved in once before. Before the infamous 2003 season, the team moved the left-center field fence in a whopping 25 feet, from 395 feet to 370 feet from home plate. Could center field and it's league-deepest 420 feet be next?
Chris McCosky of The Detroit News seems to think there's at least a chance. In the same article linked above, he notes that Astros manager Dusty Baker has heard that the Detroit Tigers will be moving the fences in this offseason. Kirk Gibson apparently said something similar on Monday night's broadcast on Bally Sports Detroit. No decision has been made final, but it sounds like it's not totally out of the question.
When you think about it, there really isn't a good reason to have center field be so deep at Comerica Park. The Tigers don't play in a warm climate, or in a thin air mass like Colorado's Coors Field, where it's 415 feet to dead center. Moving the center field fence in 10 feet should suffice, though they may move in the gaps as well.
The ball doesn't exactly fly out of Comerica Park as it is. If the Detroit Tigers decided to move the fences in, the ballpark would still likely be pitcher-friendly. The gaps would still be large, so speedsters like Akil Baddoo could still leg out a few triples every year.
Of course, the best way to improve Comerica Park is to improve the team that plays half its home games there. But, we've already gone on and on about that.