2006 Detroit Tigers: Where are they now?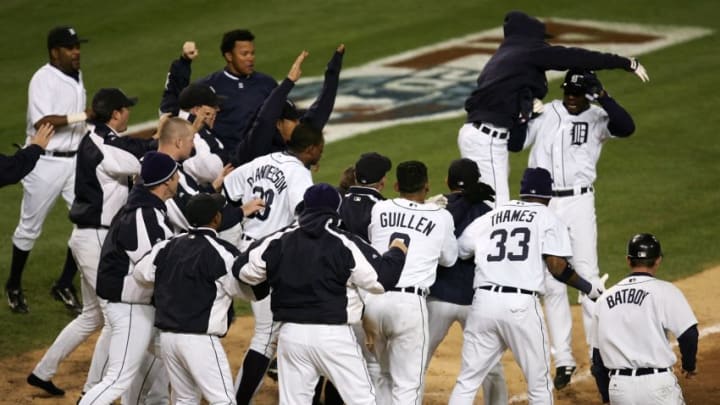 DETROIT - OCTOBER 14: Players from the Detroit Tigers celebrate at home plate as Craig Monroe runs home on a 3-run walk-off home run, hit by Magglio Ordonez, against the Oakland Athletics during Game Four of the American League Championship Series October 14, 2006 at Comerica Park in Detroit, Michigan. The Tigers won 6-3 to sweep the Athletics and advance to the World Series. (Photo by Jonathan Daniel/Getty Images) /
Brandon Inge of Detroit throws to first base during action between the Detroit Tigers and Kansas City Royals at Kauffman Stadium in Kansas City, Missouri on May 23, 2006. Detroit won 8-5. (Photo by G. N. Lowrance/Getty Images) /
Brandon Inge
Brandon Inge spent 12 seasons in a Tiger uniform, cementing his name all over Detroit's record books. He is in the top-25 in doubles, home runs, total bases, games played and extra base hits. He is also number four in defensive war, and number one in strikeouts.
The Tigers drafted Inge in the second round of the 1998 draft out of Virginia Commonwealth. He was originally brought up as a catcher and spent three years behind the plate in Detroit. In fact he was the starting catcher on the famous 2003 team that went 43-119. Inge hit .203 with a 63 OPS+ that season.
In 2004 the team converted him to third base full time and his career took off. From 2004-2010 Inge slashed .246/.319/.413 with a 93 OPS+ and 121 home runs. He posted a 19.5 bWAR, or a 2.8 yearly average.
2006 was one of Inge's best seasons at the plate. He hit .253 with 27 home runs, 83 RBI and a 4.9 bWAR. He struggled in the ALDS against the Yankees but hit .333 with a home run against the A's and .353 against the Cardinals in the World Series.
Inge remained with the Tigers through 2011, but a dip in performance and unhappiness about his role (he had been shifted to outfield due to Prince Fielder and Miguel Cabrera playing the corners) led him to be cut in April of 2012.
He hit 11 home runs in a half season with the A's before spending a miserable few months with the Pirates in 2013. He hit .181 before calling it a career.
Overall, Inge finished his career with a .233 average and 152 home runs. His 18.5 bWAR is 35th in Tigers history, right behind fellow infielders Placido Polanco and Carlos Guillen.
Nowadays Inge lives on a 400-acre farm in Lynchburg, Virginia. He put his name in the ring to be the head baseball coach at nearby Liberty University, but was not selected.
The last update on Inge was that he is serving as a guest coach for the Purcellville Cannons of the Collegiate Baseball Club.