Detroit Tigers: Zimmerman posts strong second rehab start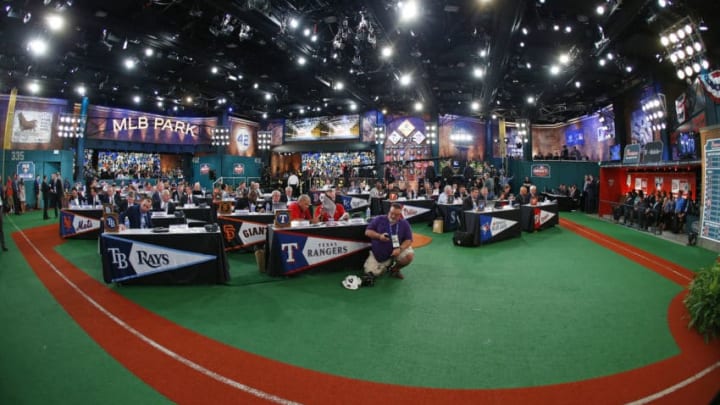 SECAUCUS, NJ - JUNE 5: Representatives from all 30 Major League Baseball teams fill Studio 42 during the MLB First-Year Player Draft at the MLB Network Studio on June 5, 2014 in Secacucus, New Jersey. (Photo by Rich Schultz/Getty Images) /
Scores, news and notes from around the Detroit Tigers farm system for June 6, 2018.
Detroit Tigers Minor League Preview 6-7
Toledo (37-20) vs Buffalo (26-24) 7:05 PM. Probables: BUF: McGuire (3-2, 3.03) TOL: Dowdy (2-1, 2.05)
Erie (23-24) vs Hartford (28-31) 7:05 PM. Probables: HFD: Castellani (3-3, 5.23) ERI: Burrows (5-4, 3.17)
Lakeland (31-27) vs Jupiter (35-23) 6:30 PM. Probables: LAK: Soto (2-1, 4.57) JUP: TBD
West Michigan (30-28) vs Great Lakes (19-38) 7:05 PM. Probables: GL: Crawford (0-1, 2.52) WM: Bass (3-4, 5.45)
DSL Tigers1 (1-3) vs DSL D-Backs2 (1-3) 10:30 AM
Minor League Notes
Over at the Athletic, Jordan Horrobin breaks down the decisions that need to be made by the Detroit Tigers 44 draft picks. For some, such as Casey Mize, the decision is easy. For others, the decisions between pro ball or another year of college ball aren't as easy.
Mize was the first overall draft pick in this years MLB draft. As MiLB.com points out, even in a pitcher-heavy system  Mize is expected to rise quickly through the Tigers farm system. Mize was also quoted as saying:
""It means a ton," Mize told MLB Network after the pick was revealed. "I'm very thankful the Tigers thought of me to take me with the first selection. I can't describe this feeling right now.""
Former Tiger Mike Hessman holds the minor league record for home runs. Once called the real-life Crash Davis, as he spent 19-years in the minors, he's now a coach for the Toledo Mud Hens. MiLB.com profiled the journeyman minor leaguer and you can read the full article here.
Next: Five Best Trades in Franchise History
Now that the draft is over, many teams will be trading away prospects for players. Or vice versa. The Athletic's Jim Bowden breaks down what each team should be doing for the next two months. No surprise here, but he thinks the Tigers should sell Liriano and Greene for the best prospect packages they can get.