Detroit Tigers: Three late round picks who could make the big leagues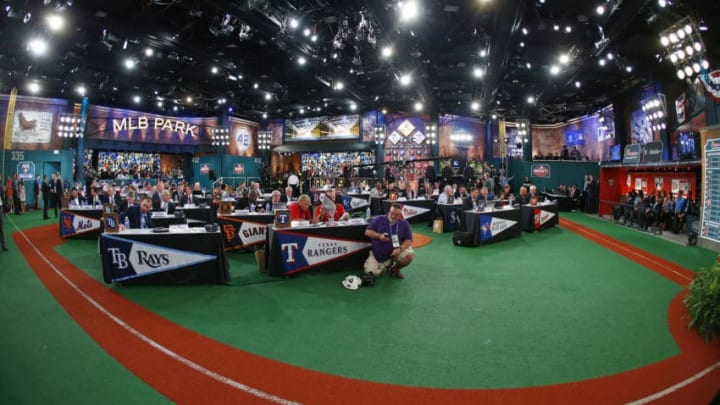 SECAUCUS, NJ - JUNE 5: Representatives from all 30 Major League Baseball teams fill Studio 42 during the MLB First-Year Player Draft at the MLB Network Studio on June 5, 2014 in Secacucus, New Jersey. (Photo by Rich Schultz/Getty Images) /
The Detroit Tigers have historically unearthed some gems in the later rounds of the MLB draft. Did they strike gold again in 2018?
Detroit Tigers fans are understandably excited about the prospect of Casey Mize, Parker Meadows and Kody Clemens all donning the Olde English D in a few years. And while the team did acquire plenty of premium talent at the top of the draft, often times it is the players taken much later that have the biggest impact.
A couple of examples from Detroit's history include Bobby Higginson (Round 12) Joel Zumaya (Round 11) Mark Fidrych (Round 10) Will Rhymes (Round 27) and Hall of Famer John Smoltz (Round 22). A more comprehensive list can be found here.
While its way too early to tell, the Tigers definitely grabbed some interesting players in the later rounds. Here is a list of three that we think may develop into quality major league talent. Think we missed one? Let us know!
Round 9: Tarik Skubal, LHP, Seattle University
Tarik Skubal looked like a second or third round draft prospect after his sophomore season, where he went 6-1 with a 2.11 ERA and a 50/17 K/BB ratio in 42 2/3 innings. Unfortunately, he missed all of 2017 with Tommy John surgery. His return to the mound in 2018 was a success, although he showed some of the tell-tale signs of someone still recovering from TJS. Skubal went 8-2 with a 4.16 ERA and 106 strikeouts in 80 innings (11.9 K/9).
Unfortunately, he also walked 56 – likely the concern that led to him dropping down into the ninth round. Struggling with command is a frequent issue for pitchers in the first few months after coming back from UCL surgery, so Skubal's command should return to his pre-surgery levels.
If so, the Detroit Tigers will have gotten a complete bargain. Skubal is a big (six-foot-three, 224 pounds) left-hander who can get his fastball up into the 95-97 mile per hour range. His secondary pitches are solid, but he'll need one of them to develop into a true plus pitch.
While he's always been a starter for the Redhawks, Skubal looks like a prime candidate to be a dominant left-handed bullpen piece. If he can add muscle, there's no reason he can't get his fastball to sit around 97 miles per hour. If he moves to the bullpen, he can ditch his change and just focus on his heavy breaking ball. Those two pitches would set him up to be a LOOGY. I believe Skubal could be a quick through the ranks bullpen arm who could be pitching in the Motor City as soon as 2019, if he transitions to the pen.
Not bad for the 255th pick in the draft.
Round 13: Christopher Proctor, C, Duke
The Detroit Tigers have a fairly rich farm system when it comes to catching prospects. Grayson Greiner finally made his big league debut this season, and hit .269 in eight games in the show. He's having a career-best season at Triple-A Toledo as well.
The catcher of the future may well be defensive wizard Jake Rogers, although he has struggled with the stick this season. Finally, Sam McMillan was a fifth round pick in 2017. Although he has yet to reach the affiliates, he has a lot of promise at the plate.
That doesn't mean the team shouldn't be stocking up on catching prospects, and the Tigers did just that by selecting Duke catcher Chris Proctor with the first pick in the 13th round.
Proctor just completed his junior year, so he will have to negotiate with the Tigers or else go back to school for his senior season. His junior year was the best season he's had. He hit .291 with four home runs, 10 doubles, 46 RBI and 11 stolen bases. The 11 steals in particular is very rare for a catcher.
Proctor swings from the left side and is listed at six-foot-one, 180 pounds. He has a high leg kick and a fairly long swing. His speed will help him, and it's no surprise the  Tigers targeted him as they have an affinity for athletic catchers.
The biggest question for Proctor will be his defense. If he can develop into a plus defensive backstop, he has the potential to be a solid big league backup. His speed and developing power could make him a nice piece for the Tigers to snag at No. 375 overall.
(For more info on Proctor, check out this post by Duke's FanSided site, Ball Durham).
Round 15: Nick Ames, 1B, UNLV
Power and upside were the keys for Detroit in the 2018 draft. That extended all the way into the later rounds, with the Tigers grabbing slugging first baseman Nick Ames in the 15th. Ames capped off a monstrous junior year in the desert, smacking 18 home runs with 73 RBI and a .293/.382/.623 slash line.
Ames is six-foot-three and 245 pounds, so size is certainly not an issue. He did post a concerning 25.2% strikeout rate last season, and 26.5% over his three years at UNLV. That is helped by a very nice 13.4% walk rate. However, if he doesn't learn how to make more contact his power will be wasted in the lower minors.
Overall – it's worth it to grab a player with the size and strength of Ames in the fifteenth. While he may not become the next Adam Dunn, he could be a bench bat with some pop if he can continue to develop his plate discipline.
Next: Analyzing Detroit's Picks 2-5
The Detroit Tigers took a lot of players with high upside. While many of them will flame out in the minors, these three have a great chance of making an impact in the Motor City.