Detroit Tigers Rumors
Detroit Tigers: Exploring a Shane Greene to the Dodgers trade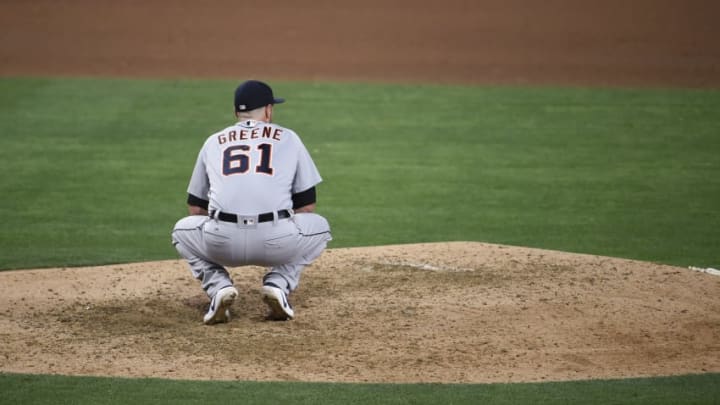 SAN DIEGO, CA - JUNE 24: Shane Greene #61 of the Detroit Tigers looks to the outfield after giving up a two-run home run to Hector Sanchez #44 of the San Diego Padres during the eighth inning of a baseball game at PETCO Park on June 24, 2017 in San Diego, California. (Photo by Denis Poroy/Getty Images) /
The Detroit Tigers are going to be sellers at the trade deadline, and the Dodgers have shown interest in Shane Greene. Could a trade be made?
Detroit Tigers' closer Shane Greene is going to be a hot commodity over the next four days. Relief pitchers are often the most moved players at the trade deadline, as playoff caliber teams load up on bullpen pieces to get them through the playoffs.
Now that three big bullpen pieces, Brad Hand, Zach Britton, and Jeurys Familia have all been traded, attention will be turned to Greene.
Greene has had a solid season, racking up 20 saves with a 9.63 K/9 and a career-low 2.30 BB/9. His 4.19 ERA is only okay, but his 3.69 xFIP paints a better picture.
With Joe Jimenez stepping up and having himself an All-Star season, the Tigers would be smart to shop Greene while his value is high, even though he is under team control through 2021.
While there are many teams that could show interest in Greene, there is one team that is known to have had scouts watching him both before and after he was on the DL. That would be the Los Angeles Dodgers.
Greene to LA
The Dodgers have a closer in Kenley Jansen, and Greene would not be in consideration to replace him. They've also received solid work from Josh Fields, Pedro Baez and Scott Alexander, giving them a solid, but not spectacular bullpen.
However, Greene would give them a high strikeout pitcher with late-inning experience, who they could slot into a seventh or eighth inning role. While it's not an immediate need, the Dodgers have made it clear they are going all in on 2018 after narrowly missing a World Series win last season. Greene would be a nice piece not only for now, but is a guy they could have at a cheap price for the next couple of years.
That makes him a valuable commodity, and the Tigers will certainly want at least one notable prospect in order to part with Greene. Fortunately, even after shipping five prospects to Baltimore for Manny Machado, the Dodgers still have some young talent remaining.
Who to Target
The player I'd most like the Tigers to go after is middle infielder Gavin Lux. Lux, who projects as a big league second baseman, is just 20 years old. The 2016 first round pick is having his finest season as a professional, slashing .326/.399/.519 with 11 home runs and nine steals at High-A.
Lux has been touted for his glove-work at the keystone, and has an excellent eye at the plate. He has a high-contact approach and burgeoning power, giving him the potential to develop into a .300 hitter with 15/15 numbers. That would be an incredible get for the Tigers. Isaac Paredes and Kody Clemens are both expected to be second baseman in the show, so ideally Lux could stick at shortstop. If not, they'll have the luxury of moving one of them for a big league piece in a few years when they are contending.
The Dodgers will be hesitant to part with the left-handed hitting Lux, who was expected to be included in the Manny Machado trade. However, the Dodgers will need to part with something good if they want a cost-controlled, talented closer like Greene.
If Lux is off the table, there are a few other names to keep an eye on in LA's farm system:
Rios boasts 55-grade power, although his poor defense at third has relegated him to first base. He's hitting .301 with six home runs in Triple-A, although his 31.6% strikeout rate is cause for concern.
Drawing comparisons to vintage Jacoby Ellsbury and George Springer, Kendall is a five-tool caliber center field prospect who the Dodgers nabbed in the first round in 2017. He has one fatal flaw that could derail his career, strikeouts. He is currently striking out at a 32% clip in High-A, which diminishes his otherwise strong numbers (10 home runs, 27 steals). Still, Kendall would give the Detroit Tigers another toolsy outfield prospect, which is never a bad thing.
Working out a trade to acquire a future impact bat like Gavin Lux would make this trade deadline a very successful one for the Detroit Tigers. With four days to go until the deadline, it is likely we will hear some news soon.