Detroit Tigers: Woes continue but team improves draft spot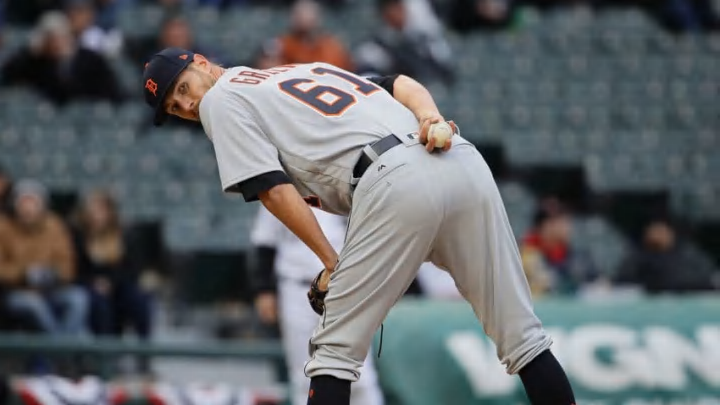 CHICAGO, IL - APRIL 04: Shane Greene /
Here at The Corner, we round up Detroit Tigers news and rumors around the Tigers blogosphere so that you don't spend hours surfing the web searching.
As the Detroit Tigers continue to lose, the inch closer to getting the number one draft pick. Again. The Tigers selected Casey Mize number one overall in this year's past draft. Going into tonight's game the Tigers have the number four draft in next season's draft. They're currently one game behind the Padres for the next pick.
The Detroit Free Press notes that the highest the team can get to is the third overall pick.  So, don't expect the Tigers to "tank" to try and get the first overall pick.  The Tigers are taking on the White Sox tonight with Liriano getting the start on the mound.  Game start is scheduled for 8:10 PM, and you can watch the game on FSD or listen on 97.1 the Ticket.
The Tigers are looking for a better outlook than yesterdays. Victor Martinez gave the Tigers the lead in the ninth with a homer. However, Shane Greene gave up a pair of homers in the bottom of the ninth as he blew the save and gave the Tigers a loss.
Greene gave up a two-run shot to Matt Davidson on the first pitch to Davidson.  Greene was given the loss and Micheal Fulmer was given the no-decision. Fulmer saw an improved outing against the White Sox. He had a shaky performance in his previous outing.
Skipper Ron Gardenhire called the entire ballgame "frustrating" according to Chris McCoskey, of the Detroit News. Victor Martinez, on the other hand, didn't seem too upset about his game-leading home run being spoiled by Greene.
.
September is particularly exciting for prospects, as some are called up when the teams expand their rosters to 40-men.  Evan Woodbery, of MLive.com, writes that two pitching prospects will visit the Tigers this week. But, they aren't doing so as for September call-ups.
With September call-ups the starting rotation is going to get very crowded. Even if the team goes to a seven-man rotation, Francisco Liriano is likely to get bumped out. Beat writer Chris McCosky writes that's going to be a tough sell to the veteran.