Detroit Tigers: Mike Gerber takes big step backward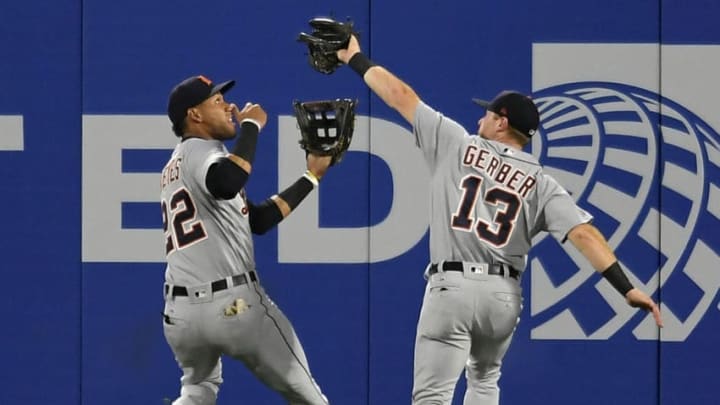 ANAHEIM, CA - AUGUST 06: Victor Reyes #22 and Mike Gerber #13 of the Detroit Tigers collide when Gerber caught a ball off the bat of Kole Calhoun of the Los Angeles Angels of Anaheim at Angel Stadium on August 6, 2018 in Anaheim, California. (Photo by John McCoy/Getty Images) /
With the 2018 season coming to a close, we are providing year-end grades to each Detroit Tigers player who donned the Olde English D in 2018.
The Detroit Tigers completed the first year of what looks to be a multi-year rebuilding process. While the team was hard to watch at times, there is still plenty to evaluate from this season as we look ahead to the next few years.
As with any team, there were a lot of excellent performances, surprise performances, and of course disappointing performances. Here at Motor City Bengals, we are going to be evaluating each player who suited up for the Detroit Tigers this season. We will analyze how they performed, what their future holds in the Motor City, and we will provide them a grade.
Note: the grade will be relative to what was expected of them. So a player who performed well above expectations may earn a B or an A, even if their actual season numbers are not that elite. If you disagree, feel free to drop us a comment. We would love to have discussions about these!
While Christin Stewart drew most of the attention, he was not the only Tigers position prospect to make his big league debut this season.
Gerber was a 15th round pick in 2014 out of Creighton University. He made his way onto the prospect map by mashing throughout the lower levels of the minors. He hit 13 home runs with a 135 wRC+ in 2015, and followed that up with 18 home runs and eight steals in 2016 between High-A and Double-A.
2017 saw Gerber reach Triple-A for the first time after another solid season in Erie. He had climbed onto the radar and most expected he would make his debut in 2018.
Unfortunately, Gerber struggled against higher level pitching this season. He played 74 games at Toledo and 18 with the Tigers. He slashed just .213/.277/.411 with 13 home runs at Toledo. He was considerably worse in the big leagues, posting a pitiful .095/.170/.119 with a horrific 44.7% strikeout rate. It was clear that Gerber was overmatched at the big league level.
Gerber did show promise as a defender, and can comfortably play all three outfield positions. However, he will need to dramatically improve his plate discipline and tap into his power if he wants to reach his ceiling, likely as a high-level fourth outfielder. At 26 years old, 2019 will probably be his last big chance to avoid the dreaded AAAA title.
Grade
Gerber's defense was his only bright spot, as he looked completely overmatched at the plate. It was only 18 games, but he may have played himself out of a spot on the opening day roster next season. The Tigers acquired Dustin Peterson, who has a similar skillset to Gerber. He has a lot of work to do to play himself back into Detroit's favor.
Grade: D-
Check back here daily for more player grades! And if you'd like to discuss any grades, please leave us a comment on our Facebook or Twitter page.