Detroit Tigers: Offensive prospects dominate second day of MLB Draft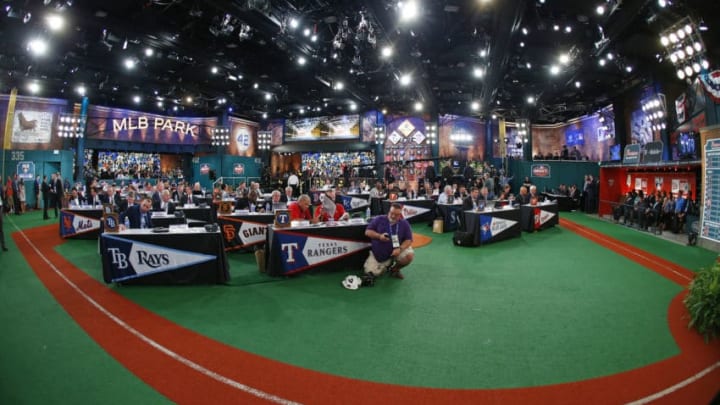 SECAUCUS, NJ - JUNE 5: Representatives from all 30 Major League Baseball teams fill Studio 42 during the MLB First-Year Player Draft at the MLB Network Studio on June 5, 2014 in Secacucus, New Jersey. (Photo by Rich Schultz/Getty Images) /
We're now through ten rounds of the 2019 MLB Draft, and the Detroit Tigers have definitely maintained their focus on offense so far.
Well Detroit Tigers fans, if you were asking for an offense heavy draft, you've got one so far. Since pitching has been a high priority in the past couple of drafts for Detroit, GM Al Avila shifted focus this year to adding seemingly as many bats as possible to the farm system.
Eight of Detroit's selections in the first ten rounds of this year's draft are hitters. We've already discussed the abilities of Monday's picks Riley Greene and Nick Quintana, so now let's recap who the Detroit Tigers picked up in day two of the 2019 MLB Draft.
Round Three- Andre Lipcius, 3B Tennessee
Tennessee Volunteer Andre Lipcius experienced an increase in power during his solid junior year with the Vols this spring hitting a career-high 17 home runs and leading the team with 58 RBI. He finishes his college career with a .300/.393./.483 hitting line over three seasons in Knoxville.
Round Four- Ryan Kreidler, SS UCLA
With the 112th overall pick, the Tigers selected UCLA SS Ryan Kreidler, the 200th overall draft prospect on MLB Pipeline's Top 200 list. Kreidler is a defensive staple for the Bruins, a team with a legitimate shot at winning a national championship in just a few weeks, and currently has a .970 fielding percentage in his junior season.
When it comes to offense, Kreidler is more about contact than power. He did hit a career-high nine HRs this year, however, and saw his BA jump from .222 in 2018 to .309. Kreidler also showcased his speed with eleven stolen bases this season.
Round Five- Bryant Packard, OF ECU
Another solid hitter, ECU's Bryant Packard hit an impressive .406 in his sophomore year for the Pirates in 2018 with 50 RBI as well. This season, Packard hit .353 with just 37 RBI and saw his slugging percentage drop to .554 from .671 in 2018.
Round Six- Cooper Johnson, C Ole Miss
Ole Miss' Cooper Johnson was actually drafted by the Cincinnati Reds in the 28th round of the 2016 MLB Draft but instead chose to play college ball with the Rebels. Johnson hit .265/.369/.434 in his junior season this year and had 30 RBI in 60 games.
Round Seven- Zack Hess, RHP LSU
When it came to round seven on Tuesday, GM Al Avila finally decided to select a pitcher. Zack Hess has floated between the bullpen and a starting position in three seasons with the Tigers. Through his career in Baton Rouge, Hess had an 18-12 record with a 4.39 ERA.
Round Eight- Jack Kenley, SS Arkansas
Back to position players, the Tigers selected Arkansas Razorbacks SS Jack Kenley with the 232nd overall pick. Kenley is known as a utility player and mostly contact hitter, though he did hit a career-high 12 home runs and finished with a .324 BA in his junior year.
Round Nine- Austin Bergner, RHP UNC
Austin Bergner had a bit of a down year in his junior season with the Tar Heels this spring, finishing with a 5.21 ERA. He did, however, finish with a 6-1 record in 15 starts and struck out 72 batters.
Round Ten- Jake Holton, 1B Creighton
To round out day two of the draft, the Detroit Tigers selected Creighton Blue Jay Jake Holton. Holton's season ended on Monday night as Creighton fell to the Michigan Wolverines in their NCAA Regional final. At the end of the season, Holton finished with a .389 BA and 58 RBI in 54 games.
Day two was packed with mostly hitters and all players with college experience for the Detroit Tigers. Make sure to keep visiting us here at Motor City Bengals as these guys start to make their way through the ranks of the Tigers organization.