Detroit Tigers: Team heads out to Oakland for an odd series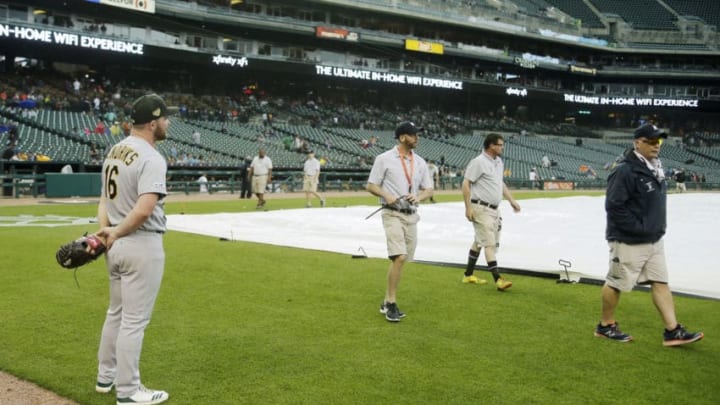 DETROIT, MI - MAY 19: Liam Hendriks #16 of the Oakland Athletics watches the grounds crew walk away after coving the field at Comerica Park during the seventh inning of a game against the Detroit Tigers on May 19, 2019 in Detroit, Michigan. (Photo by Duane Burleson/Getty Images) /
The Detroit Tigers are heading out west for a series against the Athletics that involves the Tigers playing the remainder of a home game on the road.
The Detroit Tigers are heading out to Oakland tonight to begin a three-game series against the Athletics. In a strange turn of events, they are also going to be finishing up a home game out on the road. This is an unprecedented event in the sport, but it is not the first time something like this has happened.
Detroit and Oakland originally started this game in Detroit on May 19th. The tarp came out before the bottom of the seventh inning started with Oakland leading five to three. The rain never let up, and the game was suspended at this point. Due to scheduling complications, the game will be continued tonight in Oakland with Detroit batting in the bottom half of the inning as if they were at home.
This suspended game will begin at 8:15 p.m. EST and will be followed by the beginning of the originally scheduled series at 10:07 p.m. EST. The rest of the series will be played as scheduled assuming the suspended game doesn't go deep into extra innings, which could lead to a late night for both teams. Assuming everything goes as planned, games will be tonight, tomorrow at 9:07 p.m. EST, and Sunday at 4:07 p.m. EST.
This series will feature an Oakland team that is fighting for a playoff spot and the worst team in major league baseball. Detroit will mainly be looking to continue getting their young players experience and attempting to refine their roster for the future. Some of the young Tigers have really begun to shine lately, like Victor Reyes, who has hit .373 over the last month with a home run.
While the Athletics will be sure favorites to sweep the series, the Tigers could spoil a few games for them. Ultimately, however, the remainder of the Tigers' season will be devoted to continuing to find consistency in their lineup and get more experience for the future. The offseason is right around the corner and Detroit definitely needs to figure something out before the start of next season.