Detroit Tigers: Jordan Zimmermann is finally healthy, but does it matter?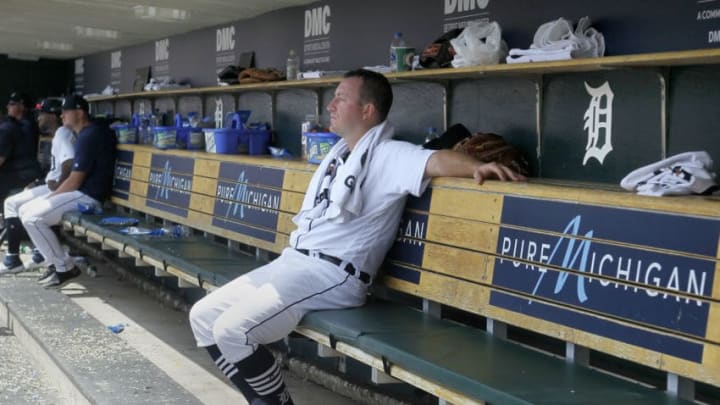 DETROIT, MI - JULY 24: Starting pitcher Jordan Zimmermann #27 of the Detroit Tigers sits in the dugout after being pulled during the fifth inning after giving up an RBI single to Rhys Hoskins of the Philadelphia Phillies at Comerica Park on July 24, 2019 in Detroit, Michigan. (Photo by Duane Burleson/Getty Images) /
Spring training is underway & Jordan Zimmermann has proclaimed himself fully healthy coming into camp for the first time since 2016 – but will it really matter? 
Since signing his 5 year, $110M contract prior to the 2016 season, Jordan Zimmermann has essentially always been either hurt or working his way back from some kind of ailment, surgery, or series of injections. Despite his claims every spring that he was fully healthy and feeling great, he would always wind up hurt after a few starts and his season would be derailed. Will he fare any better in 2020, now that he has had a full off-season free from injury rehab?
The issue for Zimmermann is that this isn't as simple as that. This isn't one of those cases where a pitcher is prepped for a comeback season a year before free agency or something that a couple of tweaks to a delivery can fix. He has lost 3 MPH off his fastball since his debut season with the Tigers and his Statcast page reads like a Stephen King novel. He is also allowing a metric tonne of hard contact.
Both his xBA and xSLG against, the terms Statcast use to measure the likelihood of a batted ball becoming a hit or an extra base hit respectively based on their exit velocity and launch angle, are in the bottom 2 percent of all Major League pitchers. Furthermore, his exit velocity against and hard-hit percentage both grade out in the bottom 15 percent.
When he signed as a free agent, he had a reputation as a durable, strike-throwing pitcher and had made at least 32 regular season starts in each of his final 4 seasons as a National, but that simply hasn't been the case in Detroit as he has struggled to stay healthy. In 2019 he made just 23 starts, eating a total of 112 IP and the question has to be asked: if he isn't pitching well, and he isn't eating innings – will Zimmermann survive the season in Detroit?
His $25,000,000 base salary for next year is guaranteed regardless and the Tigers may not feel the need to let Zim work through his issues as they have in years previous. Getting off to a hot start would go a long way to ensuring he keeps his place in the rotation, however, during his time as a Tiger the months of March/April haven't been particularly kind to him. He did begin his Tigers career in historic fashion when he started off 5-0 with a 0.55 ERA in the first month of the 2016 season, but in the three seasons following he has a combined 5.99 ERA in the months of March & April and a repeat performance this season could see him packing his bags.
Should Zimmermann fail to impress, the Tigers may already have a plan B in place. The signing of Ivan Nova provides the Tigers with a reliable arm with plenty of Major League experience and a reputation for eating innings. Nova has thrown over 160 IP in each of the last four seasons & whilst he's never going to challenge for the Cy Young award, he has been serviceable enough over the last four seasons & should be available to take the ball every fifth day.
Another option to pitch in the rotation is the free agent signing Hector Santiago. He pitched over 180 IP back in 2015 and 2016 before taking on more of a spot starter/relievers role over the last 3 seasons with the White Sox & Mets, but I am sure he would relish the opportunity to pitch himself back into a Major League rotation given the opportunity. Other arms such as Turnbull, Norris & Alexander should hopefully see an increase in innings and staff ace Michael Fulmer is on track to make his long awaited return from Tommy John surgery close to the All-Star break. The potential for arms like Kyle Funkhouser, Dario Agrazal, and Beau Burrows to potentially step up when needed will also apply some pressure to the Tigers decision-makers should Zimmermann fail to pitch well in spring training and the early portion of the new season.
Whatever the season holds for Zimmermann, one thing is for sure. It will be his last in a Tigers uniform and maybe it's just the feeling of spring in the air, but with the final season of his horrendous free agent contract about to get underway, I am almost feeling optimistic. Think of him as a blanket of thick snow, finally making way for the budding young arms on the farm to sprout and begin to blossom.
Failing that, there's always Edwin Jackson again.