Tigers should take advantage of injury in MLB Draft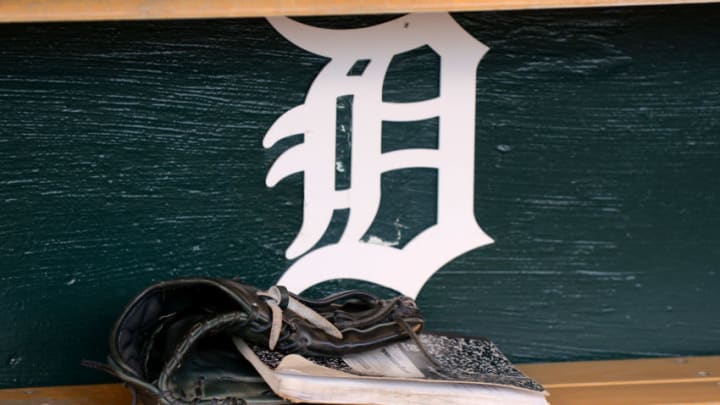 DETROIT, MI - SEPTEMBER 23: A detailed view of the baseball glove and notebook of J.D. Martinez #28 of the Detroit Tigers sitting in the dugout prior to the game against the Chicago White Sox at Comerica Park on September 23, 2014 in Detroit, Michigan. The Tigers defeated the White Sox 4-3. (Photo by Mark Cunningham/MLB Photos via Getty Images) /
The Tigers have the first overall pick in the MLB Draft and an enormous bonus pool to match. They should use that position to take advantage of lowered stock on a talented (but injured) player.
Perched atop the draft order when teams make their selections in 2020 is the Detroit Tigers – one of the positive results of their terrible 2019 campaign. At this point, the majority of the focus is pointed at that first selection, and understandably so. Detroit's top brass are positioned nicely to add another blue-chip prospect to a farm system that already sports four prospects that are ranked inside the top 50 of most lists.
Whether the top pick is one of the three frontrunners or a challenger to their position, the rest of the draft also holds a great deal of importance. It's almost impossible to rebuild a team using only home-grown talent, but the Tigers seem dead set on their course, which so far involves very little in the way of spending on free agents or trading for established talent. That means the way they handle later rounds is of just as much importance as the first pick. A World Series winning club needs some depth behind their stars, a fact borne out by the Tigers squads of the early 2010s.
The enormous pool of bonus money that Detroit has to play with offers them an opportunity to draft pricier players in the later rounds that may not be available to other teams who are unwilling to pay what they're asking. Remember, it was bonus demands that caused righty Matthew Allan to fall to the Mets in the third round in 2019. Four other potential first rounders from that same draft class – Maurice Hampton, Jack Leiter, Brooks Lee, and Hunter Barco – went to college because no one was willing to pay their asking price.
Talented players tend to fall if they cost too much. You get the picture.
One way the Tigers could leverage their money is to draft players whose stock has taken a hit because of injury. It happens every year; a player with the skill to be selected in the first round gets dinged up and he's left on the board longer than previously anticipated. It's understandable, teams get skittish if a they can't see a guy play and there are others they like still available. That's doubly so if they would have to pay him a lot of money to turn pro.
The Tigers should take advantage of this tendency. The recent hiring of Dr. Georgia Giblin as the Director of Performance Science and an influx of technology to the organization over the last two years means there has not been a better time in the organization's history to tackle the challenges presented by an amateur entering the organization with question marks about his health.
There are genuine baseball talents in the 2020 draft who will lose some stock thanks to injury.
One player who could capture their interest is Mississippi State right-handed starter JT Ginn. He was the 30th selection in the 2018 draft, taken by the Dodgers with the final selection in the first round that year. There are some off-the-record whispers regarding whether the selection was made in good faith, but that notwithstanding, Ginn has always sported a vicious one-two punch with his fastball and slider. He has feel for a changeup and he made distinct progress in his freshman season.
Evaluators were more confident than ever that he'd be a starter long-term when he was hit with the news that he'd be undergoing Tommy John surgery in March. There were already concerns about his durability, but the recovery process from TJS is the most crushing of all. It takes most players 18 months to be completely mend. He draws praise from coaches for his tough mentality, however. If he's available for the Tigers with the 38th or 63rd picks, he'd offer more upside and floor than most second-rounders.
Of course, he is a draft-eligible sophomore and could simply turn down an offer to go pro and be drafted next season as a redshirt sophomore, and he's shown the willingness to walk away from the bargaining table without a deal in the past. If the Tigers offer Ginn a bonus comparable to what he expected to receive pre-surgery, though, he'd be hard pressed to turn that down.
Another player who went under the knife to repair a blown UCL was prep lefty Dax Fulton. Booked as the top southpaw in high school when he was healthy, he was sidelined before the high school season started and won't throw a single in-game pitch during his senior year. There's still a lot to like in the profile – he's a huge lefty with tons of physical projection and enough starter's traits to keep him in the rotation as a professional. FanGraphs' came away from his starts in 2019 with enough confidence to list his fastball and curveball as already being above average in their scouting report.
The major hurdle to clear here is Fulton's commitment to Vanderbilt, consistently one of the nation's top baseball schools. It is certainly not a deal-breaker, but it means that he has plenty of leverage. Choosing to gamble on himself could lead to successful career at a storied school and an even higher draft position. But as it is now, he stands to receive a hefty payday if a team is willing to take him anywhere near where his talent would dictate.
FanGraphs opined that he "looks ticketed to be overpaid in the comp round to a team with multiple picks," a description that fits the Tigers perfectly. The team is developing a strong track record with getting the best out of pitchers with raw talent, and few in the class can boast the kind of raw talent that is currently laying dormant with Fulton. He'd be back on the field sooner than Ginn and although he's rawer, he's very possibly the preferable player. In all likelihood, he also comes with a higher price tag, but he could provide excellent value if the Tigers can stomach the cost.
University of Florida shortstop Freddy Zamora is a third player who will not be returning to gameplay during the 2020 season, but unlike Fulton and Ginn, he's a junior in college. That puts him in a much worse position from a bargaining standpoint; it rarely works out in the player's favor to return to college for a senior year after being drafted relatively highly. That means that if Detroit's decision makers don't want to go all-in on paying an injured player what he's worth, they may be able to find an agreeable middle-ground with Zamora.
Florida's shortstop is much like the kind of players the Tigers targeted heavily in the 2019 draft. The focus of his game is his excellent defense up the middle, but he's recently showed far more potential with the bat than previously anticipated. His sophomore season resulted in a .290/.392/.463 campaign, coupled with an equal number of walks as strikeouts. His power output ticked up from years previous as well, making him a fairly well-rounded, high-floor player at a position the where Tigers don't have a long-term solution. Add all of it together and Zamora comes out looking like an excellent match for the organization.
In any circumstance, creativity is required
Regardless of whether the Tigers decide to target any of these players, or someone who fits this bill at all, it's clear that they need to do well in this draft and any that come along in the near future in order to come out on the winning end of this rebuild. Early results from the last two classes are encouraging enough, but the game moves rapidly and Detroit has not been on the leading edge of positive change at any time in recent memory.
The same old tactics that served them well for years in the past just don't cut it anymore.