Detroit Tigers 2020 Draft Profile: OF Trevor Hauver could be a steal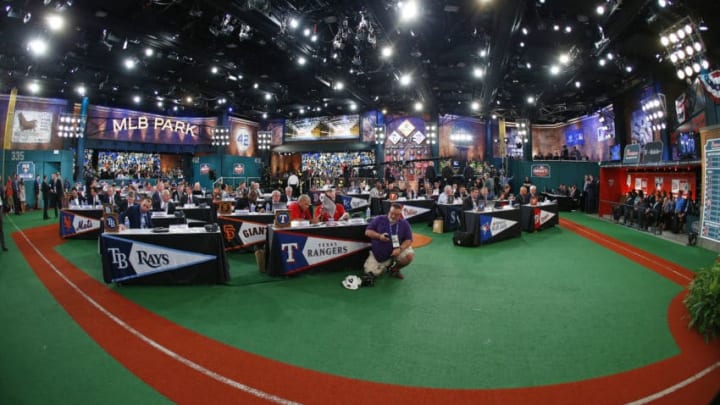 SECAUCUS, NJ - JUNE 5: Representatives from all 30 Major League Baseball teams fill Studio 42 during the MLB First-Year Player Draft at the MLB Network Studio on June 5, 2014 in Secacucus, New Jersey. (Photo by Rich Schultz/Getty Images) /
Overshadowed by three teammates with first round potential, Trevor Hauver is flying a bit under the radar.
ASU's lineup was probably the best in all of college baseball this season. By this point, Detroit Tigers fans should be familiar with ASU's first baseman, Spencer Torkelson, but ASU had two other players that were listed on the 2020 preseason Golden Spikes Player of the Year watchlist. Gage Workman and Alika Williams could both potentially join Torkelson as a first-round pick this June.
The Detroit Tigers are obviously considering an Arizona State player for the first overall pick in the upcoming draft, but could another ASU player be an option later in the draft?
On a team with three potential first-round draft picks, it was Trevor Hauver, another junior, who was batting third in their potent lineup on opening day. In fact, he was third in the lineup in16 of the team's 17 games this season. After going hitless in the first two games, Hauver went on to record at least one hit in each of the season's remaining 15 games. He ended the short season with a .339/.494/.695 line with six doubles and five home runs.
Background
Hauver was drafted by the Kansas City Royals in the 37th round of the 2017 draft as a high school shortstop. He chose to enroll at ASU rather than enter pro ball directly out of high school.  This June his patience will be rewarded – he has a good chance to be taken much higher.
As a freshman, Hauver struggled early in the season and eventually lost his role as ASU starting left fielder. He was part of a young ASU squad that had six freshmen start at least 20 games that season. Besides Torkelson, they all experienced some struggles although none more so than Hauver. He finished the season batting just .227 with just five extra-base hits, all doubles.
Hauver was a member of the Hyannis Harbor Hawks of the Cape Cod League in 2018 and 2019. After his rough 2018 college season, he went to the Cape to prove that he could be the starting left fielder for ASU in 2019. For Hyannis, he hit .267 and hit his first home run of the year. This positive experience with Hyannis proved to Hauver that he could play against some of the best players in the country and hold his own against them. His development during his time at the Cape set him up for a breakout 2019 season back with Arizona.
Being assured that he was going to be the starting left field afforded him some comfort at the plate. Hauver rewarded his coaches' belief in him by slugging 13 home runs while batting .339 during his breakout sophomore season.
Strengths
Out of High School, Hauver was said to have a "relentless work ethic" by Borasclassic.com. After his struggles as a freshman at ASU, he went to the Cape Cod league and worked hard to prove that he belonged in the lineup with some of the best players in all of college baseball. Hauver was named ASU's leadoff hitter a few weeks prior to the 2019 season. Batting in front of Torkelson and 2019 first-round draft pick Hunter Bishop, Hauver turned into an on-base machine. He walked 11 times over the season's first four games and subsequently scored seven runs.
Those numbers aren't a mirage – Hauver has an elite ability to take a walk. Baseball America called him a "mature hitter who has a plan and consistently executes it at the plate." During the 2019 Cape Cod season, he recorded 29 walks to just 28 strikeouts. This season he already had 20 walks opposed to 15 strikeouts for ASU when play was suspended. That's too small of a sample size to give a ton of credence to the numbers, but it's an impressive achievement among long track record of amateur success.
While he isn't the flashiest pf prospects from a tools standpoint, teams could be interested in Hauver this season as a safe option. Because the draft was culled from 40 rounds to a mere five this year, teams are going to want some assurance that the players they pick will be able to stick in pro ball. That gives players like Hauver a boost because his mature approach at the plate makes it likely that he'll stick around for a while as a minor league depth option even if he never reaches his ceiling.
The Detroit Tigers have a famously pitching-heavy farm system right now. Hauver has the potential to move quickly through the minor leagues and make an impact within the next few seasons. Drafting a high-floor, low-ceiling player like Hauver who can make an impact at the Major League level in the middle rounds could work out nicely for the timeline of the Tigers' rebuild.
Weaknesses
Hauver's biggest weakness is his lack of a standout tool. If he can continue the walk to strikeout trend he displayed from the 2019 Cape Cod season on, he is a potential first or second-round talent. But, if his numbers trend back towards his good-not-great 2019 season ratio of 39 walks to 53 strikeouts, he would be drafted much later. Without above-average power, speed, or defense, Hauver has a lot riding on teams believing that he can get on base.
Even though he had already hit five home runs when the 2020 season was prematurely ended, Hauver is probably more of a doubles hitter as a professional. It wasn't until after ASU brought the fences in before his sophomore season that he hit his first college home run. And, with a wooden bat in the Cape Cod League, Hauver only hit 4 home runs total over his two seasons totaling 67 games.
Scouts agree that those numbers are a reflection of his talent. FanGraphs writes that "from a bat speed and athletic standpoint, he's middling," which is less than sparkling compared to the potential shown by some of his teammates. Bat speed is one of the most important factors in projecting future power production, so it's unlikely that he's going to take another leap in power production at the professional level.
Draft Projection
Hauver is ranked highly in some draft projection outlets and left completely off of others. He is not ranked on MLB.com's top 100 draft prospects, landed at #164 on Baseball America's list, and isn't seen until #202 on Fangraphs' The Board, which would push him into the 7th round of the draft.
But, on the recently released NCAA top 100 college players based on the full 2019 season combined with the shortened 2020 season, Hauver was ranked the 20th best college player. His .494 OB% and 15/20 K/BB this year should drive him up on teams' draft boards but he still won't come off the board as fast as some of his teammates. Hauver has the potential to be drafted anywhere from the second round to the fifth round, which will be the bulk of the draft this year. If the Detroit Tigers takes Torkelson in the first round, taking one of his teammates would be a nice gesture and Hauver would provide great value in the third or fourth round.
Video