MLB in Arizona: The Good, The Bad, The Ugly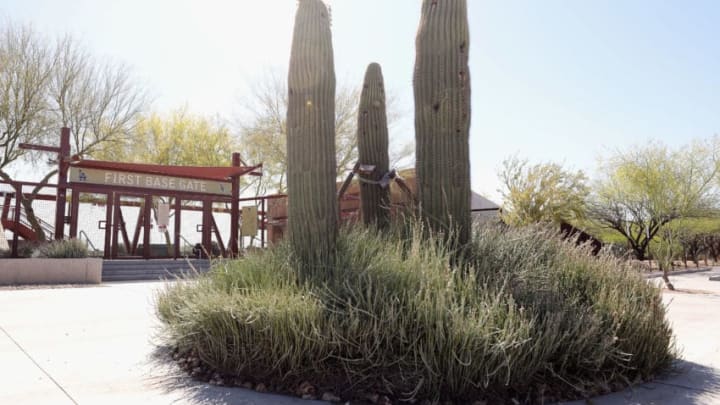 GLENDALE, ARIZONA - APRIL 07: General view outside of the Los Angeles Dodgers and Chicago White Sox spring training facility, Camelback Ranch on April 07, 2020 in Glendale, Arizona. According to reports, Major League Baseball is considering a scenario in which all 30 of its teams play an abbreviated regular season without fans in Arizona's various baseball facilities, including Chase Field and 10 spring training venues. (Photo by Christian Petersen/Getty Images) /
MLB recently admitted to the reports that they were considering forcing regular season games to take place exclusively in Arizona.
Major League Baseball, like the other major professional sports worldwide, was forced to stop play due to the worldwide Coronavirus pandemic. While surely delivering perspective, the downtime has also sparked some forced creativity from the MLB; leaving teams the task to salvage their season and getting current players on the field and fans watching live games. When thinking of all the things we have been told to avoid, this makes the baseball experience very challenging. Hotels, big crowds, airports, and minimal social distancing are all part of the game in one way or another.
One idea that has recently been tossed around by the MLB is to play, at minimum, a portion of the season exclusively in Arizona, likely until authorities lifted their recommendations and orders. There are several local and national writers that have already expressed major displeasure with such an idea. I do not necessarily disagree, but let us try to look at the proposal from each angle:
The Good
MLB playing games exclusively in Arizona would limit air travel for teams substantially. As we know, a lot of the early contractions of the virus came with folks who had a recent record of travel, although the CDC calls the odds of contracting COVID-19 on an airplane "low."
MLB would have more ability to monitor teams more closely; this means testing more regularly as well as ensuring that each player and organization is adhering to the protocol, which I imagine will have some facet of quarantining between players and executives.
Moving games exclusively to Arizona would also be a dream for fans, assuming they would even allow them into games. Not just for the fact that there would be a load of teams all within driving distance of each other, but also that many of the games would occur in minor league or spring training settings, which makes for an intimate experience. Add in the fact that your neighbor is a minimum of six feet away, and this might just be a perfect scenario.
Unfortunately, most of the above just is not practical. While limiting travel is good, maintaining social distancing in the stands and in the dugouts is just too much of a burden for the league to bear; and while fans might salivate at such an idea, the reality is most would not go. The travel restrictions as well as the ticket restrictions would make it difficult for fans to enjoy such an experience in-person.
The Bad
A self-quarantine puts MLB at a strange dichotomy. Do they truly quarantine each team away from the public, all but forcing players and executives from their families for months? Or do they allow contact with families and simply assume even more risk of infection knowing they will have little control of the daily whereabouts of family members? This might put the league in a true lose-lose scenario. Jeff Passan of ESPN outlines this familial risk nicely here.
COVID-19 has already been economically devastating to many areas of business, but moving games to Arizona would be salt in the wound to the other home ballpark cities across the nation. Think of all the stakeholders in Major League Baseball: hotel employees, bartenders and severs, ticket salesmen, ushers, concessions, parking lot owners, casino dealers, and even retailers. Robbing part of the season for these employees to profit from their respective craft is a potential PR nightmare for the league
These two points alone might be enough for MLB to pump the brakes on such an idea. I continue to struggle to believe that this idea has gone past the brainstorming stage of a meeting.
The Ugly
Speaking of PR nightmares, imagine if MLB begins games prematurely in Arizona to gain ratings and revenue and players and/or executives begin to contract COVID-19. This idea almost has more merit if they were to try to extend the season into the winter months due to the temperatures in the north; doing this at the start of the season literally has deadly potential
A bigger question that sifts into politics: how do cities get compensated for the public funding provided to them to build these ballparks? Undoubtedly, a big part of the sale to municipalities to fund such parks is the tax revenue that will get generated by keeping the club home. Detroit, for example, used 38% of public funds to construct Comerica Park ($114 million) in 2000. While there have been several studies done which question the economic viability of such practices, there is surely a loss to local governments which were counting on an injection of fans in their cities for revenue.
I love the idea of brainstorming; at times a string of bad ideas can lead to a viable solution. However, this particular proposition should not have left the meeting room. MLB and businesses around the world are now in the business of risk management–and the things that could go wrong would severely outweigh any potential revenue gained in ratings.
My hope is that the league doesn't stop here; that they continue to try to find legitimate solutions to save the season. The MLB has a great opportunity to show that they value the health of their players over dollars; in continuing the delay of the season, they may actually be protecting both.